Traditionally, for many people, Barcelona equals la Sagrada Familia and Gaudi, yet for some others it is the homonym football club. And this is where I want to start this time. Beyond stereotypes, Barcelona has much more to offer than Gaudi; it is at the confluence of three cities becoming one: modernist (Gaudi's) Barcelona, medieval Barcelona and contemporary Barcelona. I'll make a twist of view as I want to wander with you in the nowadays Barcelona. Ready! Run!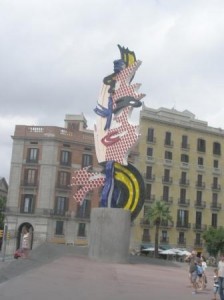 Barcelona is the second biggest city in Spain and I can say that it is very busy, active and it has an impressive public transport network (metro, busses or rail). The capital of Catalonia is more of an effervescent business site, rather than an obsolete old town sucking its life blood from a glorious past. Actually, Barcelona is a vivid city, considered by many to be driving the engine of the Spanish economy. I will give you a slight flavour of a Barcelona that's not too much talked about, a place with astonishing structures, made out of steel, plastic and glass, perfectly integrated in the spirit of the city.
Many of the contemporary buildings that we can admire today in Barcelona were built on the occasion of the Olympic Games held here in 1992. It is once more a proof that PR and major events can definitely contribute not only to city or country branding, but also to financing infrastructure and thus boost wellbeing and opportunities. The main arena of the show was Anella Olímpica (The Olympic Ring) in Mont Juic equipped with impressive sport facilities. For instance, the Olympic Stadium Lluís Companys and the Bernat Picornell Pools were renovated for this purpose and the sporting arena Palau Sant Jordi was built in 1990 by a Japanese architect.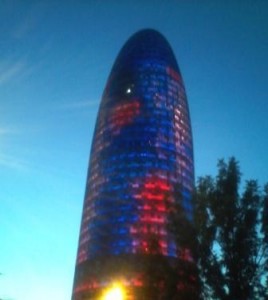 Another area linked to the Olympic Games in Avinguda Diagonal, the largest and most important avenue in Barcelona. But here, not only can we find some of the best sport places, but also the headquarters of FC Barcelona stadium. I see some exhilarating tourists queuing in front of Camp Nou, the football stadium of Barça which hosted many memorable games, and amongst them, the 2010 Barça – Argentina. It has undergone several refurbishments and it has now a capacity of 104000 people, aiming to become the third in the world after the next planned expansion. It has also been the stage of unique events: a mass of the Pope John II and performances of remarkable artists such as the three tenors (Jose Carreras, Plácido Domingo, and Luciano Pavarotti), Michael Jackson, U2, Julio Iglesias, Sting and so on. FC Barcelona also owns the Palau Blaugrana, an over 7000-person capacity sports arena.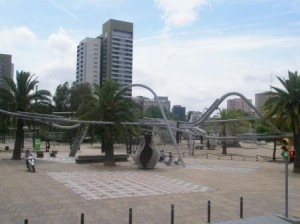 Nevertheless, Barcelona contemporánea is not only about sports. It is also about shopping centres, beaches and sky-scrapers. I have already introduced to you some of the most curious attractions like Tower Agbar and Poble Espanol during our night tour. Being in a constant expansion, Barcelona has turned several slums into fascinating contemporary neighbourhoods. For example, Diagonal Mar i el Front Marítim del Poblenou, whose controversial renovation is ongoing, is closely seated to the beach and it includes interesting sites: a commercial centre and a park, business venues and hotels. As well, close to the beach, there are the huge business park World Trade Center Barcelona and the Port Olímpic where the sailing competitions took place in 1992.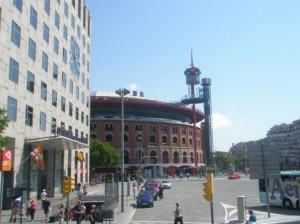 Certainly, the tour of contemporary Barcelona has its feet on the ground; it is neither dreamy nor surrealistic. It is just something I might need, a breath of fresh air after having had erratic visions during my ramblings. And how else could I have ended my stroll rather than in a consumerist style?! I stop in Placa Catalunya at the huge building of El Corte Ingles, "the" department store of Barcelona for a crazy shopping session which I will allow myself to keep secret.
This article is part of a series on Barcelona. You can also read a presentation of La Sagrada Familia, Barcelona Nocturna and Casa Batllo.