Top 6 most popular carousels in the world
When I say carousel I say childhood. I remember the thrill in riding one. And I have to admit I can hardly wait for my son to be big enough to ride in one – accompanied by an adult 😉
I like carousels so much that I brought a souvenir carousel from Prater, Vienna. But I'll show it to you another time. I looked for the most famous, not to miss carousels around the world and the results are synthesized in the next top 6. Enjoy and, maybe, include them in your next vacation for carousels are fun!
6. The Carousel in Central Park, New York, America
This carousel has 57 magnificent horses and it is the fourth to stand in Central Park since 1871. (photo and info source)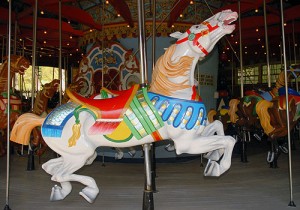 5. Brighton Pier, United Kingdom
The Brighton Marine Palace and Pier is actually a pleasure pier in Brighton, England. One of it's attractions is a carousel.
photo source www.CGPGrey.com
4. Loff Carousel in Santa Cruz, America
Another special carousel is Loff Carousel in Santa Cruz, California. This carousel "includes a brass ring dispenser, which riders can reach out and try to collect. It is one of the only ones in the world, where riders can grab a ring from a dispenser and aim at a target. Sometimes, riders keep the rings to remember their visit.". (source)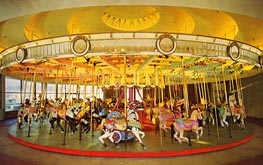 3. Lotte World Carousel, Korea
Part of world's largest indoor theme park as recognized by Guiness Book, Lotte World carousel seems to be a nice ride, attratcing many visitors.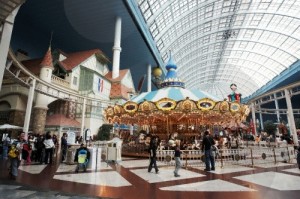 2. Looff Carrousel, Riverfront Park, America
Riverfront Park's 1909 Looff Carrousel is on the National Register of Historic Places and is one of America's most beautiful and well preserved hand-carved wooden carrousels. (info and photo source)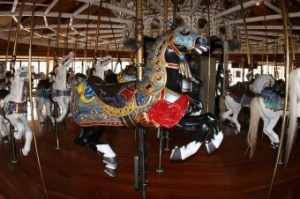 1. Carousel Columbia, America
This carousel, entrance to both the Gurnee and Santa Clara parks,  is number one for it as recognized by Guiness Book as world's largest carousel.