Many people asked me which is the nicest, best, more interesting place I have ever been. It is tough to make such a ranking… Probably, the nicest for me is Bali which I feel is the closest place on Earth which suggests me how the heaven looks like.
So, before I write a top 10 nicest places I've been, let's try with something more spooky – top 10 adventures.
North Korea – it is a country like no other on Earth… It lives completely disconnected     from the world in their own parallel universe. It reminds me of Romania of 80s, but to exaggerated to maximum.
North India – you will hate it or love it, you will be overwhelmed or just fall in love…     the feelings are intense and you cannot pass by without engaging all our emotions.
Teheran bus station – a guy sees us completely lost out of the metro station looking for the bus station. He leads us to the place (we took the wrong exit), asks where we go, we answer Kashan, brings us to the ticket office, buys the tickets for 4 and runs… "I was out of my country and I was helped by people from there. I need to return this".
Wagah, Indian – Pakistan border: it is in the middle of nowhere, but here each evening the tallest guys in this billion+ countries lower the flag in a ceremony which is attended by thousands… Both India and Pakistan built viewing tribunes on the road, looking like a stadium.
Lost in translation in Japan – If North Korea is in another galaxy, probably Japan is on  another planet… you don't need to visit temple X or Y, the     biggest show is to watch the people going to work and having fun in Pachinko… and especially asking for directios… They will escort where you want to go, speaking continuously in Japanese ! Be polite and approve whatever they are saying.
Jema el-Fnaa Square in  Marrakech, Morocco – it is an carnival each evening, but a carnival throwing you few centuries ago…
Everest Base Camp, Tibet – you look at Everest and realize how small and insignificant you are.
Macchu Picchu, Peru – if you get in the middle of the rain, it stops and then the clouds start to lift, you believe for sure there is something supernatural with the site.
Uros Island, lake Titicaca, Peru – it is an island, but it is soft, you jump on it and feel it is something weird… It is an artificial island made by human hand from reed.
Cernobyl nuclear power station, Ukraine – no, never again… although some people want to   replicate it in Rosia Montana.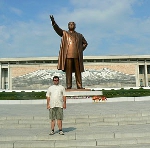 Cezar a.k.a Imperator is a travel enthusiast who has travelled in 75 countries around the globe. He has a travel blog with memories, advices and travel suggestions at //www.imperatortravel.blogspot.com/
Copyright and photo credits Cezar