Top 10 Baroque Churches in the world
Ever since I visited Karlskirche in Vienna, Austria, I realized I want to make a top 10 Baroque churches in the world, for the baroque architecture is beautiful but, most importantly, due to the fact that the interior of these churches are simply great. There is so much light and white that transmit calm to the visitors of these churches. Even if you are not catholic you can enjoy some peace and quiet visiting such monuments.
Time passed by, I got caught up in different activities and somehow forgot to make this top 10. But I managed to do so today. So please enjoy the selection and tell me which of these churches have you visited.
10 Santuario de Tepalcingo, Morelos, Mexico, North America
"The Santuario was built between 1759 and 1782 to house the miraculous image of Jesus the Nazarene, or El Señor de Las Tres Caidas, whose cult was attracting increasingly large numbers of pilgrims from across the region. The retablo facade is a masterpiece of the barroco poblano style, possibly executed by stucco craftsmen from Puebla, although it is quite unlike any church in that city." (photo and info source)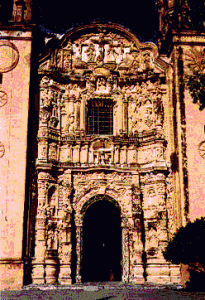 9 The Ortaköy Mosque, Istanbul, Turkey
According to Wikipedia, Ortaköy Mosque (Turkish: Ortaköy Camii), officially the Büyük Mecidiye Camii (Grand Imperial Mosque) of Sultan Abdülmecid) in Beşiktaş, Istanbul, Turkey, is situated at the waterside of the Ortaköy pier square, one of the most popular locations on the Bosphorus.
It looks nice and it is a place visited by many tourists.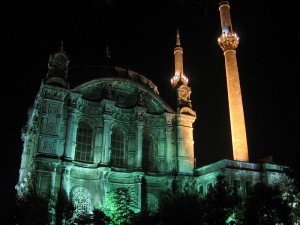 8  Biserica Petru si Pavel (Saint Peter and Paul Church), Sibiu, Romania
Sibiu is a very beautiful city in Romania. It was cultural capital of the world in 2007. It's a city that combines modern with old and beautiful areas. One of the attractions is Biserica Petru si Pavel.
7 San Gaetano, Florence, Italy
The church of San Gaetano, also known as Santi Michele e Gaetano, on the Piazza Antinori, is one of the most important examples of the Baroque style in Florence. (source)
6 Great Witley Church, UK
One of the finest Italian Baroque churches in UK, Great Witley Church has a very beautiful gilded ceiling with a number of paintings by Antonio Bellucci. It is a nice church that attracts visitors, a nice and calm church. St. Michael and All Angels Church, Great Witley  is located off the A443 Worcester – Tenbury Wells road, about 10 miles north-west of Worcester.  (source)
5  Il Gesù, Rome, Italy
The Church of the Gesù (Italian: Chiesa del Gesù) is the mother church of the Society of Jesus, a Roman Catholic religious order also known as the Jesuits. Officially named Chiesa del Santissimo Nome di Gesù all'Argentina (English: Church of the Most Holy Name of Jesus), its facade is "the first truly baroque façade", introducing the baroque style into architecture. (source)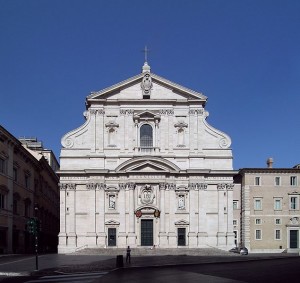 Giacomo della Porta's façade of the Church of the Gesù, a precursor of the Baroque

4 Dresden Frauenkirche, Germany
Dresden Frauenkirche "(literally Church of Our Lady) is a Lutheran church in Dresden, eastern Germany.
Built in the 18th century, the church was destroyed in the firebombing of Dresden during World War II. It has been reconstructed as a landmark symbol of reconciliation between former warring enemies." (source)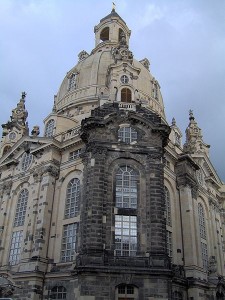 3 Peterskirche or St. Peters Catholic Cathedral, Munich, Germany
The oldest parish church in Munich, certainly deserves a visit while in this city. One can, during a visit here, climb a bell tower for a view of the city. The church is very interesting and attracts many visitors.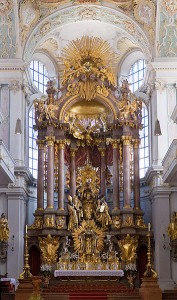 2 Karlskirche, Vienna, Austria
A place that inspires calm, a place on white, very luminous, a nice church I truly recommend in Vienna. Yes, I've visited it – and told about what's to be seen inside, including the elevator trip and going all the way to the top here.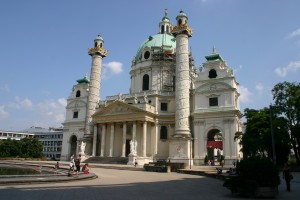 1 San Agustin Church, Manila, Philipines
This church was included as a World Heritage Site by UNESCO , under the classification "Baroque Churches of the Philippines" as we find out from Wikipedia. San Agustin Church is also the oldest church still standing in the Philippines.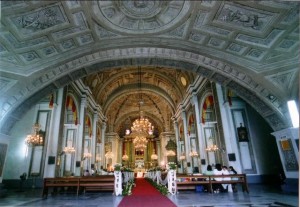 Now, what do you think about this selection? Do you have any other recommendations? Which of these churches have you visited already? Which ones do you plan on visiting soon?