Culture and fun in Poland
Guest post by Ela Krawczykowska
Poland becomes more and more popular among European travellers. The country has been a member of the EU from 2004 and went through huge re-development. It has been going through several political changes since 1989 and now is a liberal, open-minded country. One of the most popular destinations is surprisingly not the capital (Warsaw), but the charming city of Cracow (Polish: Krakow) in the south of the country.
Cracow is located on the banks of the Vistula River and close to Tatra Mountains. It is very hot in summer and super cold in winter, always busy, full of tourists and alive 24/7. Cafes and restaurants seem to occupy every cobble of Cracow's Main Market Square (Polish: Rynek Główny). Rynek is a beautiful place, I would say it is not only the most important place in the Old Town (which is a UNESCO World Heritage site by the way), but in Cracow in general. There are accommodation options near the place, mostly for cheap lodging, so hostels and B&Bs. The nightlife in Cracow is also centred around the Main Market Square. People go out very late in Poland, so don't expect clubs to be full before 10 pm!
One of the most charming parts of Cracow is Kazimierz. It was home to the Jewish community from the early 14th century to the Second World War. There are 2 Jewish cemeteries and a beautiful old Synagogue. When talking a walk down the little roads of Kazimierz, you can still feel its old spirit – there are plenty of kosher restaurants, stars of David mark old walls. There are stores with books in Yiddish (a language spoken by German and Easter European Jews before the war) and Judaic souvenirs. Definitely deserves a visit.
On your MUST SEE list you should also put the famous Wawel Castle and Wawel Cathedral, the Jagiellonian University, which is the second oldest university in central Europe, the Czartoryski Museum, which houses Da Vinci's "Lady with an Ermine", the Juliusz Theater, the National Art Museum, the Drapers's Hall (Polish: Sukiennice), the Town Tower Hall, the St. Mary's Basilica (Polish: Kościół Mariacki) and the Nowa Huta district.
If you're planning a trip across Europe, don't forget to stop in Cracow! If you don't have any plans for summer, consider Cracow if you're looking for some culture, beautiful old architecture, nice people and great nightlife!
Visit MyDestination Krakow for more info!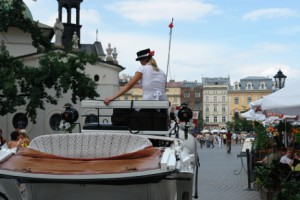 About Ela
Ela is a London-based freelance journalist from Poland. She loves learning languages, travelling, music and exploring different cultures