Best Day Trips From Barcelona
Millions of tourists visit Barcelona every year, but very few of them dare to "escape" from Barcelona. And with a simple car, train or bus ride you can enjoy unique day trips from Barcelona to see and explore places that few tourists ever heard of. From hiking in volcanic mountains to visiting Dali's own house, Barcelona offers much more than the city itself. That's why we have chosen five "escapades" loved by Barcelona locals to complement your next trip to the Catalan capital.
Montserrat
UFO sightings, a mountain range that appears to be cut by a saw, climbing routes, a black virgin called La Moreneta and children who sing like angels are (very) important reasons to go and visit this wonderful mountain located only 50 kms from Barcelona. This is one of the great emblems of Catalonia and it is highly recommended spending a morning visiting the Badia and then, if you are not too lazy (kindly meant), going hiking. And if you're into walking, here you will find everything you need to enjoy an unforgettable day of climbing in a unique setting. Of course, if you're around at night it is likely that you will see an UFO… Or so they say.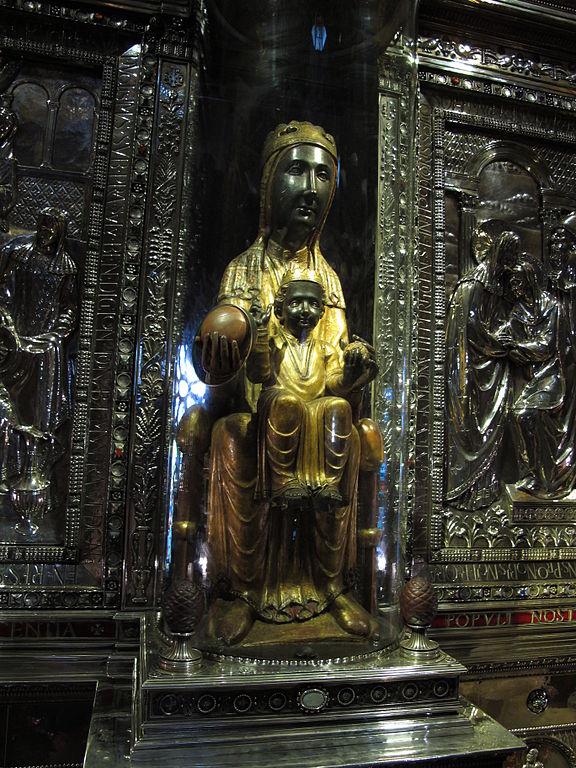 photo by Misburg3014 on Wikipedia
Cadaqués
A first recommendation: if you can, stay for a couple of days. It is (very much) worth it. And this idyllic fishing village in Costa Brava, Girona, is considered by many Catalans to be the prettiest village in Catalonia. But why? Because here was born and lived the great genius Dali and you can visit his home in Port Lligat. Because losing yourself on its labyrinthine streets full of white houses is a real pleasure. Because you can enjoy an Arrocito in the seafront (your friends will hate you when you upload the photo to instagram) and because visiting the Empordà area – also known as the Catalan Tuscany – is a gift for your senses that you cannot miss.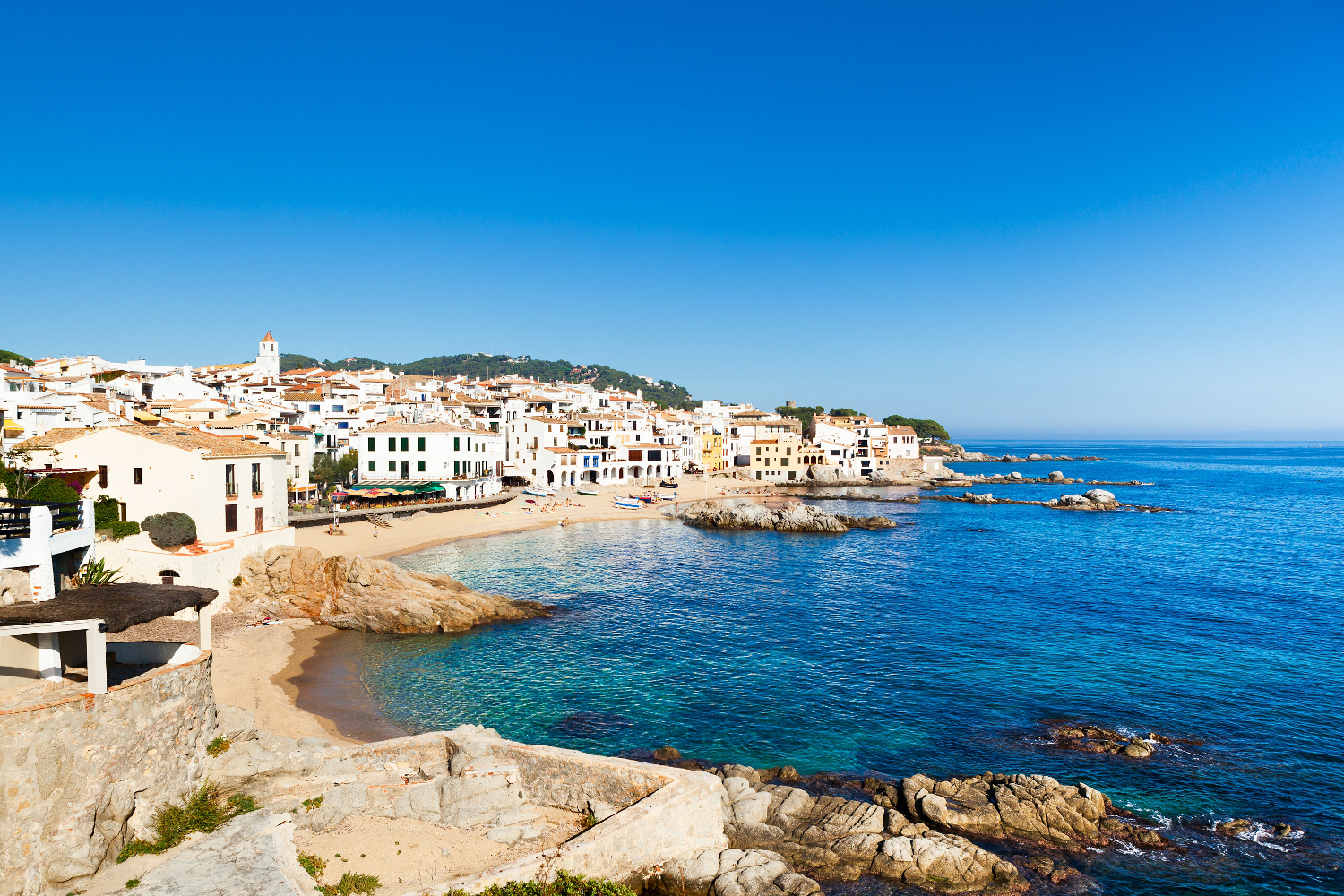 Coastline of Calella de Palafrugell. Costa Brava, photo by funkyfrogstock / Shutterstock
The Monastery of Poblet
Ready to travel in time? Visit one of the historical and cultural gems of Catalonia, hidden in the Conca del Barberá (Tarragona), the Poblet's Monastery (a monument included in the UNESCO World Heritage Site list). A community of over 30 monks still lives in this Cistercian monastery, which has been declared a World Heritage Site, giving it authenticity when it comes to capturing the special features of monastic life. And following this trip back in time, after the visit you can enjoy delicious food – cooked in a kitchen back from that time – and private wine tasting in the spectacular Riudabella Castle. Probably at some point you will think of yourself as a gentleman from that time.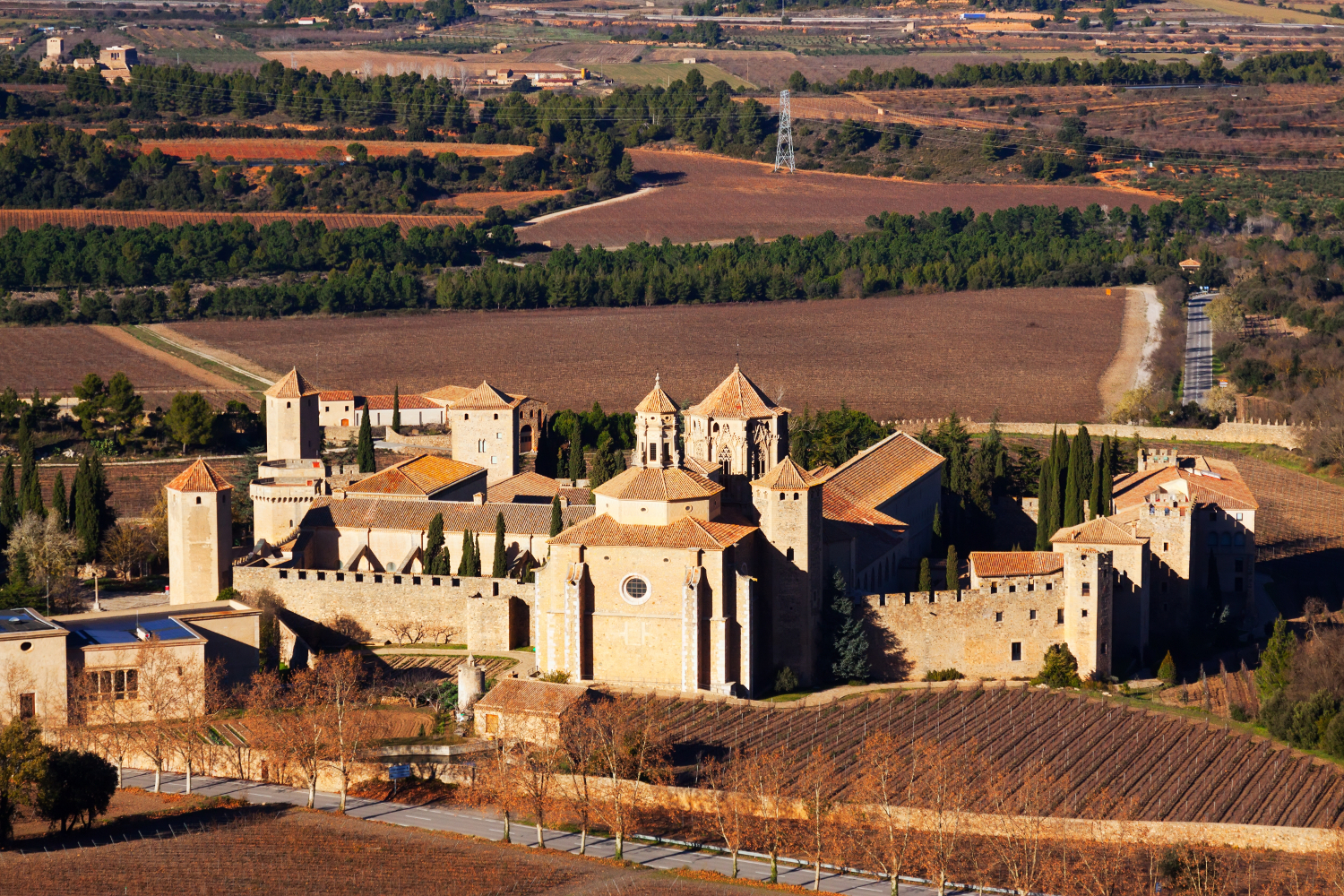 Poblet Monastery, photo by Iakov Filimonov / Shutterstock
The Fageda
Nature lovers, you will love this getaway. The Fageda d'en Jordà is one of 26 natural reserves that form the Natural Park of the Volcanic Zone of Garrotxa – it is an hour and a half drive from Barcelona – an authentic marvel. You can access it on foot, by bike or even by horse. Perhaps the most fun option for a family is horseback riding and, for those who are more sporty, you can take one of the biking routes and sweat a little while enjoying a breathtaking landscape. You can't miss visiting the Santa Margarida volcano with its spectacular emblematic views as well as a stroll through the town of Castellfollit de la Roca.
Cerdanya
Now we are in autumn and winter approaches, this Pyrenean region is the ideal place to enjoy a relaxing getaway. Green (a lot of green), rivers, charming villages, fondue, horse riding, bike rides, picking mushrooms, skiing, natural hot springs, hiking, Romanesque routes… It is clear that in Cerdanya you won't get bored. Now if you have the opportunity to go for a few days and to rent a house in any of its villages, there is no better pleasure that lighting a little fire in the fireplace in the afternoon and watching it relaxed from the sofa while you read a good book.
Many of these breaks will involve investing a few hours of your trip in traveling by car, but hey, it is really worth it. Think you will be able to see and visit places, towns and people that will give you a wider view than Barcelona and Cataluña. So, would you like to get away?
Article written by trip4real. Trip4real connects people from across the globe with local people offering truly unique & authentic travel experiences.