Romantic getaways in the US – 15 romantic vacations for two
Planning your next couple vacation in the US and don't know where to go? Here are the top romantic getaways in the US recommended by travel bloggers. Use this romantic vacations for two ideas and have fun on Valentine's Day or on any other romantic occasion.
These romantic destinations in the USA are perfect for short trips, couple anniversaries, or even weddings and honeymoons in the US.
Big thanks go to the travel bloggers who contributed to this article. You'll see both famous cities as well as outdoor romantic destinations in the U.S.! Plan your next romantic trip in the US using these ideas!
Note: the photos included in this article with romantic breaks in Europe belong to the bloggers who sent them – unless mentioned otherwise under the picture for the photo source.
Romantic getaways in the US – 15 romantic vacations for two
New York
By Claudia Tavani from My Adventures Across The World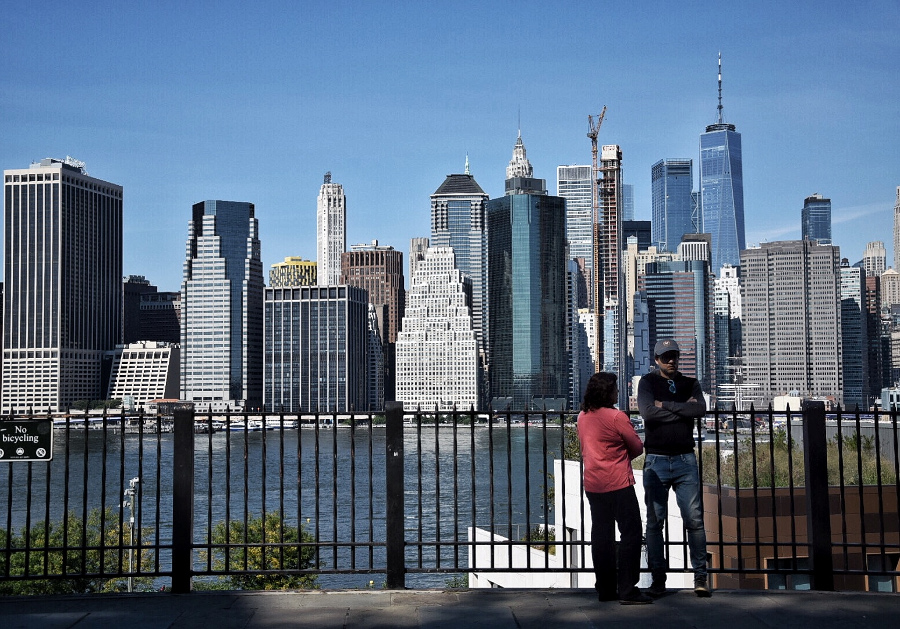 There is little doubt that New York is one of the most romantic destinations in the United States and one of the perfect USA Valentine's Day destinations.
The Big Apple, the city that never sleeps, has a lot to offer to visitors with any taste and need, including couples looking for a romantic getaway. There are many places in the city, many things to do in New York, that are perfect for that.
The most typical one would be Central Park, where it is pleasant to walk hand in hand, taking in the beautiful views of the park and the city that surrounds it.
The view of Manhattan from Williamsburg Bridge is stunning, especially as sunset approaches. And a cruise to visit the Statue of Liberty can turn into a very romantic experience.
Yet, the most breathtaking view of Manhattan, and a perfect spot for a romantic stroll is Brooklyn Heights, in Brooklyn.
New York is also packed with excellent restaurants serving any kind of food and for the best and most romantic dining experiences. There are plenty of wine and cocktail bars, as well as cozy, welcoming cafés where to sit for a while, chatting comfortably.
The choice of accommodation is vast, with anything from excellent budget options (for the romantic ones that don't want to break the bank) to boutique and luxury hotels. There even are excellent Airbnbs for rent.
A city that has so much to offer is bound to have just about anything for those in search of romance!
Santa Barbara
by Betsy Wuebker from PassingThru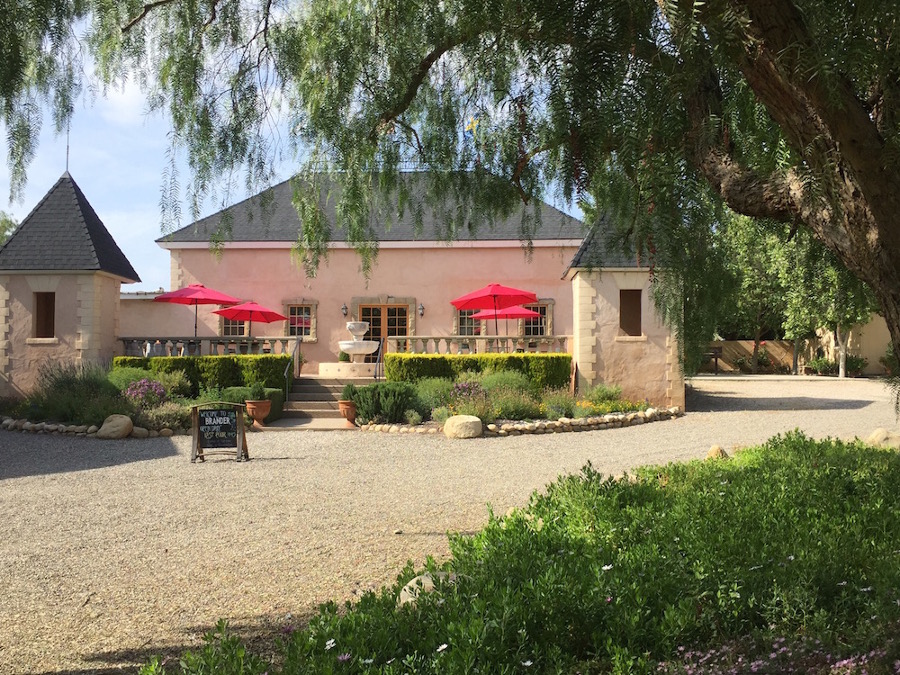 If you're a wine lover who is seeking a romantic vacation, Santa Barbara County is a wonderful alternative to over-touristed wine regions elsewhere in California and it is a perfect couple destination in the U.S.
Often referred to as the American Riviera, this Central Coastal area is home to an emerging, world-class group of innovative vintners who are passionate about their craft.
Put on the map some years ago by a popular comedy film, Sideways, the transverse valley, which is home to Solvang, Buellton and several smaller communities has attracted fine dining establishments and accommodations that promote the simple, casual sophistication visitors seek. Visitors will enjoy romantic sea and mountain landscapes in a year-round Mediterranean climate.
The region is notable not only for its Spanish mission and rancho history, but also as a convenient getaway from Los Angeles and San Francisco alike. Expect world-class amenities, down-home friendly hospitality, and a relaxing vibe to accompany great food and fine wine.
Accommodations will vary from charming little B&Bs in Victorian era residences, to larger resorts, and even a dude ranch or two. Go on a tasting tour to sample local offerings from the valley's diverse range of terroirs, indulge in an array of pampering spa services, or lounge by the pool. In short, all the options are here for the perfect romantic vacation in the U.S. as this is also a perfect Valentine's Day destination in the United States!
Lake Tahoe
by Katie Dundas from The Accidental Australian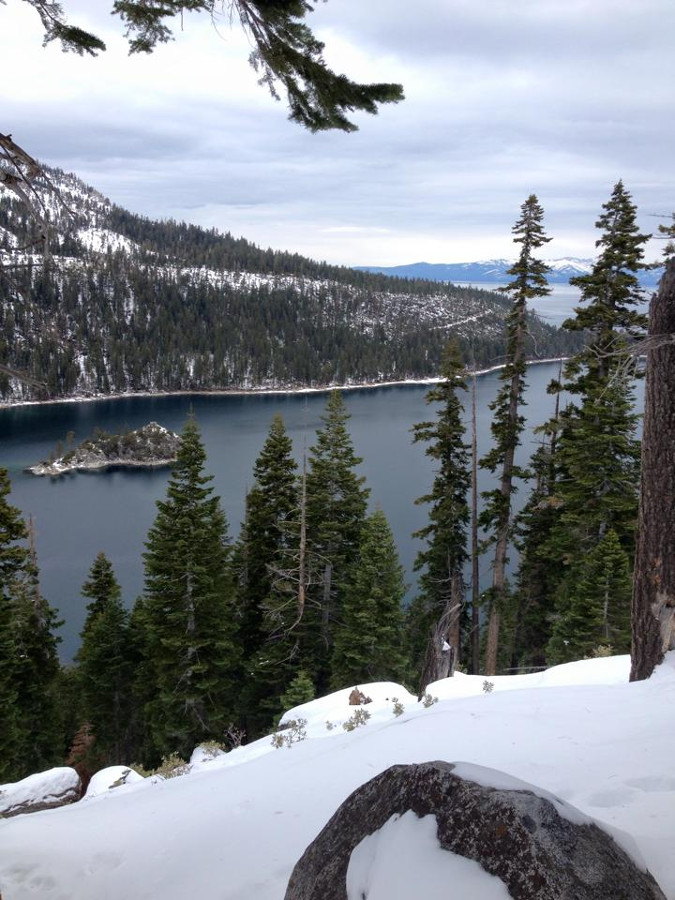 Lake Tahoe is one of America's most romantic vacation destinations. This sparkling alpine lake is the largest freshwater lake in America, and is on the border of Nevada and northern California.
For couples who love the great outdoors, Lake Tahoe is a beautiful place for a memorable holiday. There are many beautiful towns and resorts dotted around the lake, such as Squaw Valley, Heavenly Mountain Resort, Truckee, or the Hyatt Regency Lake Tahoe.
In winter, Tahoe is a perfect destination for couples who love skiing and winter sports- there are ski resorts situated all around the lake, and the Sierra Nevada mountain ranges offer world-class skiing.
Spending the day skiing or snowboarding together, followed by a cosy hot chocolate, soothing hot tub soak, or couples massage at one of Tahoe's resorts makes for the perfect winter day together.
In summer, Tahoe offers amazing hiking, boating, swimming, and adventure. Consider a sunset cruise on the lake with a champagne toast, a romantic picnic on the Tahoe's shores, or visit the Sierra Hot Springs.
A scenic hot air balloon flight would also be a beautiful way to enjoy a summer's day.
Lake Tahoe is a perfect romantic getaway, as it offers the majestic natural beauty of the American west, beautiful hotels and resorts for all budgets, and incredible adventure activities in both summer and winter.
Los Angeles
by James from Travel Collecting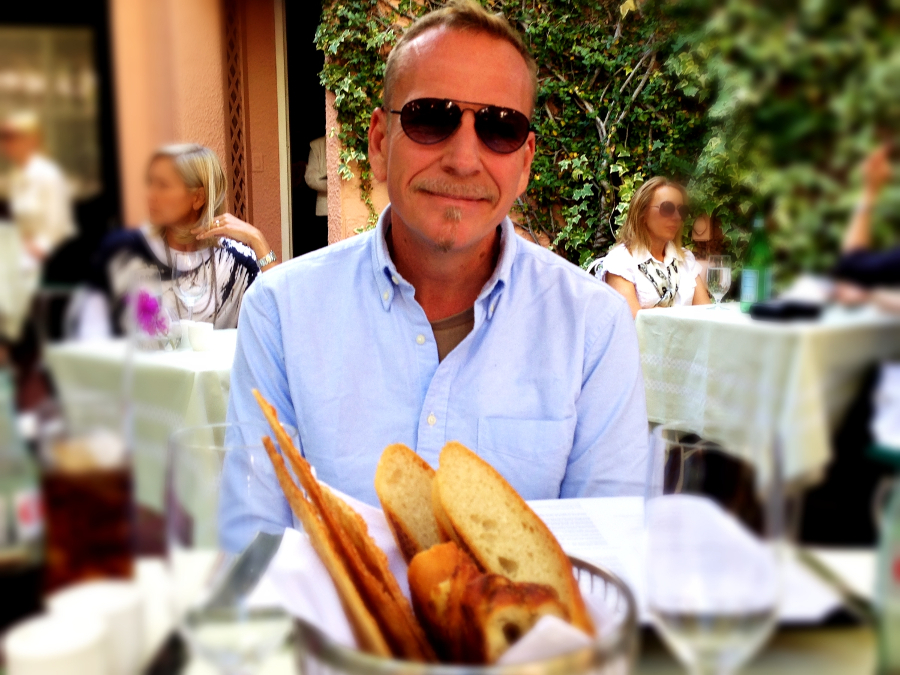 Seeing the sparkling lights of Los Angeles spread out below at night from the Griffith Observatory is incredibly romantic. Snuggle with your loved one and drink in the carpet of lights spread out below.  But it doesn't stop there as Los Angeles is one of the most romantic getaways in the United States.
To relax, enjoy a lunch and glass of wine with your loved one surrounded by celebrities at "the Pink Palace" The Beverley Hills Hotel.
For more active couples, after lunch you can ride a horse together in the Hollywood hills to see the famous Hollywood sign.  There is a stable with horse trips right in the middle of Los Angeles!
Go SCUBA diving through giant kelp fronds with your partner as your buddy – some of the best diving in the world is in the Californian kelp forests.
Or rent bicycles and ride over the canals together at Venice Beach, then continue riding to Malibu and have lunch right on the beach.  Take a ride together in the Ferris wheel for a kiss and views of the ocean.
Experience classic Hollywood on a tour of the Paramount Studios and pose hand in hand on the sofa at Central Perk on the set of Friends.
For a little spice in your relationship, dine on tacos in East LA while being serenaded by a mariachi band at El Mercadito Mariachi Restaurant.  There are so many incredibly romantic things to do in LA and the city can also be a perfect Valentine's Day destination in the U.S.
Chicago
By Patti from The Savvy Globetrotter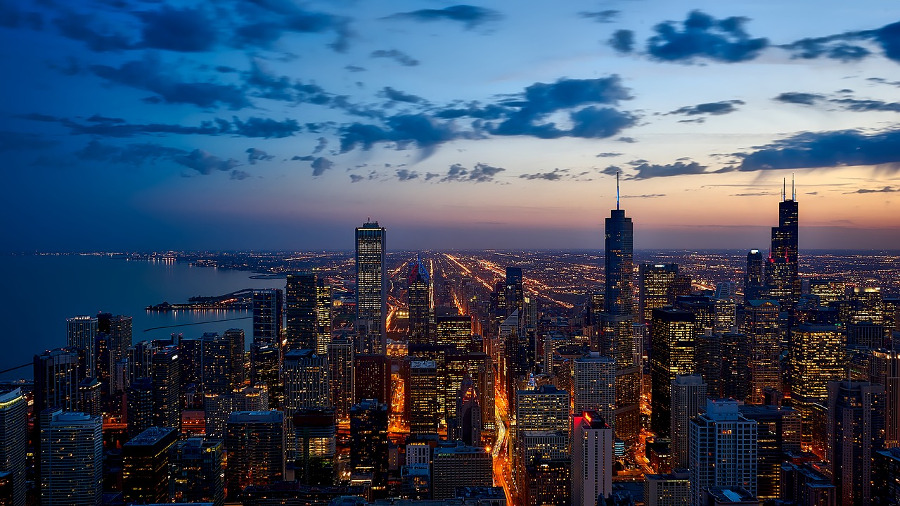 Photo from Pixabay
Chicago is one of the best cities in the United States for a romantic vacation with a large number of things for couples to do together. Couples that enjoy being outside can spend some time in one of Chicago's many parks and gardens or take a romantic stroll on the beach, along the lakefront or the Chicago Riverwalk.
Another romantic activity is to take a river cruise (one of the best ways to enjoy the impressive architecture and city skyline), join one of the many cruises on Lake Michigan or even charter your own private boat.
For couples interested in cultural activities, Chicago is home to many excellent and renown museums such as the Art Institute of Chicago and cultural institutions including Lyric Opera of Chicago and the Joffrey Ballet.
For a romantic night, couples can dine at one of Chicago's many restaurants serving every type of cuisine, go to the theatre or comedy club or listen to music at a blues or jazz club.
My favorite romantic activity is to have dinner and drinks at one of Chicago's many outdoor patios and rooftops that offer panoramic views of the beautiful skyline. Chicago is an incredible city that has something romantic for every couple no matter what your budget or interests.
Kauai, Hawaii
by Katrin Walzl from Moon & Honey Travel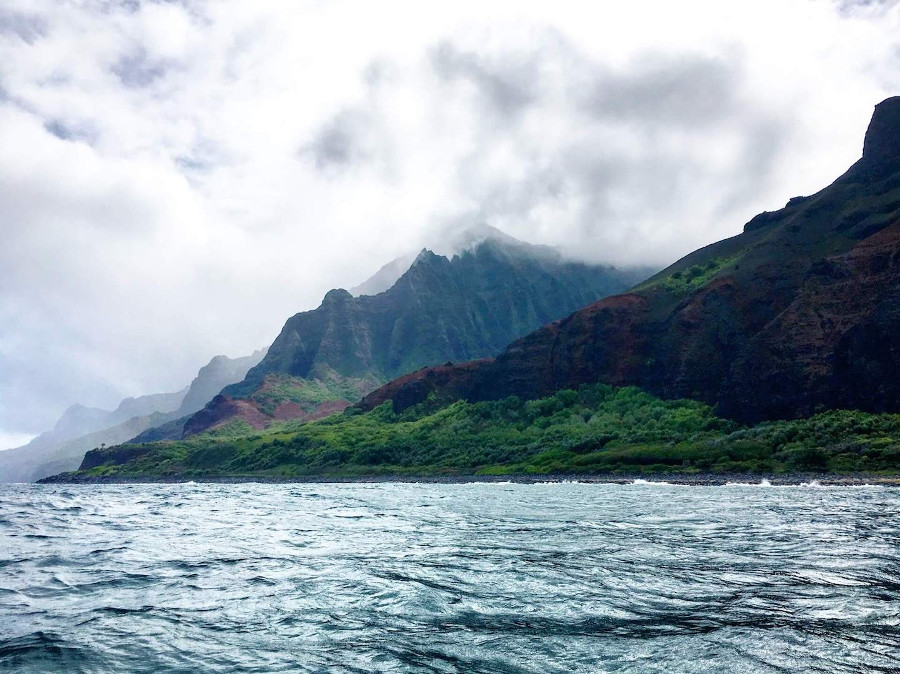 Kauai, Hawaii's most verdant island, is the ultimate romantic destination in the US and one of the best Valentine's Day destinations in the USA.
Its picture-perfect scenery coupled with its laid-back culture inspires couples to relax and live in the moment. Kauai is equally thrilling for both couples who want to unwind and those that want to go on adventures.
Thrill-seeking couples can trek the Kalalau trail (secure permit early), ride in a helicopter, kayak along the Napali coast and tube down an old sugarcane irrigation system.
Couples who love beaches can snorkel at Ke'e Beach, swim in Hanalei Bay, and surf at Poipu. Nature lovers can visit Kilauea Point National Wildlife Refuge & Lighthouse, Waimea Canyon and the island's various botanical gardens.
Activities aside, another reason to visit Kauai is the delicious food. From poke bowls and fish burritos to laulau and poi, culinary delights abound in this tropical paradise.
We recommend allocating 3-4 days to the North Shore, 3 days to the West Side and South Shore, and a final two days to the East Side. Use this Kauai Travel Guide to find out where to eat, what to experience and where to go.
Grand Canyon
By Jana from Mommy's Little World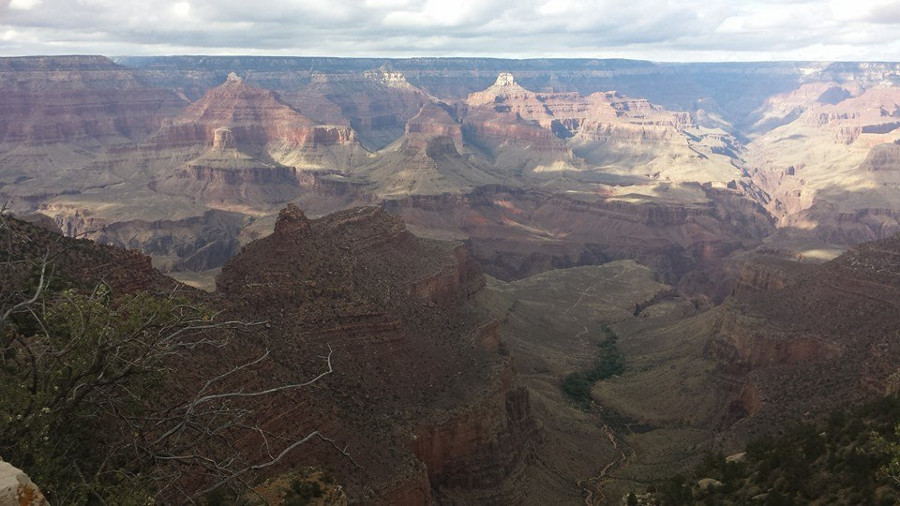 The most romantic vacation destination in the U.S., in my opinion, is Grand Canyon. I've always wanted to go there because it always looked so amazing on the pictures other people took.
That's why four years ago when we finally planned a trip to Grand Canyon, I was beyond ecstatic. We went in April, so the weather was still quite cold, but it's totally worth it! The views are breathtaking.
There are many paths you can take to go for a romantic walk and there is nothing more romantic like a nice walk in nature with the view of a beautiful canyon in front of you.
You can also take a bus that takes you around the Canyon for free. The bus has numerous stops and there will be a new bus coming every ten minutes or so.
This destination is particularly special to me and my family because that's where my husband proposed. I must admit, I was a little cranky that day because I was cold. To this day my dad jokes that if my husband proposed on that day, he must indeed love me.
Not only did he put up with my particularly "fun attitude", but the poor guy walked around with the ring box in his sox for who knows how long.
Helen, Georgia
By Ketki from Dotted Globe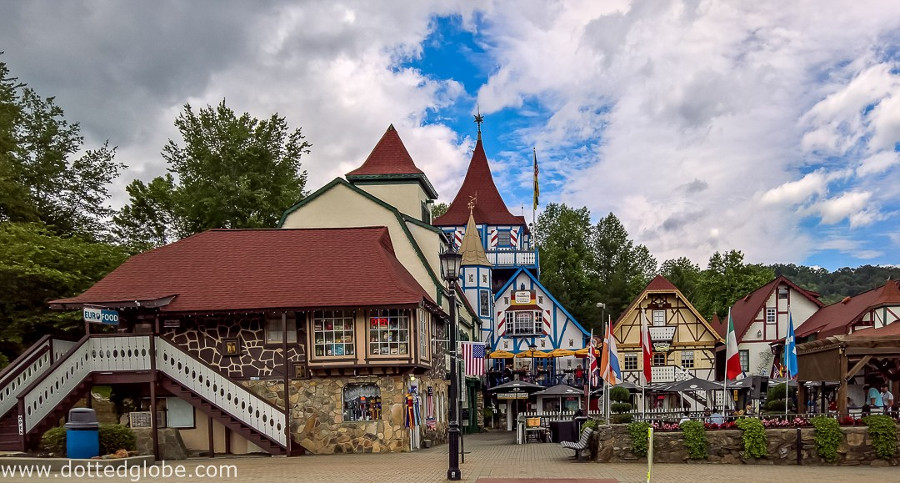 When it comes to romance in the southeastern US, Helen promises it all: stunning mountain views with snowy peaks, charming European architecture, and delicious cuisine.
This small touristy town is located in northern Georgia's Blue Ridge Mountain ranges and has typical Bavarian chalet architecture with sloping roofs and embellished facades.
With lodgings boasting of hot tubs, pine wood interiors, and flickering fireplaces – Helen is the ultimate romantic getaway.
We love exploring Helen's Main Street and stepping inside candy and fudge shops, eating fresh boiled peanuts, and warm pretzels. Main Street is also good for shopping one of a kind trinkets and European souvenirs. The alleyways leading off Main Street are good for strolling with your loved one.
We love splurging on a horse-drawn carriage ride around Main Street and snuggling close to each other as we take in the town's sights. For dinner, you can enjoy a simple Bavarian meal of wursts, schnitzels, and apple strudel along with German craft beer.
Helen is also perfect for short excursions in the area. Outdoor enthusiasts can hike the Anna Ruby Falls in Chattahoochee National Forest or bike along mountain trails in Unicoi State Park.
Many boutique wineries are located near Helen and we enjoy spending a day sampling local wines. Couples can also enjoy a romantic dinner cruise on Lake Chatuge at sunset.
Sedona, Arizona
By Lucy from On the Luce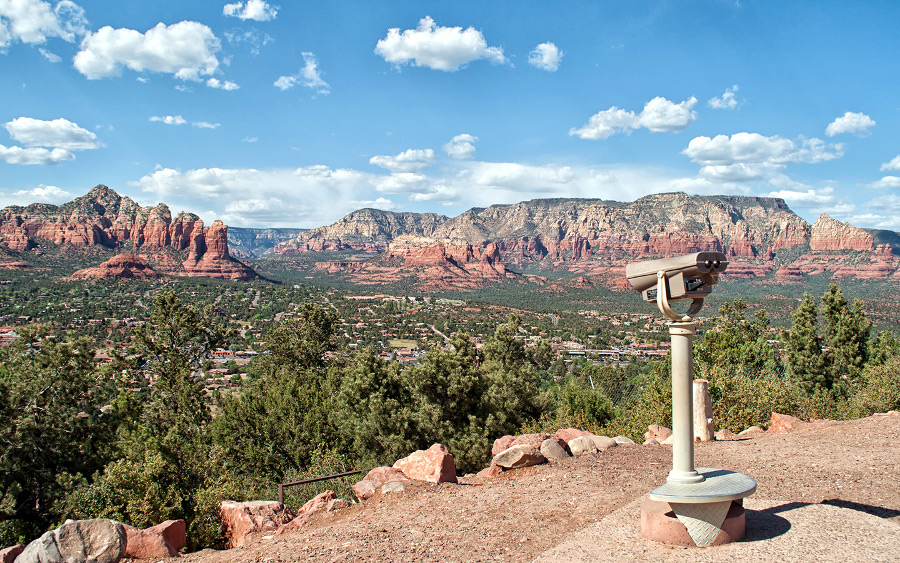 Red rock views, star-filled skies, great food and wine, and a little bit of electromagnetic magic make Sedona in Arizona an irresistible destination for a romantic break in the U.S.
Sedona sits on a series of vortexes where it's said that energy flows from within the Earth and heightens your spiritual and emotional awareness. Whether you're a believer or not, there's definitely something special in the air in this desert town.
By day you can explore the stunning red rocks surrounding the town with a hike to Cathedral Rock, Courthouse Rock or Bell Canyon, or take a drive along the scenic Red Rock Loop. Sedona's also known for its spas and is home to over 100 art galleries and studios. And it's part of the Verde Valley Wine Trail, which connects some of the best local wine producers.
With plenty of places to stay you'll easily find your own perfect romantic getaway – with everything from a cosy cabin to a luxurious five-star resort with jacuzzi, pool and an open fire for warming up on a cold evening.
Head up to Airport Mesa just before sunset for a panoramic view across Sedona's rooftops as the sun goes down. Then choose from a range of restaurants serving delicious Latin and Mexican food.
And don't forget to wrap up warm and head outside after dark for some of the clearest night skies around, perfect for stargazing.
Steamboat Springs, Colorado
By Dan Bagby – Honeymoon Always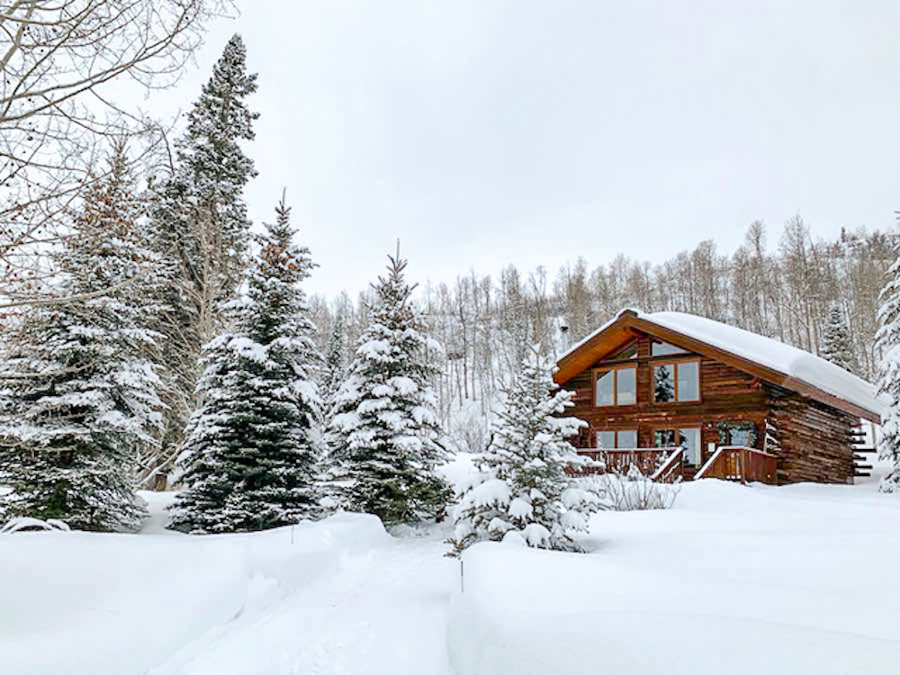 For a romantic getaway in the US, take a trip to Steamboat Springs in Colorado.  Located about 3 1/2 hours from Denver, it is a perfect small town to enjoy together with your partner.
In the winter you will find a snow-covered town with cozy lodges where you can enjoy a hot tub together, relax in front of a fireplace or enjoy the many fun outdoor activities.
Thrilling experiences await like snowmobiling, downhill skiing, snow tubing or many other activities. The name of the town comes from the natural springs you can enjoy downtown at the Old Town Hot Springs or for a more rustic and natural setting you can take a shuttle to Strawberry Hot Springs.
In the summer, enjoy hiking to waterfalls, fly fishing, mountain biking, and horseback riding.
After a few days in Steamboat Springs, 40 minutes away you will find Vista Verde Ranch an all-inclusive getaway where you can have your own cabin.
The ranch is ran like a well-oiled machine allow you the opportunity to shut your brain off and enjoying your time together as you eat delicious food, drink all the hot chocolate you want, and take advantage of the available activities.
New Harmony, Indiana
By April Berry from Minivan Adventures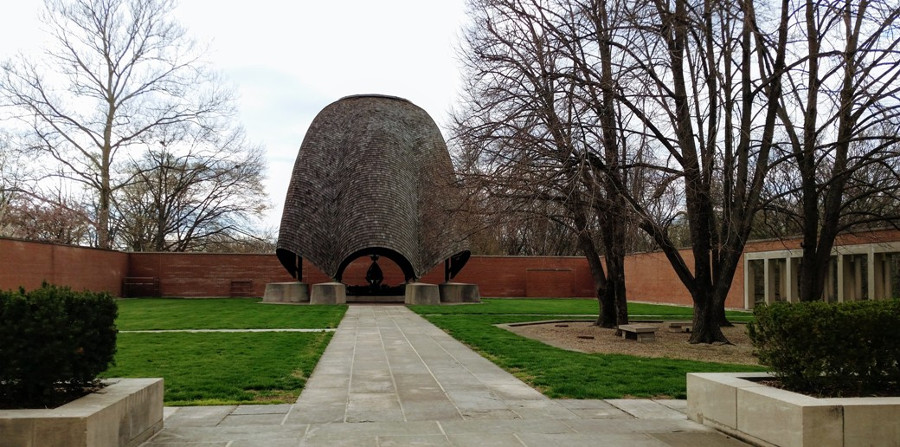 Find romance in utopia! Plan a getaway for two to New Harmony, Indiana!
Founded over 200 years ago as a utopian community, this small Midwest town has all the makings for a perfect romantic getaway – beautiful spaces, interesting community, rich history, a creative atmosphere and unique sights.
Imagine you and your partner holding hands as you…
Discover lovely secret gardens and beautiful parks
Slowly wander through one of the New Harmony labyrinths
Gaze into each other's eyes while standing within the solemn brick walls of the Roofless Church
Learn about the town's utopian heritage and interesting history with a guided walking tour
Wave at the locals passing by on bicycles and golf carts
Admire the oddly complimentary combination of old and modern architecture
Wander the scenic trail alongside the banks of the Wabash River
Sip your favorite warm beverage at one of New Harmony's quaint coffee shops
Enjoy good food at one of the hometown dining establishments
Stay at one of the town's historic inns.
Could a small town in the American Midwest be any more romantic? New Harmony is truly a charming place to visit with the one you love!
The Big Island
By Andrew John Virtue Dobson from DobbernationLOVES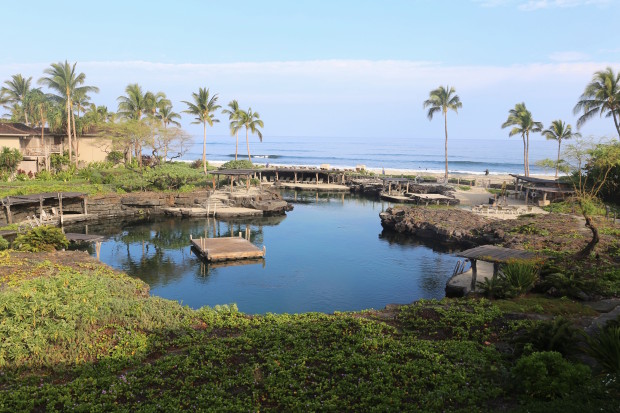 From Mauna Kea's winter snow-capped mountaintop to the flowing lava of Kilauea Volcano to tropical rainforests and a teeming undersea world, the Big Island of Hawaii has much to offer the romanced wanderlust couple and it is one of the top romantic getaways in the U.S.
Located on a stunning one-half mile stretch of beach on the Northwest Kona Coast, Four Seasons Resort Hualalai is a tropical oasis that captures the essence of Hawai'i as it once was.
The contrast of ancient black lava rock with towering coconut palms, white sand beaches and azure sea creates opportunities for romantic memories and unforgettable photographs at every turn. It's undoubtedly the most romantic resort on Hawaii's Big Island.
The best way to enjoy Hawaii's Big Island is by renting a car and enjoying a rural road trip. Coffee lovers be sure to make a stop at Greenwell Coffee Farm for a tour and tasting of one of the world's most expensive java jolts.
Those keen to tap into the islands indigenous history can enjoy a stroll at Pu'uhonua O Honaunau. The six-acre temple compound dating from the 16th century offered absolution to all who managed to run or swim past the chief's warriors. Partially restored, it now provides a glimpse into precontact Hawai'i.
Finish your romantic Big Island tour with an unforgettable flight over the Kīlauea crater and Hamakua Coast with Paradise Helicopters.
Ojai
By Asher from Asher & Lyric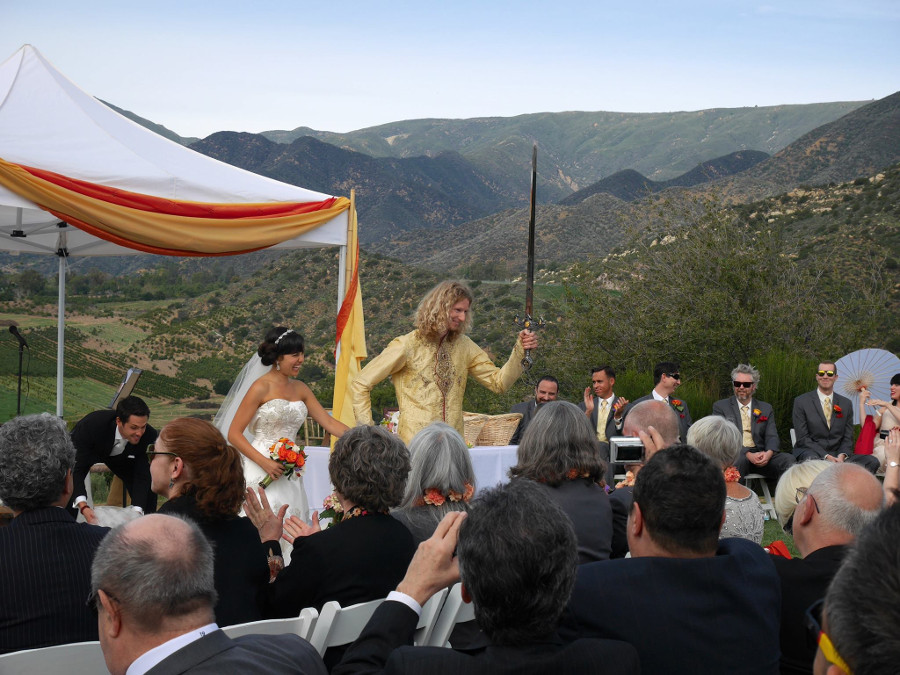 In January 2015, my wife and I had the good fortune to get married in Ojai, California and then to spend the first few days of our honeymoon at the renowned Ojai Valley Inn. This little town of about 7,000 people is located 30 mins inland from Santa Barbara in the Topatopa Mountains.
In addition to a notable food and wine scene, Ojai offers incredible hiking trails and vistas of the mountains from almost anywhere in the valley. And every evening around sunset you will want to stop and indulge in the magical "pink moment" when the mountain ranges turn pink.
There are several great places to stay in town but if you're going for a truly romantic vacation in the U.S. then we recommend staying at the Ojai Valley Inn and Spa which sprawls over a gorgeous 220-acre property with views from almost every room.
The casita-type layout is perfect for a romantic couple because it makes for very private and intimate accommodation. Their Spa offers every treatment you could imagine and their staff is very eager to please.
There is little wonder why so many people (including celebrities) seeking a romantic getaway choose Ojai after you've had a few luxurious nights at this hotel.
Cascade Mountains of Washington State
By Christa Rolls from Expedition Wildlife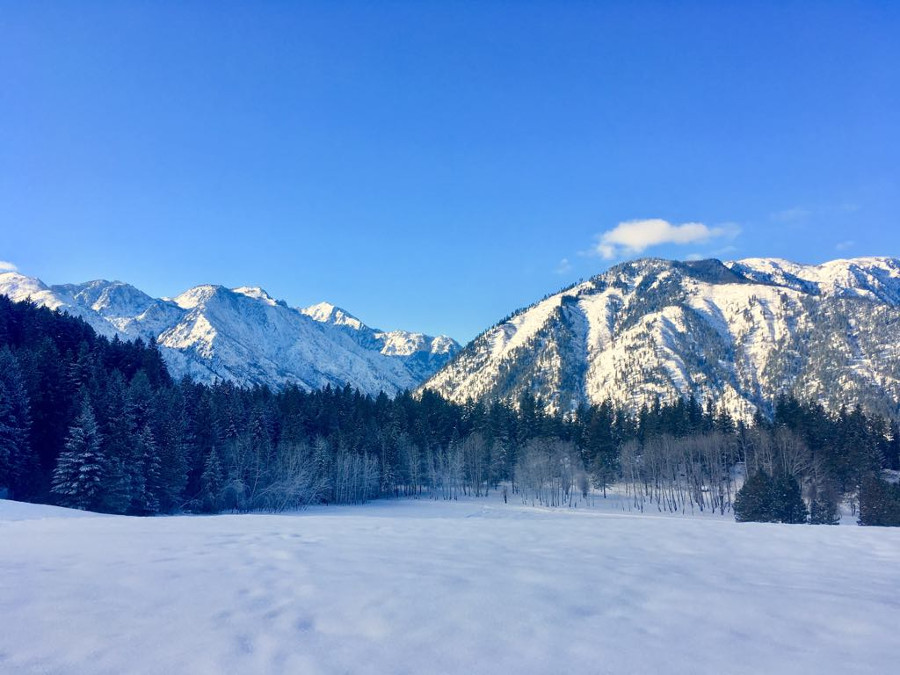 Mountain Home Lodge in the stunning Cascade Mountains of Washington State is the perfect destination for those who love great food and service coupled with spending time in nature. The Lodge is secluded, as it sits 1,000 feet above the Bavarian-inspired village of Leavenworth, and looks out to the surrounding mountains, so the views from your private cabin or guest room are out-of-this-world.
Any time of year is a good time to be at Mountain Home, as summer yields sunny and mild days perfect for hiking, autumn sees cool days and stunning fall colors, and the winter snow allows the perfect opportunity to ski, sled, or snowshoe.
Leavenworth hosts one of the best Christmas markets in the country every December, and the regionally famous Alpine Lakes Wilderness, otherwise known as the Enchantments, is a short distance away.
A day hike to Eight-Mile or Colchuck Lake will exemplify how the area got its name – keep a lookout for mountain goats along the way!
In-house chefs prepare delicious meals for visitors throughout the day (including a complimentary appetizer and glass of wine before dinner), winter sports gear is complimentary for guest use, and a pool is available in summertime and a steaming hot tub is open in winter.
Don't miss over-indulging in beautiful scenery, eating incredible food, and experiencing the serenity of Mountain Home Lodge!
Read this article to discover 10 quirky things to see in Washingon DC!
Charleston
by David Hutchison from Paid surveys fanatic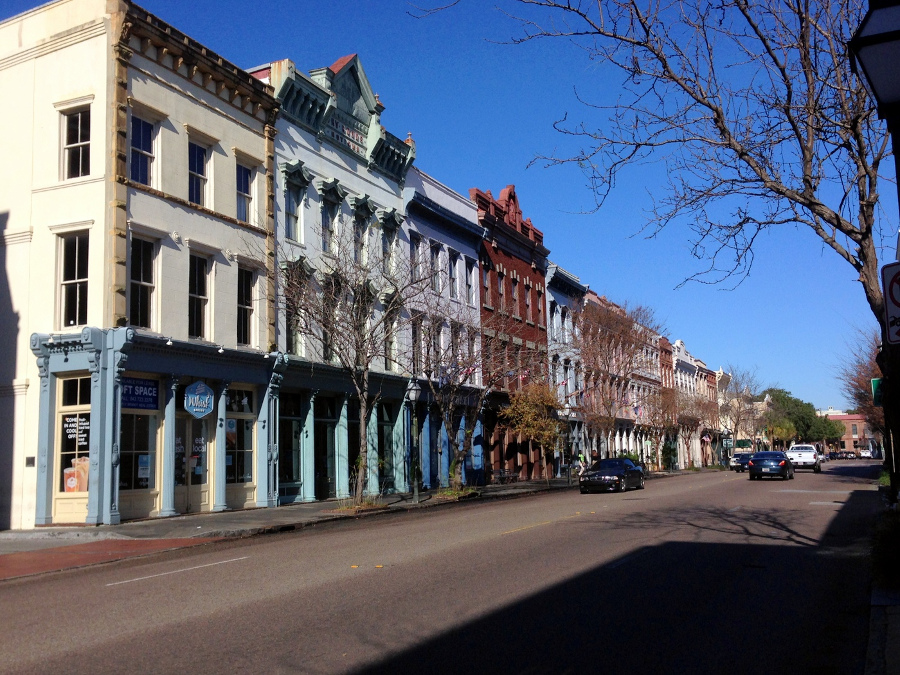 Charleston in South Carolina is the perfect romantic getaway destination in the US. This charming city is the perfect mixture of beautiful architecture, polished gardens and grand homes, and in combination with great food and accommodation makes for the perfect romantic getaway.
Simply strolling the quaint streets of Charleston is an activity in itself. The Historic District is gorgeous and filled with church, grand homes, strips of shops and historic cemeteries which only add to the atmosphere.
This is also where Rainbow Row is located – one of the most photographed areas of town. It's also worth visiting Marion Square garden – a peaceful garden itself with historic attractions, areas to relax and even a large Christmas tree.
Another must visit destination is Fort Sumter, which is the site where the first shots of the American Civil War were fired. There are several different tours you can do on the island, and it's only a short and enjoyable 30-minute ferry ride from Charleston.
Finally, a visit to Magnolia Plantation and Gardens is essential. Home to the oldest public gardens in America, this grand residence has several attractions like exploring the home, visiting the petting zoo, getting lost in the outdoor maze and strolling the garden – complete with ponds and small bridges.
Plus there's plenty of quaint accommodation on offer in Charleston. My number 1 pick for a romantic vacation destination in the U.S.!
I hope that this list of ideas for romantic holidays for couples in the US gives you many trip ideas! As you can easily see, there are plenty of romantic getaways in the US to choose from. So, next time you are planning a romantic break in the United States, choose one of these Valentine's Day destinations in the US.
For more romantic trip ideas, here are 43 romantic destinations in Europe!