Guinness Record: Bridge made of plastic bottles over the river Bega in Timisoara, Romania
A bridge worthy of the Guinness Book of records was recently inaugurated in the Romanian city Timisoara. Of course the bridge has a message and it is a signal in what protecting the environment is concerned. The project was created by a local association, and the bridge can be crossed by anyone in the area over the next two weeks. An important mention though: people crossing the bridge have to respect some basic rules: no heels, no smoking, jumping or running on the bridge.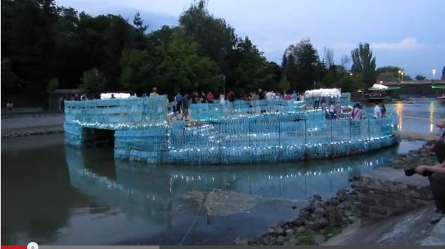 The bridge over the Bega is made out of over 100 000 plastic bottles and aims to become the new "Largest Plastic Bottle Sculpture" in the Guinness World of Records (they sent the documentation and are waiting for an answer, but the previous such sculpture had only 40,000 plastic bottles used). The bridge is illuminated in the evening and several concerts will be held here over the next weeks.
Here are some videos of the bridge.