Jungferngasse – the street so short it has neither door nor number
Austria is a beautiful country, famous for its castles and the shopping seasons, and it's visited annually by many people. Vienna, its capital, is also an amazing city, full of interesting sights to see.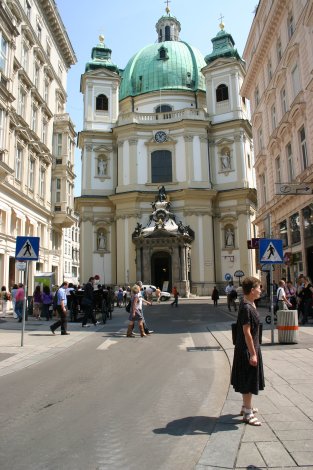 Today I'd like to share something special with you, showing you a street that's indeed a curiosity. Jungferngasse is a street that has no door. As you can see in the picture there are some windows (of famous brands, I might add – Hermes to give one example), but not one single door. The street begins at the zebra crossing and ends before that church in the back of the photo (Peterskirche, a beautiful white church, a jewel of the Baroque, a charming and peaceful place).
We were in the neighborhood, planning to see Anker Uhr (another famous spot which we happily recommend – but we will present it in the future), but we had some time to spare  We heard that there is a special street in Vienna – or you could as well call it strange, while still perfectly ordinary for the locals – and we wanted to see it. Following the indications from our GPS device, in about minutes we arrived at Jungferngasse. It is indeed a strange feeling: now you are here, at the beginning of the street, you take few steps and… that's it – the street ends. Still it's an experience that you just have to enjoy, so if in Vienna, try to go see Jungferngasse – right in front of Peterskirche.
Save
Save