10 Offbeat Washington DC Attractions
Washington DC is famous worldwide for the White House, United States Capitol, Lincoln Memoria, the Smithsonian National Museum of Natural History, and more. But, beyond these popular attractions, Washington DC has interesting, quirky places worthy to be discovered. Here are 10 offbeat Washington DC attractions presented by Julie Peters, blogger at Travelasmuch.com – in a new article part of the Curiosities series from Travel – Moments in Time.
Some of the quirky things to do in Washington recommended in this article are also the best free things to do in Washington DC! Make sure you include as many as possible on your Washington itinerary!
Included in this Unusual things to do in Washington DC guide:
The Mansion on O Street
The Drug Enforcement Agency Museum
Albert Einstein Memorial
Blind Whino (AKA the SW Arts Club)
The Capitol Columns at the National Arboretum
Franciscan Monastery of the Holy Land in America
National Postal Museum
Bureau of Engraving & Printing
Congressional Cemetery
Warner Theater's Walk of Fame
10 Offbeat Washington DC Attractions
There's no shortage of things to do and see in our nation's capital. However, if you look beyond the Smithsonian museums, the Washington Monument, and the other big tourist attractions, you'll find a few offbeat places sure to please. Here are ten of my favorites:
1. The Mansion on O Street
The first item on this quirky things to do in Washington DC list is part tourist attraction, part luxury hotel. The building was designed by Edward Clark (architect of the Capitol building) in 1892. The interior design of the Mansion on O Street became noted for unique and eccentric styling of various architectural, artistic and design periods.
It is a series of five interconnected town houses that includes over 100 rooms of varying architectural, artistic and design periods, from the Victorian Age to Art Deco/Avant Garde, and over 70 secret doors.
Highlights include hand painted ceilings, original Tiffany stained glass windows, a two-story Log Cabin (inside the building!) and a secluded Art Deco penthouse with private elevator. The unique decor has been chronicled in books including James Patterson's Four Blind Mice.
Tours and accommodations vary in price. The Mansion is located at 2020 O Street NW.
2. The Drug Enforcement Agency Museum
Technically, this is across the river in Arlington, Virginia, but still accessible via the DC Metro subway and worth a visit. The museum has a collection of artifacts related to the history of drugs and drug law enforcement, with more than 2,000 objects ranging from old patent medicine bottles to modern drug concealment containers.
One exhibit addresses prescription drug abuse in America, another deals with how drug trafficking has evolved over the past few decades.
Their biggest exhibit deals with the costs and consequences of drug abuse.
The museum offers free admission, and is located at 700 Army Navy Drive in Arlington, Virginia.
3. Albert Einstein Memorial
Located at the National Academy of Sciences, this giant bronze statue of Albert Einstein is one of the more fun monuments in Washington. There is something so grandfatherly about this statue and so benevolent about Einstein's facial expression.
I have never visited this memorial and not seen someone climb up to sit in Einstein's lap. Visitors can see the Einstein memorial free of charge outside the National Academy of Sciences at 2101 Constitution Avenue NW.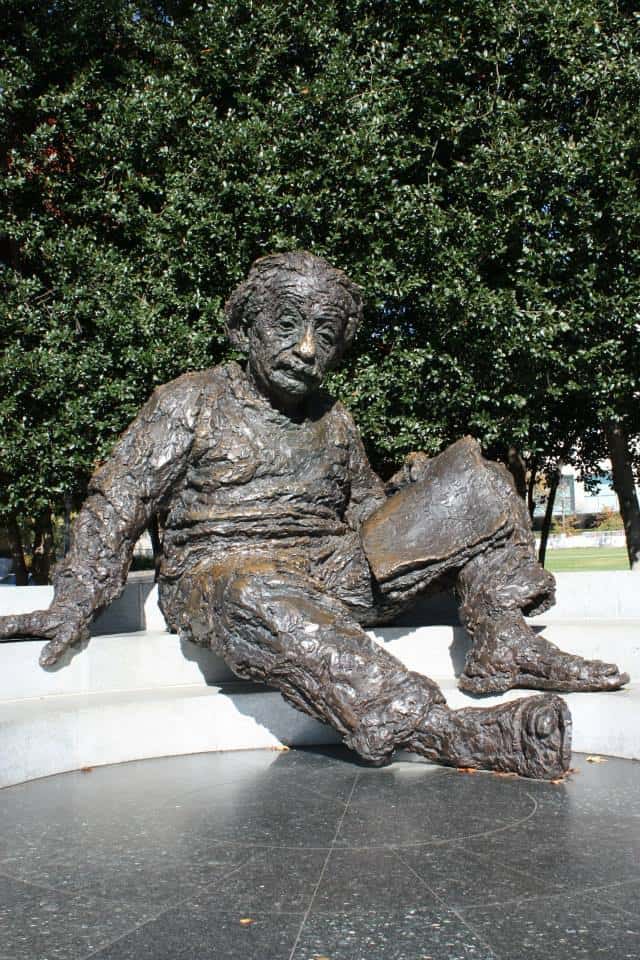 4. Blind Whino (AKA the SW Arts Club)
Housed in the historic Friendship Baptist Church, built in 1886, the SW Arts Club contains over 15,000 square feet of space dedicated to community-based arts programming. This is definitely one of the offbeat DC attractions to visit!
The outside of the building is painted in a hodgepodge of vivid colors and patterns, and the interior contains both traditional gallery space and colorful street art style graffiti.
The address for Blind Whino is 700 Delaware Avenue SW.
5. The Capitol Columns at the National Arboretum
Twenty-two tall Corinthian columns that used to be part of the US Capitol building are artfully arranged with a reflecting pool. Very Instagram-worthy and one of the cool things to see in Washington DC.
While you're at the Arboretum, you can also visit the National Bonsai and Penjing Museum to marvel at the tiny trees discovering more Washington DC hidden treasures.
There is no charge to visit the National Arboretum. The address is 2400 R Street NE.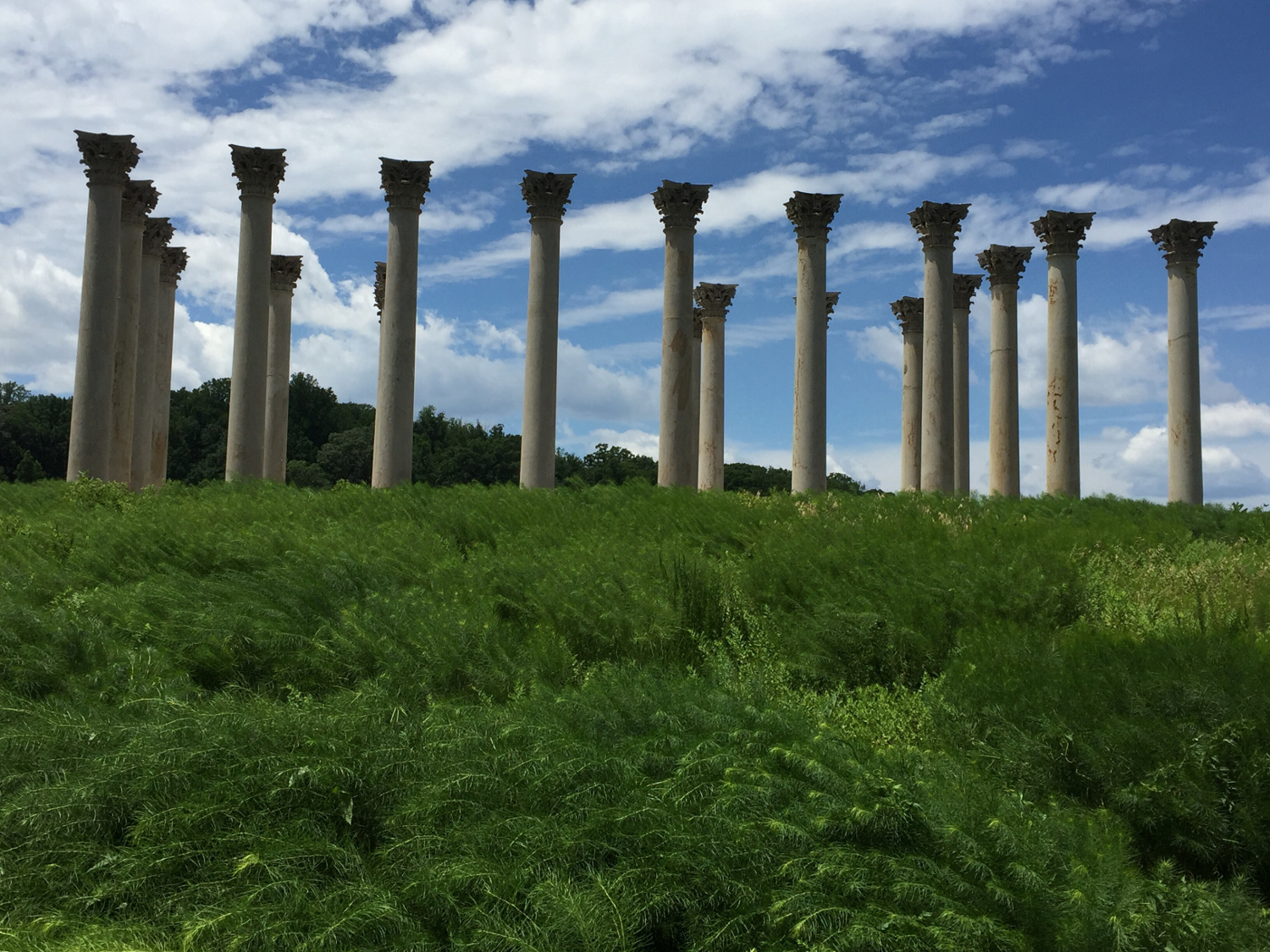 6. Franciscan Monastery of the Holy Land in America
Another item on the free things to do in Washington DC is visiting the Franciscan Monastery of the Holy Land in America.
Visitors to this monastery can explore the full-size replicas of Holy Land shrines, a beautiful church and contemplative gardens.
Guided tours of the church and its shrines, plus the catacombs, Purgatory Chapel and grottoes are held daily.
Free to visit and tour; located at 1400 Quincy Street NE.
7. National Postal Museum
This very underrated branch of the Smithsonian's national museums has a lot to offer, even if you aren't into stamp collecting. It's housed in a grand old post office and contains exhibits about every aspect of mail delivery. Without a doubt, one of the top unusual things to see and do in Washington DC.
The oddest and most intriguing display is the preserved figure of a dog named Owney, the unofficial mascot of the Railway Mail Service.
The Postal Museum is located at 2 Massachusetts Avenue NE and offers free admission.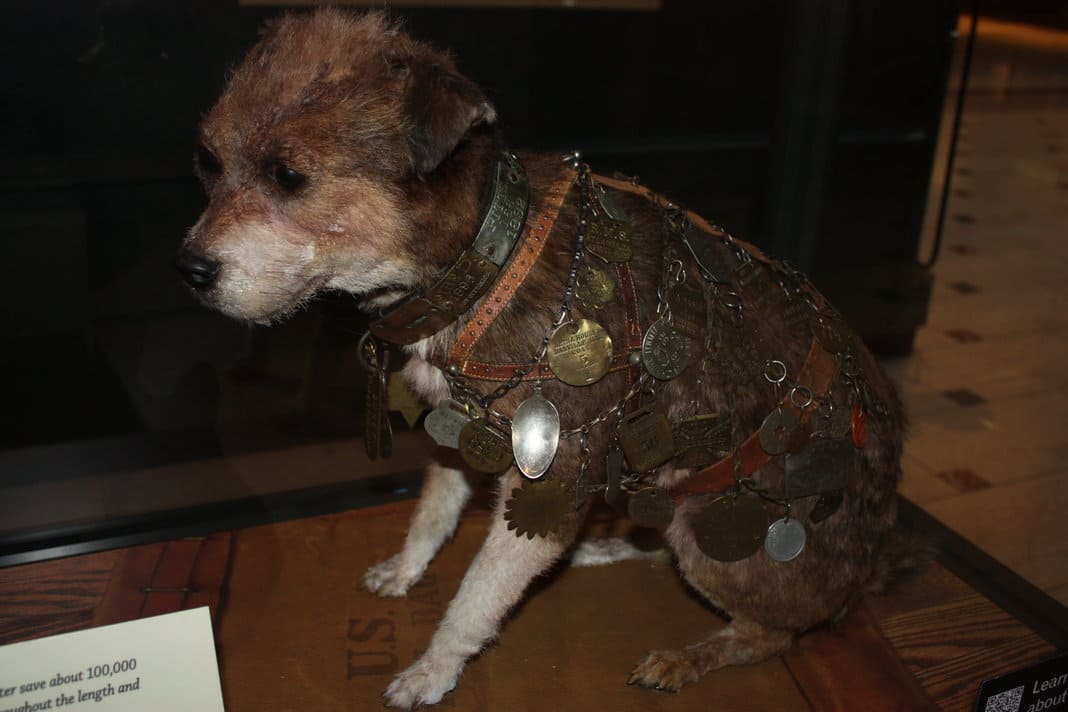 8. Bureau of Engraving & Printing
Going further off the beaten path in DC you'll find that the Bureau's Tour and Visitor Center is a great place to learn all about U.S. paper currency.  You can see millions of dollars being printed as you walk along the gallery overlooking the production floor!
The free 40-minute experience includes an introductory film and gallery tour of the production process.  The visitor center includes exhibits and currency products for sale.
Admission is free but tickets are required. The ticket booth is located on Raoul Wallenburg Place (formerly 15th Street SW).
9. Congressional Cemetery
Founded in 1807, the cemetery has a fine collection of 19th century tombs in various styles, materials, and forms.  Particularly significant among the monuments are the striking memorials designed for members of Congress by Benjamin Henry Latrobe.
These monuments were placed in memory of members of Congress who died while in office between 1807 and 1878, some of whom were buried elsewhere – hence the common reference to Latrobe's monuments as "cenotaphs" (empty grave).
Visitors to the cemetery will find gravesites of one Vice President, one Supreme Court justice, six Cabinet members, 19 Senators and 71 Representatives (including a former Speaker of the House), as well as veterans of every American war, FBI Director J. Edgar Hoover, and John Philip Sousa.
The cemetery is located at 1801 E Street SE.
10. Warner Theater's Walk of Fame
Outside the Warner Theater, there are about 15 star-shaped plaques embedded in the pavement. Most are accompanied by the celebrity's signature in cement – surely one of the unique experiences in DC.
Some notable stars memorialized here are Frank Sinatra, Liza Minelli, Prince, Johnny Cash, and others. The theatre is located at 513 13th Street NW.
About the author
Julie Peters has been writing about interesting places on her blog, Travelasmuch.com, for the past two years. Follow her travels on social media: Twitter, Facebook, and instagram.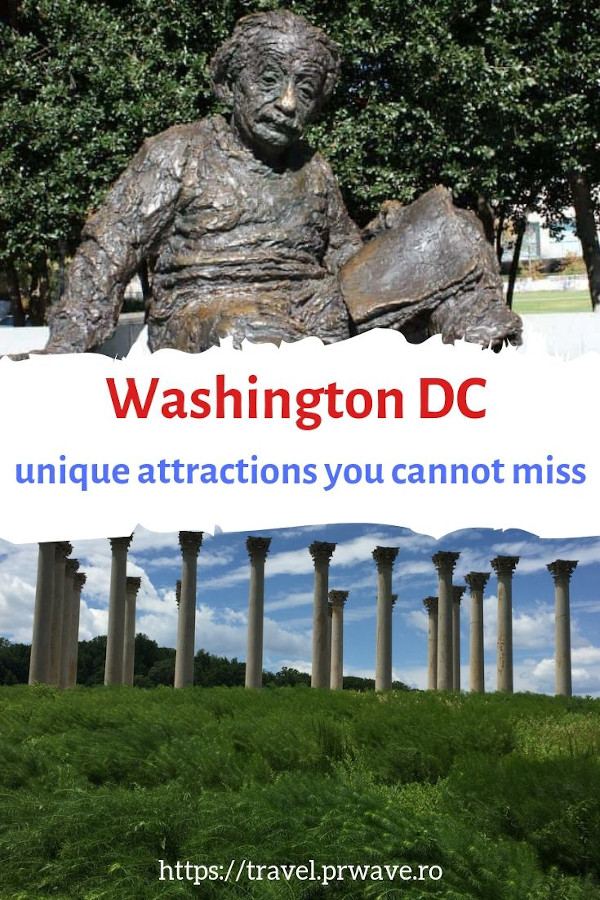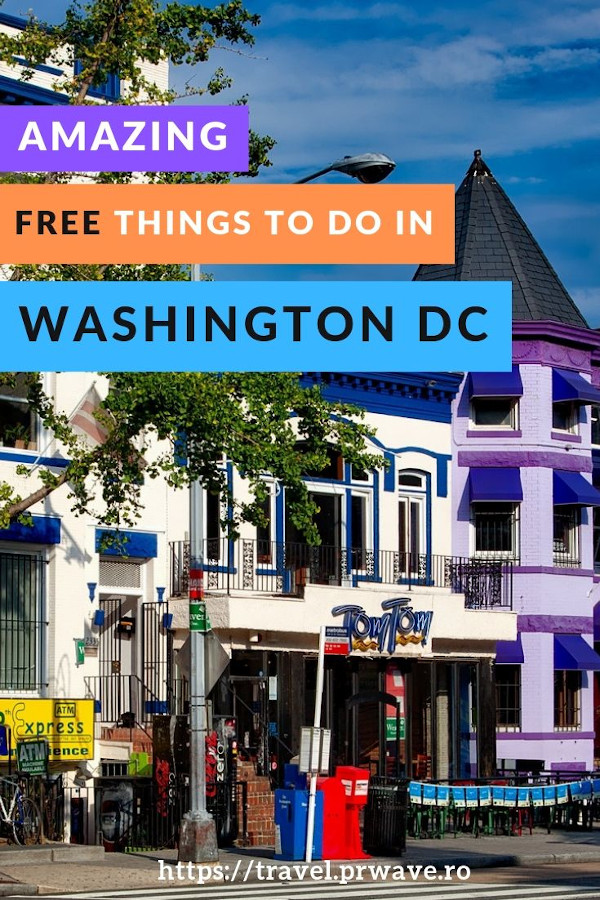 photo source for the pin