9 Weird Ways to Travel the World
Can you imagine traveling across the US on a lawn mower? Or what about hitch-hiking around Ireland with a refrigerator?
The adventurous travelers described below not only imagined it, they went out it and did it, earning themselves a place in the Guinness World Records, and their chosen modes of transport a spot on our list of the wackiest ways to navigate the globe. Forget trains, planes and automobiles, this list for those looking for something a little more original and a lot more thrilling.
1. By Skateboard
Who: Rob Thomson
What: Traveled 7,555 miles on a skateboard
Could you skateboard around the world by yourself? Could you do it while lugging a 33 pound backpack? New Zealander Rob Thomson did just that when he broke the world record by skateboarding for a total of 7,555 miles between June 2007 and September 2008.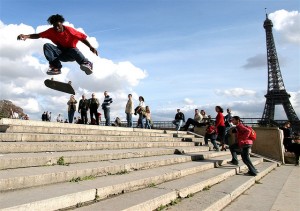 photo credit: nitot
The then 28-year-old started his journey in Leysin, Switzerland, skateboarding across Europe to London, England and then across the US (from Florida to California) and later, China.
The trip was part of a nearly 13,000 mile journey that spanned two years and involved travel via bicycle, sailboat, raft and rail, but only the skateboarding porting made it into the Guinness World Records.
2. By Unicycle
Who: Lars Clausen
What: Cycled across the US (twice!) on a unicycle
If you thought unicycles were the stuff of circus clown acts and college student stunts, you thought wrong. Lars Clausen, a pastor from Washington State, covered 9,125.97 miles by unicycle over a seven month period in 2002. He started in Oregon, cycled to New York and then turned around and cycled back again, ending his journey in Los Angeles.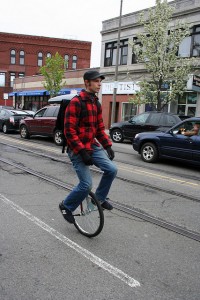 photo credit: b a r t
3. By auto-rickshaw
Who: Susi Bemsel and Daniel Snaider
What: Drove a three-wheeled auto-rickshaw from Thailand to Germany
An auto-rickshaw (sometimes called a Tuk Tuk) is a cross between a golf cart and a lawnmower and is commonly used by taxi drivers in developing countries. It is not, however, commonly used for long-distance travel, as it has an average cruising speed of 22 miles per hour and a max speed of about 30.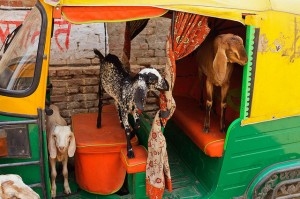 photo credit: Mat McDermott
Which is perhaps why it took German travelers Susi Bemsel and Daniel Snaider nearly a year to complete their 23,245-mile auto-rickshaw ride across Asia and Europe. Starting in Bangkok, Thailand in February 2005, the couple journeyed through Southeast Asia, across Russia, the Middle East (including Iran) before ending their journey 10 months later in Eichstätt, Germany.
4. By Airboat
Who: William "Bill" Fadeley Jr. and Eugene Hajtovik
What: Traveled from Florida to New York via Airboat
In the summer of 1986, William "Bill" Fadeley Jr. and Eugene Hajtovik made the record-breaking journey from Jacksonville, Florida to the Statue of Liberty in New York via airboat. What made this journey unique wasn't the 1,100-mile distance, but the fact that it was done in a boat designed to operate in water not exceeding a depth of 12 feet. This particular airboat, however, was equipped with a 350-horsepower engine and a seven-foot propeller, which allowed it to travel in the Atlantic ocean and reach speeds of 72 miles per hour. The entire journey took the captain and mechanic 13 days to complete.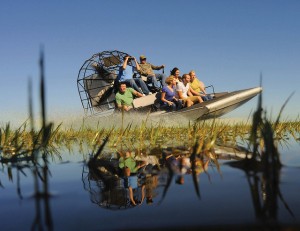 photo credit: Visit Kissimmee, Florida
5. With a fridge
Who: Tony Hawks
What: Traveled around Ireland with a refrigerator
With a what? Tony Hawks (the author, not the skateboarding champ) earned infamy and a page in the Guinness World Records in 1997 when he hitchhiked1,025.26 miles across Ireland with a fridge in tow. The record-breaking journey took a year and has yet to see any challengers.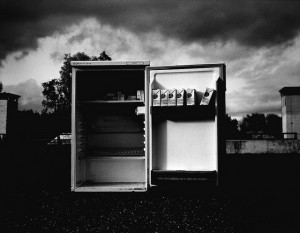 photo credit: samuel van dijk
6. With a wheelbarrow
Who: Bob Hanley
What: Pushed a wheelbarrow for 9,000 miles
"I would walk 500 miles and I would walk 500 more, just to be the man who walked 1,000 miles to fall down at your door…" goes that 1980s song by The Proclaimers. Australian Bob Hanley likely wasn't singing that song when he walked 500 miles…and then 8,500 more, back in the late 1970s, but perhaps if that song had existed back then, he might might have.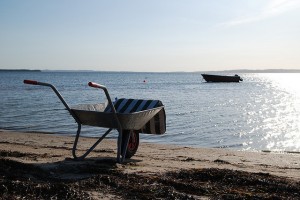 photo credit: André Hofmeister
From 1957 to 1978, Bob walked 9,000 miles from Sydney, Australia to Melbourne and back again. While that alone would have been an extraordinary feat, Bob did so while pushing a wheelbarrow.
7. By lawnmower
Who: Gary Hatter
What: Rode Across the US, Mexico and Canada on a lawnmower
While for most of us, a lawnmower is an irritating reminder of a dreaded weekend chore, for Gary Hatter, it was his means of transportation through 48 US states, Canada and Mexico. Gary traveled a total of 14,594.5 miles for 260 consecutive days between May 2000 and February 2001.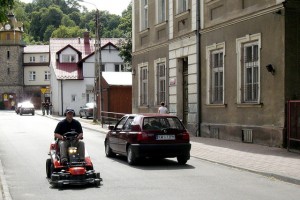 photo credit: Rrrodrigo
The retired ex-truck driver drove the $11,500 lawn mower at a top speed of just nine miles per hour. Ironically enough, though he embarked on the journey in order to raise money for a back surgery that had made him unable to work since 1979, his journey didn't come cheap. His diesel-powered mower averaged just 14 miles per gallon and blew through seven sets of tires in the year it took him to complete his journey.
8. By foot
Who: Steve Newman
What: Traveled through 20 countries on foot
The average person will walk 115,000 miles in a lifetime, according to the Washington Podiatric Medical Association. For Steve Newman, that number will likely be much higher. During his four-year walk 'round the world in 1983, Steve walked 15,000 miles and crossed 20 countries. Though many have walked around the world solo since then, Steve holds the distinction of being the first.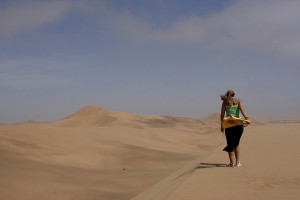 photo credit: Frerieke
9. By Wheelchair
Who: Matthew Eddy
What: Traveled for 3,287 miles in a wheelchair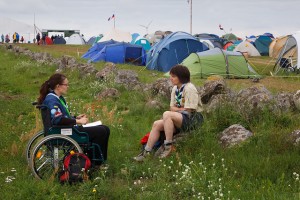 photo credit: 22nd World Scout Jamboree Sweden 2011
While most Americans can go their entire lives without traveling for 126 days straight, Matthew Eddy did just that in 2010 and he did it in a wheelchair. Matthew covered 3, 287 miles and 12 US states, sometimes riding through temperatures as high as 114 degrees fahrenheit. Perhaps what is most noteworthy, however, was that Matthew had muscular dystrophy. He completed the journey while on a ventilator.
Bio:
Reannon Muth is a Las Vegas-based freelance writer and travel addict who dreams of one day embarking on a record-breaking round-the-world journey herself. If she can find a used forklift for sale and someone to front her, oh, $20,000, then she just might.