Dubrovnik and its coastline
One of the best things about holidaying in the Croatian city of Dubrovnik is its coastal position. You're never more than a few miles from the beach, and there are some stunning landscapes to behold if you're a photography enthusiast. More than that – the coastline receives more than 260 days of sunshine, making it a blissful place to catch some winter sun.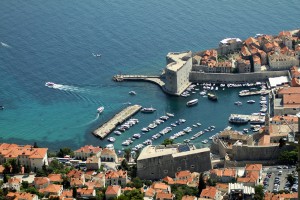 Whether you're going for the watersports, to soak up some rays or to explore Croatia's rich and exciting history, there is plenty of fun to be had in this gorgeous tourist destination. Take a look at our guide below for the best places to go, and don't hesitate in booking your flights to Dubrovnik.
Beaches
Let's face it – beaches are a primary reason for travelling to this stunning city. Straddling the coastline as it does, the metropolis offers plenty of choice, from busy stretches of sand surveying Dubrovnik's Old Town to deserted islands for nude bathers. Popular options include Banje, the city beach. Great for the kids, there are pebbly and sandy areas, and its tree-lined backdrop makes for a very picturesque location. Add views of some of Dubrovnik's most historical tourist attractions, turquoise waves and plenty of sunbeds, and you've got the perfect beach right here. Although of course, as we mentioned above, there are other options for those seeking more privacy.
History
The Balkan coastline is dotted with dozens of pretty villages and old abandoned ruins that make for a perfect holiday of exploration for the history enthusiast. Placa Thoroughfare in the Old Town is a particularly wonderful place for a stroll, with ancient landmarks cropping up left, right and centre. Equally as overwhelming is the magnificent Onophrian Fountain, located near the Pile Gate. With its sixteen sides and 15th century design, it has been around longer than many of the buildings surrounding it.
If you're looking to venture away from the city for a while, Montenegro makes for a fantastic excursion. Its gorgeous terracotta rooftops and magnificent tower make for an interesting experience.
Watersports
If you prefer to get active on your holiday, you won't be disappointed by what the Balkan coastline has to offer in the way of watersports. An absolute plethora of activities awaits you here, including jet skiing, sailing, white water rafting, fishing trips, para sailing, canoe safari, banana boat, sea kayaking and many more besides. If you're headed to Croatia with that special someone, don't miss out on the unique Sunset Sailing experience – an unforgettable journey that will allow you to see the city from the sea, framed by golden light – a world of shadows and pockets of illumination as the citizens get ready to party.
There is no denying it – Dubrovnik's coast is one of the main draws of the city. For a unique winter sun break, there is simply no better place to go. So what are you waiting for? Get out there and experience this wonderful city.
Photo source