It's not easy to choose the perfect hotel for a perfect vacation. In Vienna, capital of Austria, there are many hotels, so you have plenty to choose from.
We were looking for a hotel of three or four stars, located near some subway ("U-bahn") station and some important tourist objectives, preferably in the middle of the city. We were also looking for Internet access, either wired or – preferably – wireless. While searching the Internet for a hotel to fit all our requirements, we found an excellent price at Cristall Hotel. Of course we read the reviews, we looked at the map (to see localization of the hotel) and… we decided to give it a try.
Several days later here we were at Cristall Hotel. We were pleasantly surprised by the hotels own parking place. In Vienna it's important to choose a hotel with free parking included, since parking costs a lot – that is, if you go there by car.  This hotel is in the immediate vicinity of the Praterstern station – a place where you can choose from either U1 or U2 U-bahn lines or tram line 5. There's also a rail station here.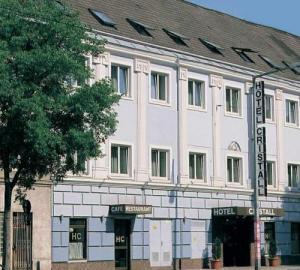 The personnel of the hotel was very kind, prompt in solving any situation that may appear (and they try to provide an answer to any question, even a weird one like "How hot is the hot water provided by this machine for the tea?" – question brought up by a Asian guest), multilingual (English, German). They will assist you with anything if they can– for instance we asked where you could find some Swiss fondue cheese – we wanted to bring some of it back home. The Hotel has 24 hours Reception desk and offers an all-you-can eat breakfast (buffet) included in the cost of the room. Everything here felt clean and good looking, even if they manage to keep a trace of a more "classic" look-and-feel. The only downsize is that the rooms don't have air conditioning – therefore during the summer it might sometimes get too hot for some tourists' taste.
I couldn't find an official website of this hotel – but there is a lot information on booking.com where you can also check some customers reviews and pictures from the hotel.
All in all it was a pleasant trip and we were rather happy with our staying at the Cristall Hotel. It's a place worth considering if you plan to spend several nights in Vienna. Please share some thoughts if you visited this hotel too.