2 days in Quebec City, Canada: the perfect Quebec itinerary with the best things to do in Quebec City
If you are planning a visit to Quebec City and you only have 2 days in Quebec City, Canada, then you could definitely use an insider's itinerary for Quebec City packed with the best things to see in Quebec City.
To help you have a great trip to Quebec City, here's the perfect 2-day Quebec itinerary with the best things to do in Quebec City from Cat Lin from Fro Two, Please. Use these travel tips for Quebec City and discover what to in Quebec City in two days.
We recommended a few wonderful places in Quebec previously on Travel – Moments in Time – here's a list of great attractions in Quebec, Canada:
Do you know that Quebec City is North America's oldest walled city? A visit to Quebec City is like journeying back in time.
Being surrounded by beautiful old buildings and French-speaking locals, you will feel as if you're somewhere in Europe. With 2 days in Quebec City, you'll get to experience the culinary, cultural & architectural wonders the city has to offer.
This action-packed itinerary will help you discover the best of Quebec City in 2 days. So let's see how to explore Quebec in 48 hours!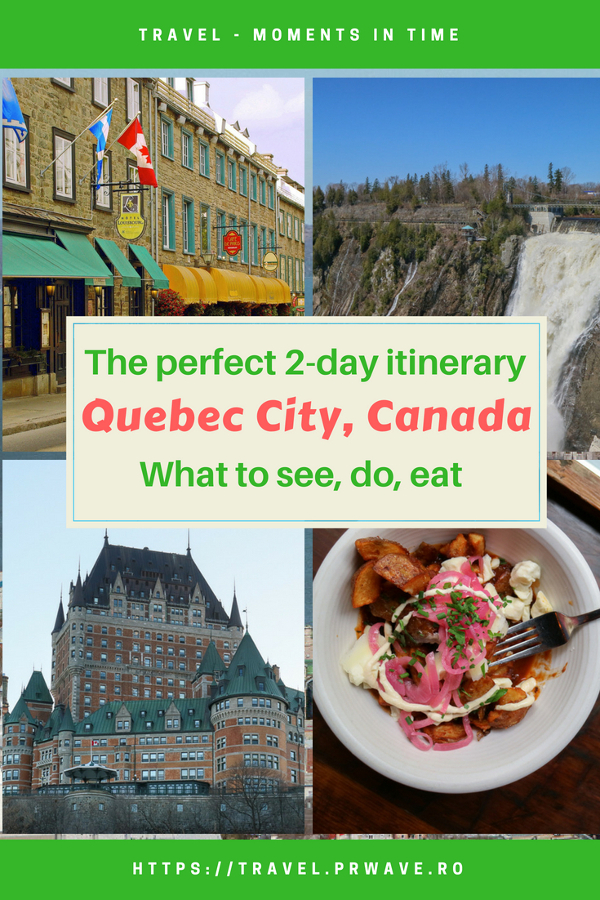 Day 1 of the perfect Quebec City itinerary
Breakfast:
Start your day with traditional French crepes at Le Casse-Crepe Breton. Sweet or savory, white flour or buckwheat, you can't go wrong either way.
The best part is you get to choose your favourite fillings! Don't forget to top it with pure maple syrup. You won't regret it!
Morning:
Enjoy a stroll around Old Quebec.
This historical district is designated as a UNESCO World Heritage Site due to its historical significance as one of the oldest European settlements in North America. This is defintely one of the best things to do in Quebec City.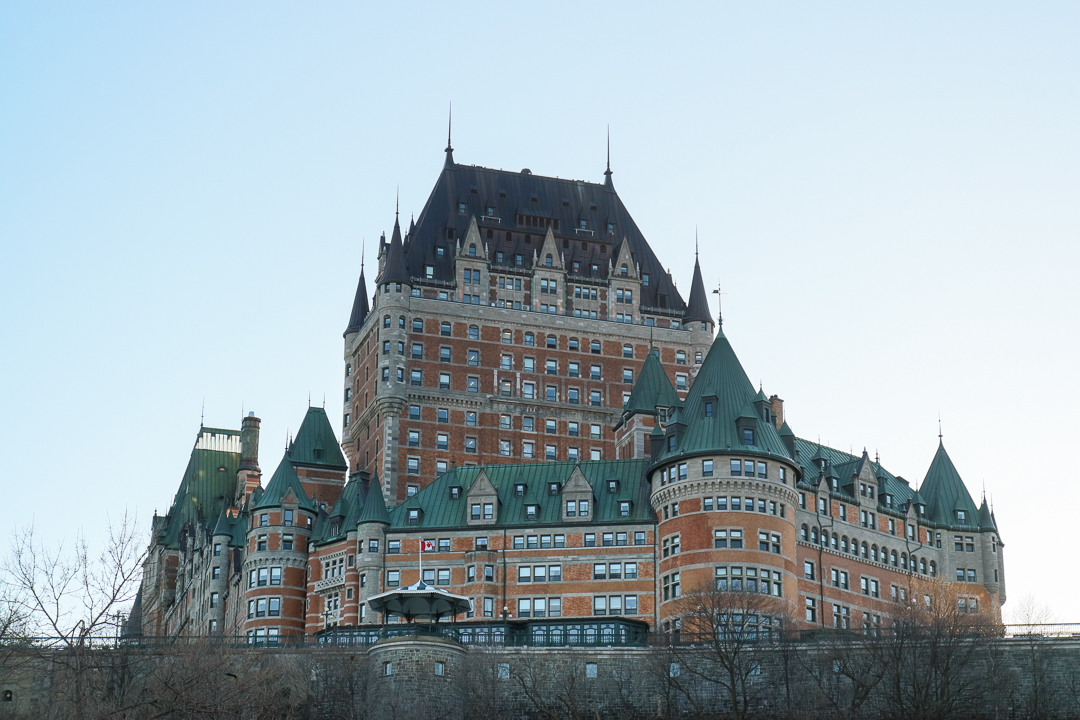 If you are wondering what to do in Quebec City in 2 days, then you need to know that there are many points of interest worth exploring, including the Fortification Wall, the Parliament Building, the star-shaped Citadel, the Dufferin Terrace, and the castle-like Chateau Frontenac.
A tour around the newly restored Le Monastère des Augustines, formerly a monastery from the 17th century, is highly recommended!
Lunch:
Don't say you've been to Quebec without trying the poutine. It's one of the must-do activities in Canada and one of the not-to-miss things to do in Quebec City as well, thus it simply had to be included in this insider's 2-day in Quebec City itinerary. Le Chic Shack is one of the best places for that.
Located across from Chateau Frontenac, this popular eatery serves delicious gourmet poutines. On the menu, you will find classic poutines, but their modern creations are the ones that will have you begging for more.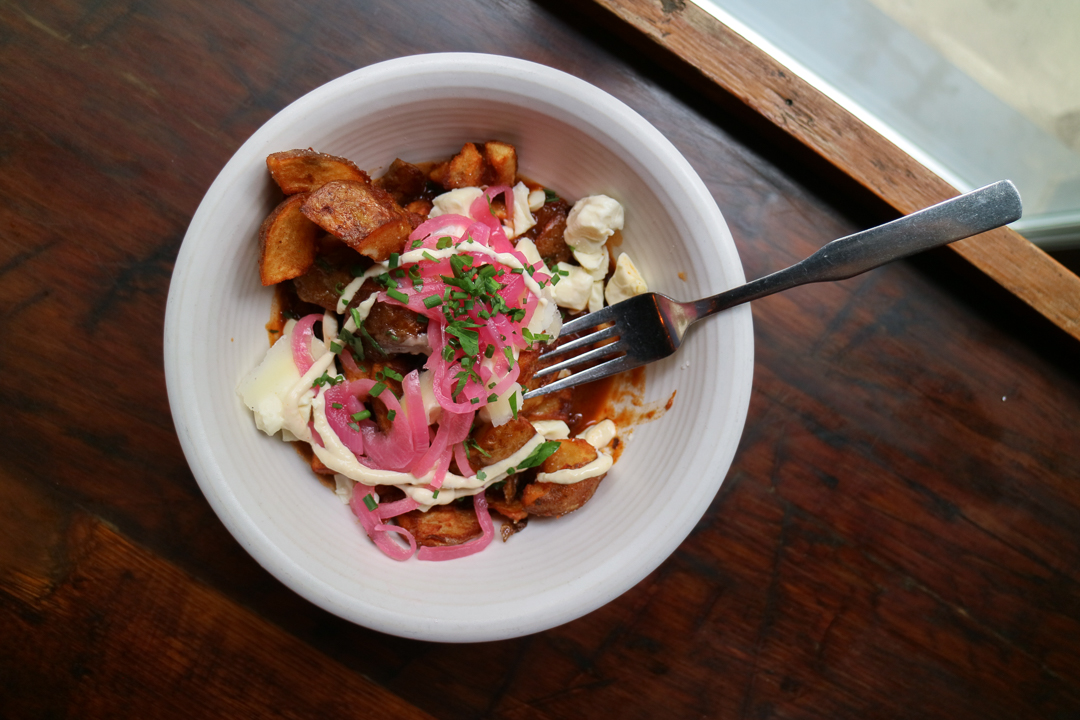 Don't pass up the chance to try their boozy milkshakes. Order the maple salted caramel and maple whiskey flavour to make it extra Canadian!
Afternoon:
Take some time exploring the Lower Town of Old Quebec. The Petit Champlain district, Place Royale, the Musée de la Civilisation, and the Fresque des Quebecois Mural are a must-see in Quebec City!
Before the sun goes down, head over to the Old Port and hop on a ferry ride across the river to Levis – another item on the best things to do in Quebec City list. There, you will get a stunning sunset view over Old Quebec!
Dinner:
Conclude the day with a dinner at Chez Muffy. This famous restaurant, located inside Auberge Saint-Antoine, serves up classic French-Canadian cuisine. They specialize in slow cooked meats so make sure you order the venison pie and oxtail daube!
Day 2 of the perfect Quebec City itinerary
Breakfast:
Start the second day of the perfect Quebec City itinerary by fueling up for the day with a nutritious breakfast at Paillard. This French bakery is the go-to spot for locals.
You can find an assortment of freshly made baked goods there, from bread to desserts. Get the crispy, buttery croissants. You won't be disappointed.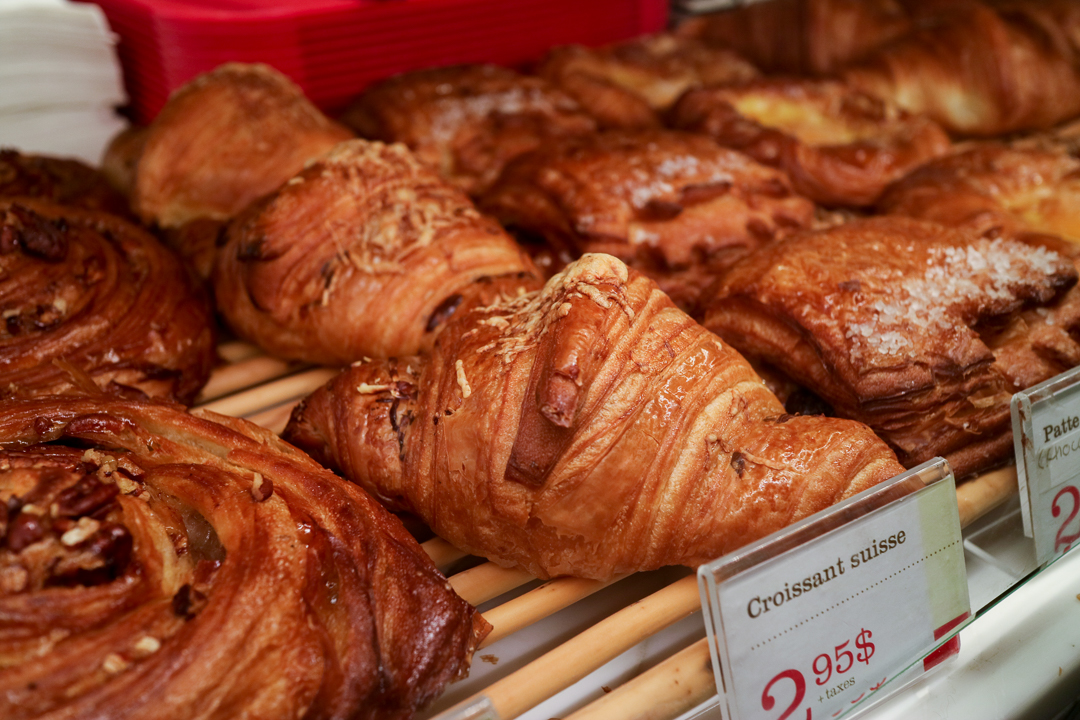 Morning: One of the top things to see in Quebec City is the Montmorency Falls. And the best way to see this stunning waterfall is by bike!
From Quebec City, follow the paved bike trail along the St. Lawrence River. On the way, you will pass by the gorgeous Maizerets Park and Beauport Bay while you enjoy a splendid view of the river. To Montmorency Falls, it should take approximately 1.5 hours.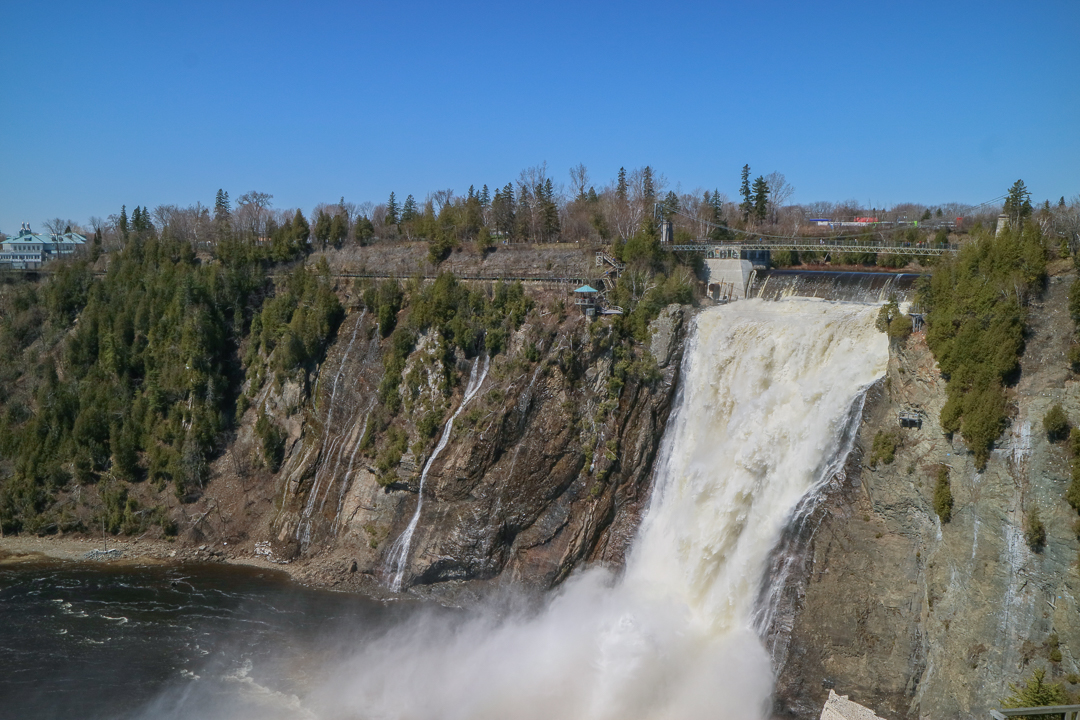 Once you arrive at the bottom of the falls, take a cable car up the cliff. Alternatively, you can walk up the winding staircase which offers different vantage points. There are 487 steps in total, so it could be somewhat exhausting, but definitely one of the best things to do in Quebec City.
At the top, there are multiple viewing platforms for photo opportunities. You can even cross (or zipline across) the suspension bridge for a closer view!
The bike trail is relatively easy to navigate. If you're afraid of getting lost, consider joining a bike tour with a knowledgeable guide. You are guaranteed to learn lots about the history of Quebec City.
Lunch:
Stop by Old Port Market for a quick meal. Grab some bread, deli meat, and smoked salmon at this indoor public market to satisfy your hunger.
Other fresh and locally-made products like cheese, honey, ice cider, wines and maple products are also sold here. Perfect place for souvenir shopping!
Want something sweet? Pay a visit to Delices Erable & Cie for a maple tasting experience. This store has over 60 maple products, from syrup to butter to vinegar pearls! Why not get a scoop (or two) of gelato or sorbet made with real maple syrup while you're there?
Afternoon:
Head up to the top floor of Capital Observatory for a panoramic view of the city, another item on the best things to do in Quebec City list. Standing 221 m tall, it offers spectacular vistas of Quebec City. On a clear day, you can even see the Island of Orleans across the river!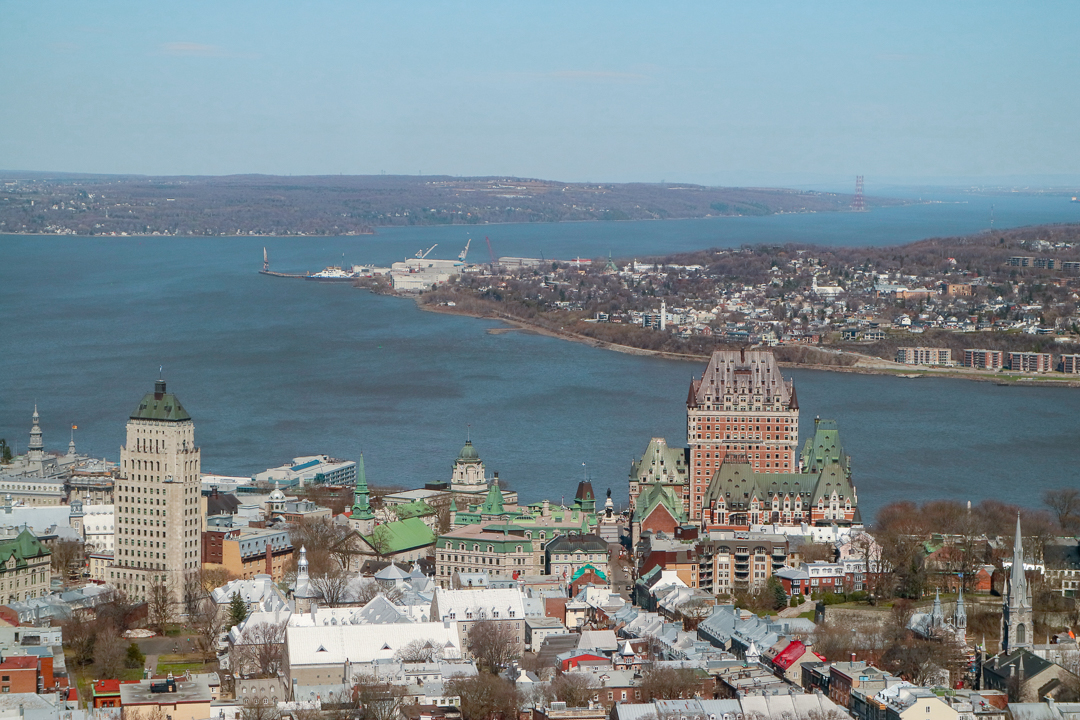 Dinner:
Enjoy a delicious meal at Chez Boulay. This modern restaurant on the buzzing Saint-Jean Street is a fantastic place to get a taste of the Nordic cuisine. The menu highlights fresh, seasonal ingredients found in Northern Canada and showcases particular flavours unique to the region.
Their cappuccino onion soup and meat cheek are mouthwatering. Definitely a must try!
As you can see, there are plenty of things to see and do if you have 2 days in Quebec City! Use this perfect 2-day in Quebec City itinerary when planning your trip and enjoy each moment!
About the author
This post is written by Cat Lin, a Canada-based food and travel writer. She loves adventure travel and enjoys sampling the local cuisine while visiting foreign countries.
She currently lives in Calgary, where she runs the food and travel blog For Two, Please with her husband, Kev. You can follow her online at Facebook, Instagram , and Twitter.