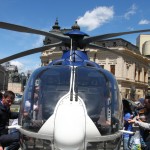 A helicopter ride is an experience in itself, but to take one in Réunion is to experience some of the most stunning landscapes the world has to offer.
The environment of Mauritius and neighbouring Réunion has been shaped by its volcanic heritage, resulting in breathtaking peaks scored with ancient valleys. Combined with this is the tropical climate that leaves the region carpeted in lush green forest, an impressive sight when seen from high above, ringed by the crystal-clear coral reefs of the Indian Ocean.
The tour itself takes you all over the island of Réunion to see sights simply inaccessible by land or water. The helicopter itself is designed to maximise the viewing capabilities, so you won't need to fight to see what's on offer; simply sit back and enjoy the ride. To hover at the head of a trio of waterfalls plunging towards the ground hundreds of metres below is an awe-inspiring experience, whilst the sensation of soaring towards the volcanic summits before gracefully gliding down to the floor of the cirques (amphitheatre-like valley constructions formed by millions of years of geological erosion) is one not to be missed. The skills of the pilot allow you to get up close to the wonderful environment in a way you never would have thought possible.
Mauritius and Réunion are renowned for the extensive range of rare species that reside on their islands. Millenniums of unhindered evolution were interrupted by human settlement in the 17th century, but not before a teeming and unique ecosystem flourished, and from above the vast range of bird species present becomes apparent. Over 100 have been recorded, and to become one with them whilst swooping through the skies is a privilege few can boast of.
Possibly the most famous cultural export of the region, the dodo was a flightless bird hunted to extinction by European settlers. Go one further than the dodo by taking flight and experiencing the best airshow you'll ever encounter. Holidays in Mauritius are all about life-affirming events that you will remember forever, and this certainly will not disappoint. If you have a head for heights, but lack the legpower, then this is definitely the trip for you. Book your flights to Mauritius with Trailfinders and take advantage of more tips and activities to do in the beautiful Réunion.