Top 10 Places to Visit in Brazil [VIDEOS]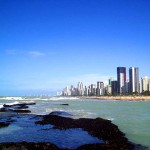 I was speaking with a friend about Brazil and what is a must see there and we stumbled upon some interesting articles and recommendations.
Out of those materials I'm recommending you today three videos, one with 10 most important attractions – Brazil, one with Top 10 Tourist Attractions in Brazil and, finally, one focusing on Top 10 Biggest Cities In Brazil 2013. I hope you'll find these videos useful and please tell me, if you've been to Brazil, what did you liked the most there? What places do you recommend in Brazil?
10 most important attractions – Brazil
Top 10 Tourist Attractions in Brazil
Top 10 Biggest Cities In Brazil 2013
Photo source