Smithsonian National Air and Space Museum (NASM)
Our friend Dan Mitea – the one who provided some interesting photos from special places in Canada (and we still have some to show you 😉 – beside Parc Mont Royal, Mont-Saint-Hilaire and Park Omega) went on a journey to Washington this summer and send us some info and photos.
Today we start presenting the amazing places within the Smithsonian National Air and Space Museum (NASM), a museum which holds the largest collection of historic aircraft and spacecraft in the world. Located in Washington, D.C. the Museum (initially called National Air Museum) was founded on August 12, 1946 by an act of Congress. According to the information from the official website, The Museum has two display facilities. The National Mall building in Washington, D.C. has hundreds of artifacts on display including the original Wright 1903 Flyer, the Spirit of St. Louis, the Apollo 11 command module, and a lunar rock sample that visitors can touch. The Steven F. Udvar-Hazy Center displays many more artifacts including the Lockheed SR-71 Blackbird, Boeing B-29 Superfortress Enola Gay and the Space Shuttle Enterprise.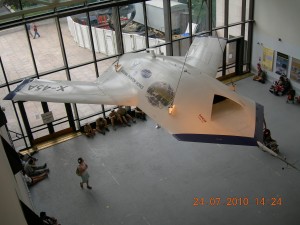 It's a lot to visit so as a tip I recommend you to reserve at least one day for a proper and thorough visit. You'll be able to see different models of airplanes and spacecrafts, types of engines, pilots' equipment and many more interesting things and facts. For the moment I let you enjoy some photos – and I must admit that I had a very hard time choosing only a few images from all the amazing photo set received from Dan – who I'd like to thank this way, too. 😉