400 human statues added in Cancun and Isla Mujeres Underwater Art Museum
In a project called  The Museo Subacuatico de Arte (MUSA),  400 human statues were added in Cancun and Isla Mujeres Underwater Art Museum. This is of course a premiere, the sculptures were created by british artist Jason de Caires Taylor using "life casts of real people".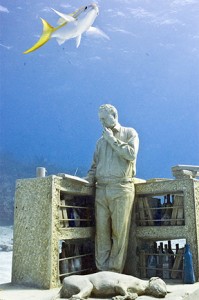 "Created with PH neutral concrete, the sculptures will allow algae and small invertebrates to flourish, boosting the local ecosystem. The appearance of the sculptures will change over time as the coral reefs and marine life grow" – we find out from the official news.
This project "aims to ease pressure on natural reefs in the area caused by more than half a million water-going tourists flocking to the region every year".
As you can see from the photos (and many more from here) there are different people in different moments of their life. We can ever notice a woman reading, a circle of women of all colors or dead bodies.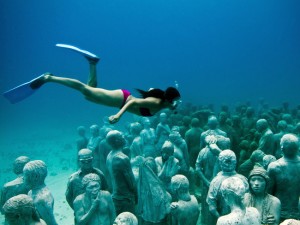 The idea is indeed an interesting one – a new thing offered in a museum. It's often wanted something news added even though the original thing is interesting and great. But do we always like the things added?
What do you think about this project? Would you like to see these statues? Are they inspired? Do they transmit a pleasant feeling or a sad one?