As I was on Saturday with my husband, my son and my dog in my car, I was thinking: are there any museums dedicated to man's best friend in the world? So, coming back from a short trip (Andrei wanted to fly his RC Acromaster but it was too windy so he didn't fly, but we got to stay out and get some fresh air – and Maxie to run) I started to search for info on museums of dog.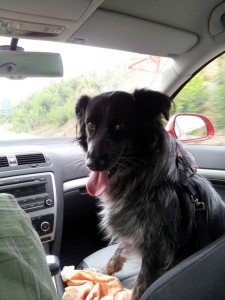 I must admit I was expecting more! I thought that there will be many many results. However, I found but 4 – yes, four relevant museums in the whole wide world (I searched in English). Another important thing: not all of these 4 museums are actually located somewhere – for one museum is actually a virtual one (details to follow).
Maybe the best recommendation of a museum dedicated to dog is The American Kennel Club Museum of the Dog. It is located at 1721 S. Mason Rd., in Queeny Park, West St. Louis County, Missouri and, as we can read from the official site, "The 14,000 sq. ft. facility, which includes historic Jarville House (1853), displays over 700 original paintings, drawings, watercolors, prints, sculptures, bronzes, and porcelain figurines, and a variety of decorative arts objects depicting man's best friend throughout the ages. On permanent display is Sir Edwin Landseer's oil on canvas of a Deerhound and Recumbent Foxhound and many Maud Earl portraits of various terrier breeds. The museum is open year-round and available to visitors Tuesday – Saturday from 10 AM – 4 PM, and Sundays 1 PM – 5 PM (closed Mondays and holidays).".
They offer the possibility of subscribing to a mailing list, they have a dedicated section for news and events and other interesting and useful info on website.
The second museum is The National Bird Dog Museum. This museum is "a repository of information, art, photography, and memorabilia reflecting a variety of pointing dog and retriever breeds, hunting, field trial activities, and shooting sports. Here the tangible reminders of more than 100 years of sporting tradition awaits your exploration. Among portraits and exhibits contained in the museum, you will find history's most famous bird dogs represented. Many works of notable sporting dog artists and sculptors are displayed.".
The third museum is The Border Collie Museum – but this is an online only museum! It is dedicated to a lovely dog breed:). I must admit it is an interesting museum – with permanent exhibition and also a changing exhibit.
Theoretically there is another museum – (for ALL breeds) – The Dog Museum, in fact a a collection of photos of champions. You can send them photos and info on the prizes won by your dog and they will feature it on site. I must admit though that there aren't many photos…
A connected museum is The Vintage & Collectible Dog Jewelry Museum that "resulted from thirty-five years of collecting by the "Curator", Deb Schneider. Having bought the farm and retired, her many canine jewels lay gathering dust. In a fit of industry (or perhaps insanity), she began photographing the collection, ultimately building the Dog Jewelry Museum online to share with other jewelry and dog fanciers. BTW, the other part of the "we" mentioned is Deb's partner, Rik Simmons, who helps with this project in many special ways.".
Do you know other museums dedicated to dogs?