We are all preparing for our holiday these days and I must admit I am a little bit nostalgic about Scotland. If you are planning a trip to Glasgow, I would be more than happy to recommend you to visit Kelvingrove Art Gallery and Museum, in the West End.  Below, you have some of the photos I've taken.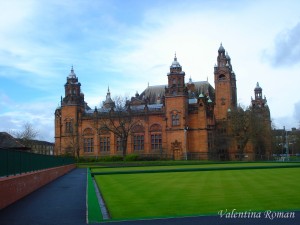 Kelvingrove Art Gallery and Museum is a world class museum, with a magnificent building, bringing an amazing range of art, history and nature to the attention of tourists and Glaswegians.
Kelvingrove's internationally significant collections are displayed in 22 state-of-the-art galleries. They include beautiful paintings and sculptures, silver and ceramics, European armor, weapons and firearms, clothing and furniture. You can also find here temporary exhibitions, events and activities for all ages to enjoy or its cafés and shops. The Study Centre and Library are at your disposal to find out more about Glasgow Museums' collections or searching some information online.
It is located in picturesque Kelvin Park and I've heard that it attracts more than one million visitors each year. It is the second most popular visitor attraction in Scotland and the most visited museum in the UK outside London. That's interesting, isn't it?