5 Unusual attractions in Houston that you must see
The fourth largest city in the United States, Houston will be a wonderful surprise to all those who will visit it. There are some top things to do in Houston for a first time visit that you simply cannot miss. Apart from these famous tourist attractions in Houston, there are few quirky things you can do while you are visiting this large metropolis. So here are 5 unusual attractions in Houston to include on your travel itinerary.
Art Car Museum
Opened in February 1998, the Art Car Museum, known also as "Garage Mahal", is "a private institution dedicated to contemporary art". The starting point – or the inspiration? –  the 1984 Collision show curated by Ann Harithas at the Lawndale Art Center and the famous Larry Fuente's "Mad Cad" art car. If you love cars – or if you simply want to check out a cool place – this is definitely a museum to visit.
Beer Can House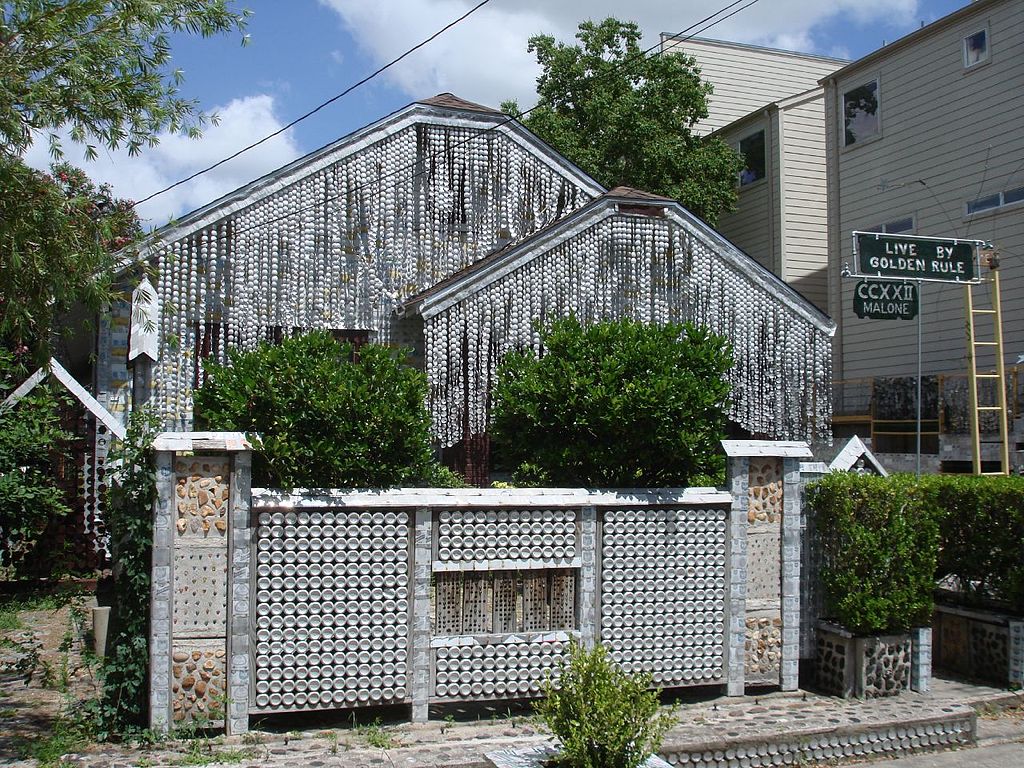 Image by Andrew Wiseman from Wikimedia
John Milkovisch loved beer and in 18 years he managed to cover his house, fence and other items in the garden in beer cans. In this manner, the Beer Can House was born – and now it is an interesting item to check out if you go sightseeing in Houston. It's, without a doubt, one of the unique attractions in Houston that you have to see in order to believe – and how about getting there in a special car using a limo rental in Houston service?
The Eclectic Menagerie Park
At 288 South and Bellfort Street you'll find the next place on this list of unusual attractions in Houston: The Eclectic Menagerie Park. This is an open-aired public museum where you can see many handmade metal sculptures. It all started with a hippo, but now you'll see here birds, mammals, insects – all gigantic.
Orange Show
Orange Show – image via Flickr byEd Uthman
Located in Houston's East End, The Orange Show is the masterpiece of  Jefferson Davis McKissack,  who built it between 1956 and 1979. A former orange farmer, interested in health and nutrition, he managed to create an impressive monument where each tile, each item, each color has a signification. So pay attention to all the details while you visit this four item on the unusual attractions in Houston that you must see list.
Houston Downtown Tunnels
When you think of visiting a city, would you include tunnels on your list? Now, be honest. I'm guessing many of you, readers of this article, don't do that. But what if I told you that there are some climate-controlled tunnels?
6 miles long. 20 feet below Houston's downtown streets. These are the main details you need to know about these pedestrian walkways. There are numerous entry points – either by escalators or stairs/elevators – and there are two direct access points from the streets. As a fun fact, these tunnels were built to connect two downtown movie theaters but they evolved and are now a quirky attraction in Houston.
As you can easily imagine, given the size of the city, these are not the only unusual attractions in Houston. But they are some of the best the city has to offer, so, if you have the time, try to include them on your list!