Best Places To Visit In Bosnia And Herzegovina
Bosnia and Herzegovina, a country in the western Balkan Peninsula of Europe, is getting more and more traction among travelers and tourists. There are many great places to visit in Bosnia and Herzegovina and you have to be prepared to be surprised! You'll be mesmerized by the beautiful rivers, intrigued by the history of the area, and amazed by the number of things to do in Bosnia and Herzegovina.
This article presents you with the best Bosnia and Herzegovina destinations! From the famous capital, Sarajevo, to hidden gems, you have the best places to visit in Bosnia and Herzegovina included.
These recommendations of Bosnia and Herzegovina holiday destinations are offered by Anna from Expert World Travel and cover both famous cities as well as small villages. You'll also find recommendations for the best things to do in each place, amazing dishes to try, and interesting accommodation options in some parts.
Use this article to create your Bosnia and Herzegovina itinerary, as it includes great things to see and do for all preferences. After finding out about these amazing destinations, you'll want to include Bosnia and Herzegovina on your next Europe trip for sure.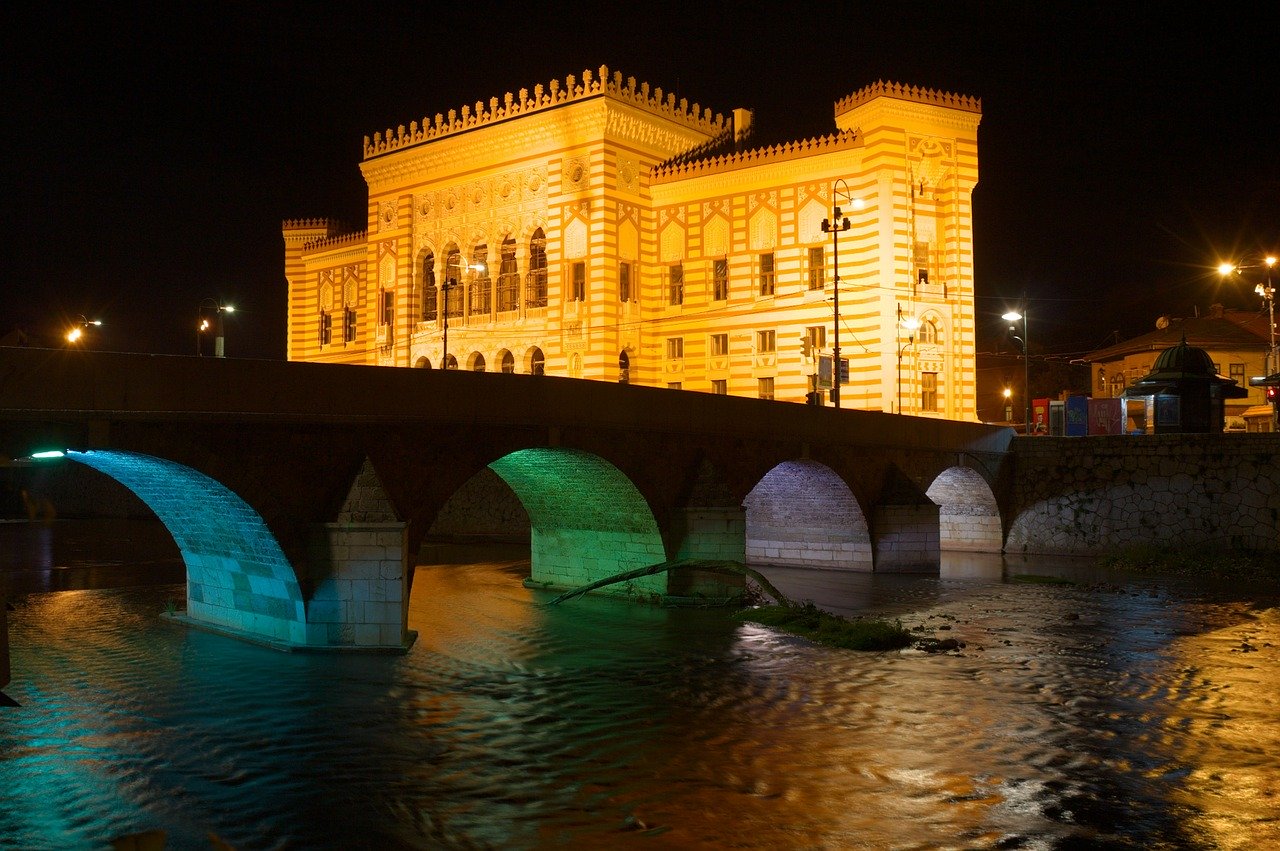 Best Places To Visit In Bosnia And Herzegovina
Everyone's heard of Croatia and its wonderful beaches. But not as many people have heard of Bosnia and Herzegovina – a small country in southeastern Europe, which borders with Croatia. It is a multi-ethnic country with a rich history and an even richer tradition.
It is home to some stunning cities, spectacular mountains, and breathtaking nature. But, with so many interesting places in one country, how do you decide which ones are actually worth seeing? Not without our help.
We're here to tell you about the six best places to visit in Bosnia and Herzegovina, from its magical capital to some hidden gems you've never heard of! If you are planning a trip to Bosnia and Herzegovina, this is the best article to read. Consider this your guide to Bosnia and Herzegovina for first timers!
1. Sarajevo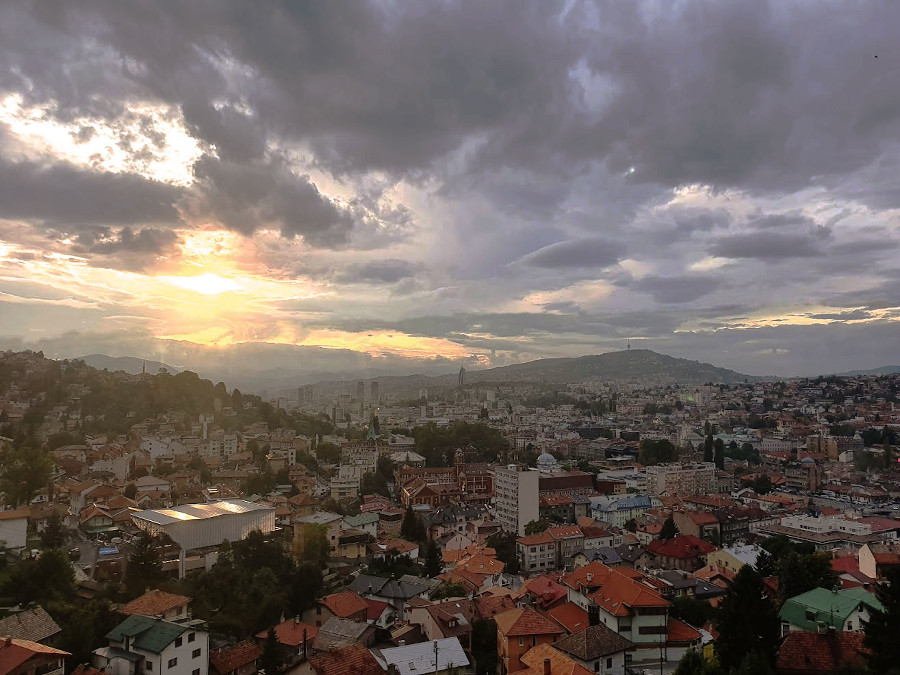 The capital of the country is definitely at the top of the list when it comes to places you need to visit in Bosnia and Herzegovina. The historic city is often dubbed Jerusalem of Europe, because of the vast cultural diversity it holds.
Because, where else in the world can you find a mosque, a Catholic church, an Orthodox church, and a synagogue just steps apart from one another?
Sarajevo is a city of great food, rich tradition, and scenic points. It lies in a valley between five mountains, which makes it the best destination in the country for skiing and snowboarding.
No matter where you're staying in Sarajevo, you're always just 30-40 minutes away from the nearest mountain. That is why Sarajevo is one of the best destinations in Bosnia and Herzegovina.
The city comes alive in the summer when the annual Sarajevo Film Festival is held. In 2019, the festival celebrated its 25th anniversary, and it continues to grow bigger each year. This is the time of the year when the city gets international attention and attracts a myriad of tourists.
So, what should you go and see when you're visiting this stunning city? Well, every insider will tell you that the first thing you should do is head to Baščaršija (old town) and grab some ćevapi. The deliciousness of the dish is enough to make you want to come back here as soon as possible.
Other than indulging in overly fatty foods, you can go for a cable car ride to Trebević mountain, for breathtaking views of the city below. Or visit one of the many war museums, to learn about the tragic history of the siege of Sarajevo.
Wander around Baščaršija and explore all the narrow alleys and go inside the souvenir shops. And climb to the top of the White Fortress, to witness the most spectacular sunset of your life. These are the best things to do in Sarajevo, so make sure you include them on your Sarajevo itinerary!
2. Banja Luka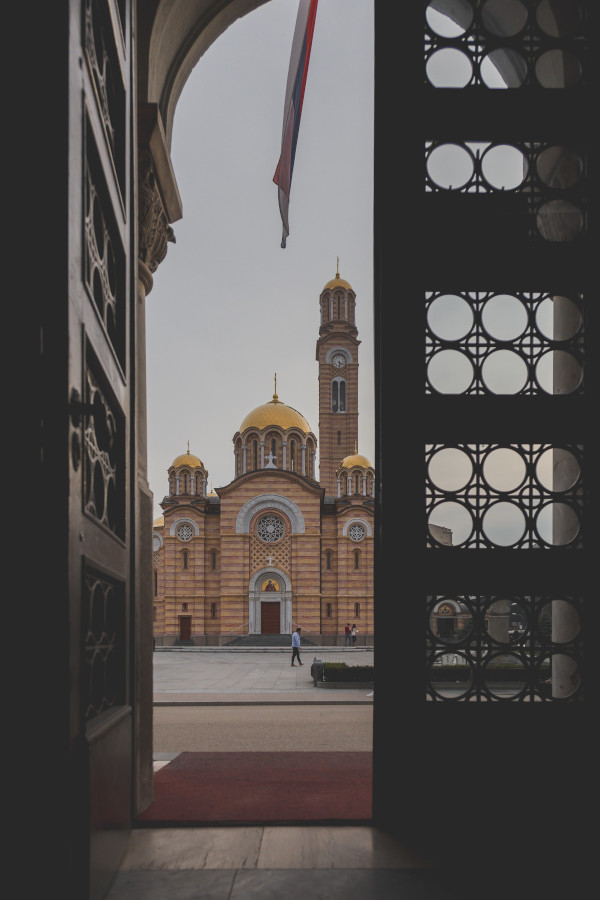 Banja Luka is the second-largest city in the country, and the capital of the Republika Srpska entity and. of course, one of the best places to visit in Bosnia and Herzegovina. It is best known for the Kastel Fortress, which lies on the left bank of the Vrbas river in the center of the city.
It is the oldest historic monument in the city, as it dates all the way back to the pre-Roman period. And it offers a magnificent view of the river below.
Banja Luka is also the hometown of Banjalučki ćevapi – a traditional dish that both locals and tourists enjoy. They are similar in taste to the Sarajevan ćevapi, but with a twist – instead of individual kebabs, you get several portions of four small kebabs stuck together. And they're usually served with chopped onion and chili peppers.
Another place worth seeing in this city is Christ the Savior Orthodox Cathedral. It's a majestic church in the heart of the city. And just like other Orthodox churches, it is adorned with lots of gold, so it's impossible to tell whether it's grander on the outside or the inside.
Definitely go inside the church if you have the time – you will be wowed, and possible temporarily blinded by all the sparkle.
3. Mostar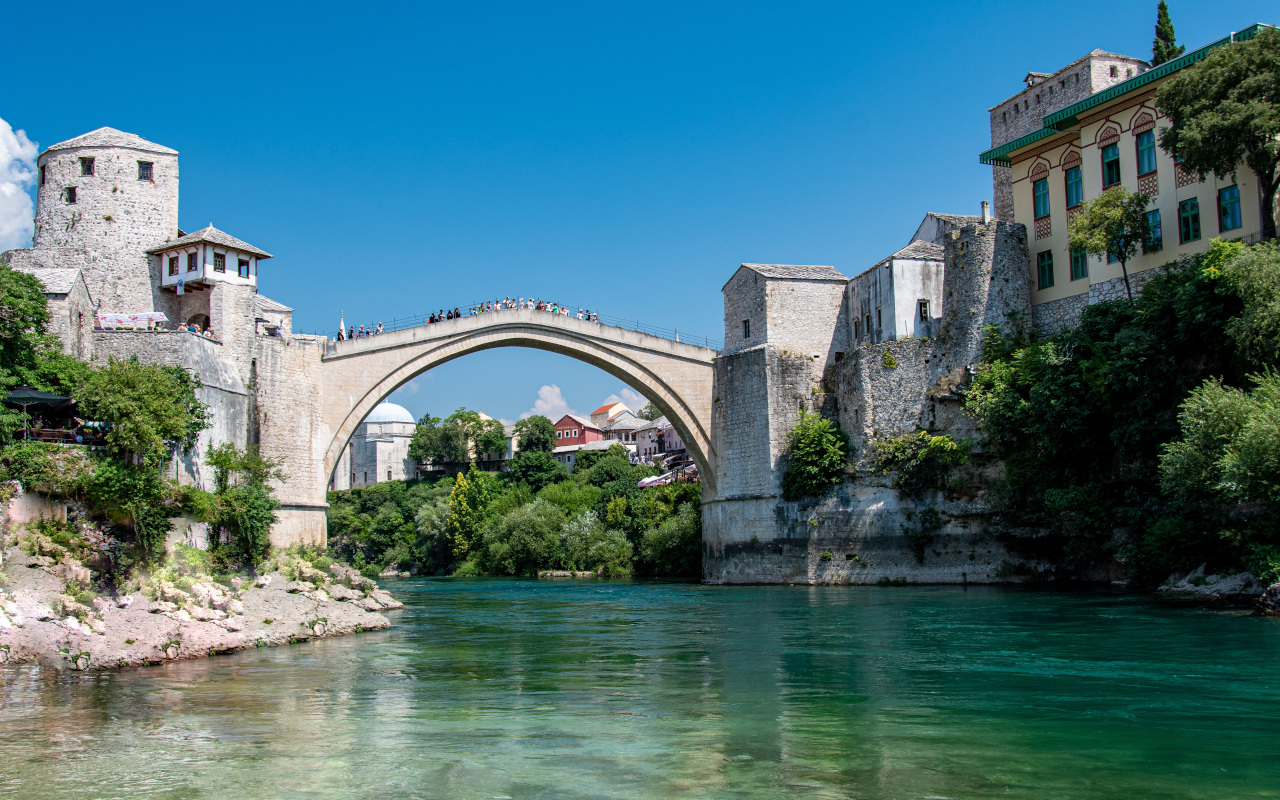 Mostar is a stunning city in the south of the country and one of the famous Bosnia and Herzegovina holiday destinations.
The city is best known for the Old Bridge (Stari Most) – a UNESCO World Heritage site, which is a symbol of Mostar and its strength. And it is the reason why so many tourists flock to this town in late summer.
Read here our series with the best 90+ UNESCO World Heritage Sites in Europe
Every year, the city hosts the Red Bull Cliff Diving Series. The event gathers the bravest and experienced divers from all over the world, who plunge into the Neretva river from a platform erected on the bridge.
The men jump from a height of 27 meters, while the ladies jump from a height of 21 meters. Which is still way too tall if you ask me.
So, Stari Most is an absolute must if you're ever in this city. Actually, you'll most likely have to cross it, to get to the other bank of the Neretva river. Then you can go and wander around the cobblestone alleys, buy unique souvenirs and try delicious local dishes. These are the best things to do in Mostar!
The city is home to many museums worth visiting, some of which are actually traditional Bosnian houses turned into museum. They give you an insight into how people here lived centuries ago, and are a great opportunity to learn about the culture and tradition of the city and its people.
Mostar is also popular for its proximity to other tourist attractions in this part of the country. It's a little over an hour away from Neum, the country's only seaside town. Mostar is also very close to the spring of Buna river and Blagaj – a picturesque place that attracts thousands of tourists each year.
And because the untamed Neretva river runs through this town, it's an extremely popular spot for rafting. There are also several great hiking trails near the city, one of which takes you to the top of the Blagaj Fortress! As you can see, there are many great Mostar attractions and things to do that you can enjoy here!
4. Konjic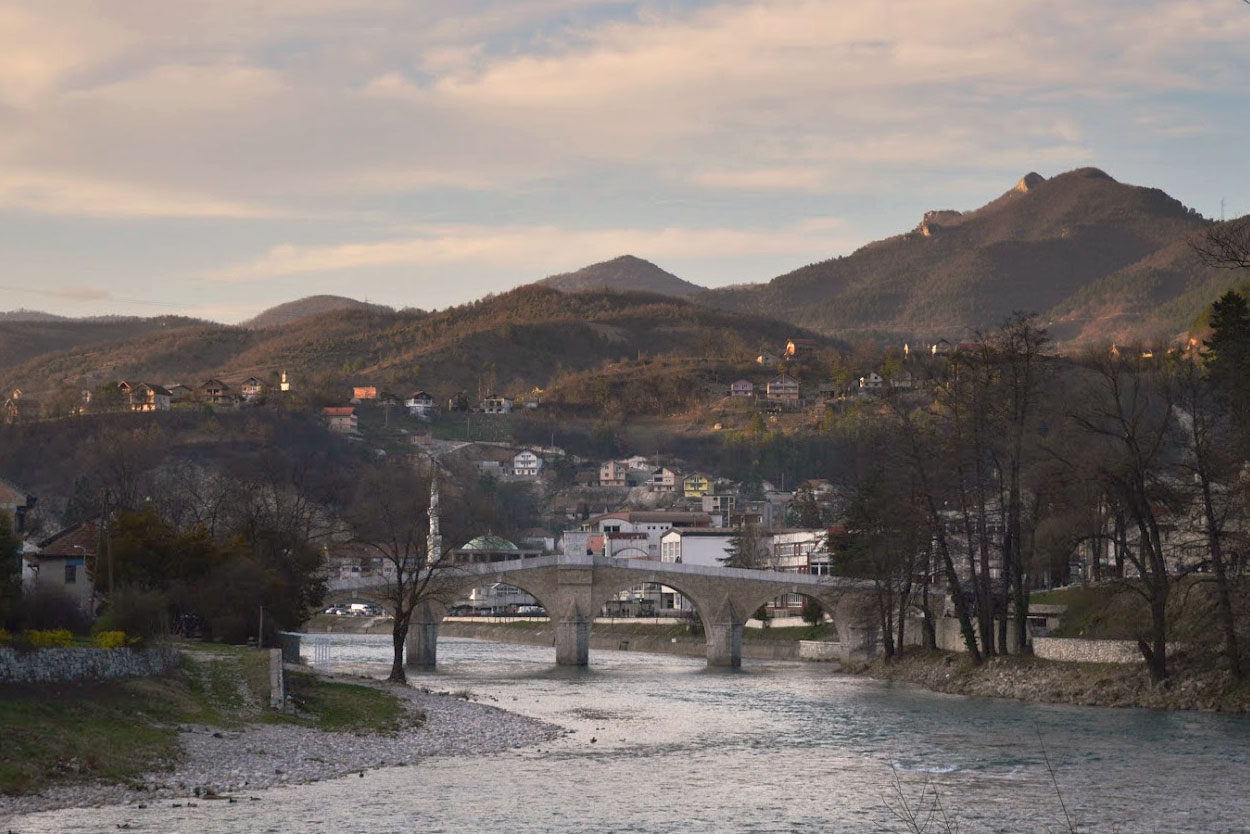 Konjic is a small town in northern Herzegovina and one of the hidden gems in Bosnia and Herzegovina.
It's a great place for a day trip; it won't take you more than 4-5 hours to explore everything worth seeing, and you will enjoy every minute of it. It is a picturesque town, full of history and tradition.
The Old Bridge (Stara Ćuprija) is an iconic Konjic sight, which dominates the panorama of this town. It connects the two sides of the city that are separated by the Neretva river, and you will have to walk across it if you want to explore every inch of this charming town.
If you're an adrenaline junkie, this is the perfect place for you. You can go rafting on the Neretva river and really have an adventure-filled afternoon.
After that, stop by one of the riverside restaurants to recharge your batteries. The food is delicious, cheap, and it comes with an astonishing view of the river and the majestic bridge.
Perhaps the most popular tourist attraction in Konjic is the Tito's Nuclear Bunker. You'll get to see what north of 3 billion dollars worth of outdated technology looks like, as well as learn a lot about the history of Yugoslavia and its most famous president.
Konjic is also popular for its proximity to two lakes. Jablaničko Lake is an artificial lake that attracts swimmers, anglers and fans of all sorts of water sports. It provides a lot of fun in the hot summer months and is very popular with both locals and tourists.
Boračko Lake, on the other hand, is more popular for a weekend getaway, due to many cottages in its vicinity. It's a great camping spot, where you can sit around the fire and roast marshmallows under the starry sky. Konjic is one of Bosnia and Herzegovina tourist destinations that will surprise you, in a good way!
5. Japodian Islands
Japodian Islands (Japodski Otoci) are a hidden gem of northwestern Bosnia and Herzegovina. If you're looking to spend a relaxing weekend surrounded by untouched nature, this is the best place to visit in the country.
Japodian Islands are a tourist attraction just outside Bihać. The area features several different types of accommodation – modern apartments, camping lodges, and a treehouse. You also have the option to spend the night under the stars.
But the treehouse is by far the best place to stay. It is secluded, so there won't be any people around you. It offers a magical view of the Una river and the nearby trees, and it has all the modern-day necessities, including WiFi and air conditioning.
This area is also very close to two national parks – Plitvice Lakes and Una National Park. The former is actually in Croatia, so we'll focus on the latter.
Una National Park is a great spot for hiking, fishing, observing wildlife, cycling, and rafting. Definitely visit if you're someone who enjoys any one of these activities!
Japodian Islands are one of the off the beaten path destinations in Bosnia and Herzegovina, but also one of the best places to visit in Bosnia and Herzegovina, even if you won't stay here for a ling time.
6. Ethno Village Stanišići
The northeastern part of the country is home to the Ethno Village Stanišići – a magical place that feels like it belongs in a different world.
Ethno Villages have risen in popularity in Bosnia and Herzegovina in the last few years, and they are definitely worth visiting. This particular ethno village is the perfect spot for a romantic weekend with your significant other, or just a relaxing weekend getaway.
The village was built by the Stanišić family, and it is run by them. One of the main tourist attractions here is the House of Grandpa Božo, which has a tragic history.
The ethnic village is also home to a small museum that features artefacts from 19th and 20th centuries, which will give you insight into how the Serbian population lived during that time. You can also see Noah's Ark, and ride an electric train around the lake.
These are the best places to see in Bosnia and Herzegovina. As you can see, I've included both famous cities in Bosnia and Herzegovina as well as lesser-known Bosnia and Herzegovina destinations.
You can create your own Bosnia and Herzegovina itinerary and include all of these great places to visit in Bosnia and Herzegovina on it! You'll have a great trip and you'll be able to discover the history of the area, enjoy great local food, have fun outdoors, and see some interesting architecture. You'll discover beautiful Bosnia and beautiful Herzegovina!
About the author
Anna was born to travel the world having studied languages all her life. Although she has traveled the world, she now calls Switzerland home and spends her time writing about her experiences on Expert World Travel. Follow her adventure on Facebook, Twitter, and Pinterest.