Vancouver – Even More Beautiful In Person
For those who live in Canada, it sometimes feels like there's British Columbia, and then there's every other province. No other province in Canada matches the scenery, temperate winter climate, and laid back environment of the nation's West Coast wing. We'll take a look at some of the best spots to hit in Vancouver and look into why the city has become a major worldwide destination.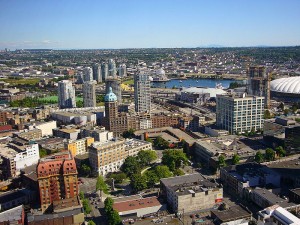 Photo source
The Scenery
In Vancouver, you'd be hard-pressed to not find a beautiful location. With mountain and waterfront views, in addition to it's extensive wildlife and natural settings, Vancouver offers a scenic landscape that is only matched by a handful of cities around the world. Given Vancouver's central location in the province, residents are only a few hours away from many of British Columbia's most beautiful locations – Victoria, Whistler, and Tofino to name a few – which are all must-see locations in the summertime.
Nightlife and Downtown
Like any major city, Vancouver's nightlife is both extensive and unique. Downtown Vancouver is made of three key areas – Yaletown, City Centre, and Gastown. Each sector has its own unique flavor, which makes it easy for residents and tourists alike to find a place where they'll have a good time. The nightlife gets especially amped anytime the Vancouver Canucks are in action, as the whole city seems to shut down and hold its breath when Vancouver's most prized possession hits the ice. Whether you're looking for a party, exotic meal, or beautiful scenic area, you'll find it in Downtown Vancouver
Diversity
Vancouver is known for its diversity. Whether it's the people, the restaurants, or the numerous festivals that take place during the summer, Vancouver's multiculturalism is a badge of honor for the city. This was no more apparent than when the 2010 Olympics were held in Vancouver, and cultures from all over the world descended on Vancouver.
No matter what you're looking for, you'd be hard-pressed to not find it in Vancouver. A city that wears multiple hats, the city truly has something for everyone during any time of the year. So the next time you're on the West Coast, be sure to bring your walking shoes and a camera. You'll be happy you did.
Jamil is a freelancer writer who loves to write about anything and everything. A graduate from Royal Roads University in Victoria, BC, Jamil has written stories for several publications and has interviewed everyone from Hollywood celebrities to local musicians. When he's not putting pen to paper, you can catch him watching episodes of Game of Thrones or tinkering endlessly with his Fantasy Football lineup. You can view some of his recent travel and casino posts here.