The Splendid Alps Seen from the Airplane
During my first flight I had the wonderful opportunity to see the beautiful French Alps. Their peaks were covered in snow and it was a gorgeous view. Unfortunately my window had a little bit of condense at departure, therefore I had a rather frozen window – so no photos, just a small glimpse of the truly beautiful view.
My husband travelled recently to Italy, and on his way back was able to take a photo of the Alps in this area. They are also covered in snow – really, really beautiful!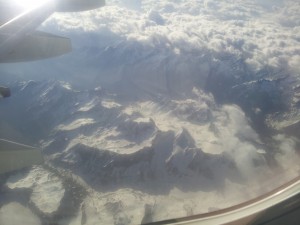 With sights like this, how can you not like flying?