Budget travel guide: best free things to do in Bucharest
Bucharest, my hometown and capital of Romania, has a lot to offer to any visitor. I see many people coming here for the first time, as leisure or business travelers, and love it. Romania surprises in a very nice way, and Bucharest is a true Eastern European gem. Today I'm presenting you a budget travel guide for the city that includes the best free things to do in Bucharest.
Believe me, this is a selection of the top free activities in Bucharest, as the city is really budget friendly. These activities are available all year round, so they do not depend on a season or another. How great is that? But enough said, let's get down to business and see the best free things to do in Bucharest.
Admire the Palace of the Parliament/People's House
You may like this building or not, depending on your preferences, but you simply have to see it when in Bucharest. Given the fact that it is within walking distance from the Unirii Square (Union Square) (or Izvor Park, for instance), you can't miss it.
The Palace of the Parliament, also known as People's House after the 1989 Revolution, is the second largest building in the world after the Pentagon, and the biggest civilian building in the world. It was built during Ceausescu's regime, and you'll see the soviet influence. If you have some money, you can book in advance a tour for its interior (you must schedule it!).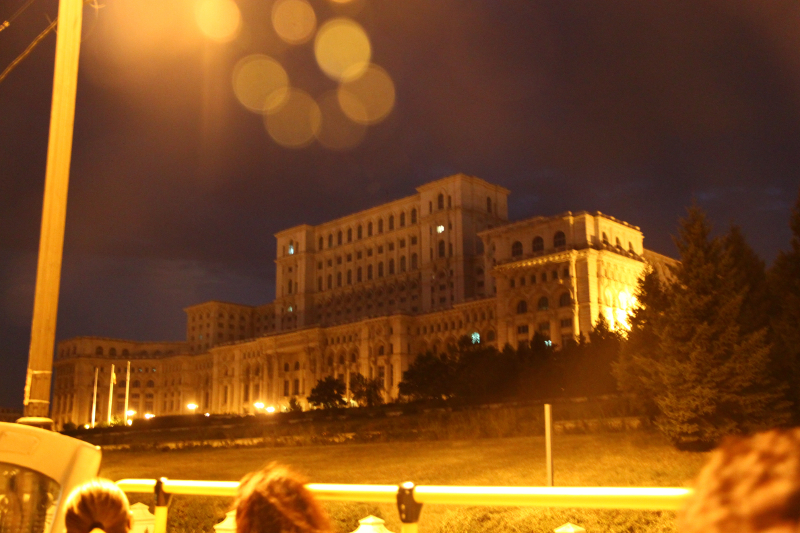 Relax in the Parks
Bucharest might not be the greenest city in Europe, but it has some pretty wonderful – and huge – parks. I have two favorites, I'll give you that: the Cismigiu Gardens, the oldest gardens in the city, often referred to as park, and Herastrau Park – the biggest one in Bucharest. These simply must be included on the best free things to do in Bucharest list. They have lakes, numerous playgrounds for children (free), walking trails, and more.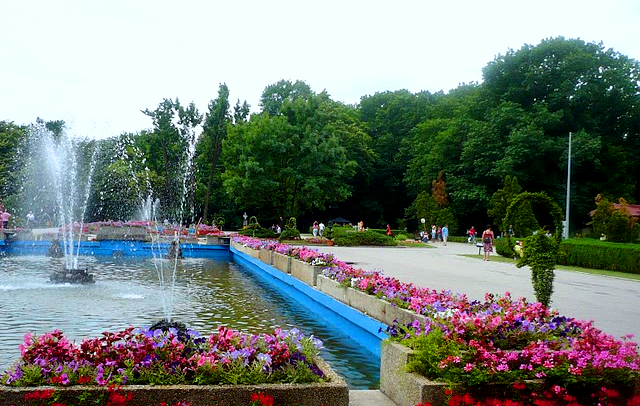 If you go sightseeing in Bucharest, you might find yourself near other amazing parks such as Carol Park (with the famous Mausoleum), Tineretului (Youth) Park, Tei (Liden Tree) Park, or Alexandru Ioan Cuza Park. They are set in different areas of the city, so you'll find one next to the place you are staying in.
See the Churches
Bucharest has numerous churches that are true gems on the outside and on the inside. No list of the best free things to do in Bucharest would be complete without recommending them, as the entrance is free!
While most of the churches are orthodox (the main religion in the country), their design varies. Some have Greek inspiration, other Russian, some mix Roman style with Brancovenesc style, and so on and so forth. From the Stavropoleos Church in the old city's centre to the Russian Church near Piata Universitatii, from the Kretzulescu's Church to the Romanian Patriarchal Cathedral, you'll have what to see for free in Bucharest.
Discover Calea Victoriei (Victoriei Avenue)
This is the first road in Bucharest and you can still admire wonderful houses on it. Some of them are now museums – like George Enescu's house which is now George Enescu Museum – while others are company headquarters or shops. There is even a casino – a beautiful building on the outside – and there are also nice churches on the road. Hotels, museums, churches, amazing houses and buildings – who can ask for more for a street that's centrally located, right?
You will also find some nice passages that link the Victoriei Avenue to parallel streets. So yes, in my opinion, talking a long walk on the Victoriei Avenue is definitely one of the best free things to do in Bucharest. You'll even find many instagrammable spots along the way!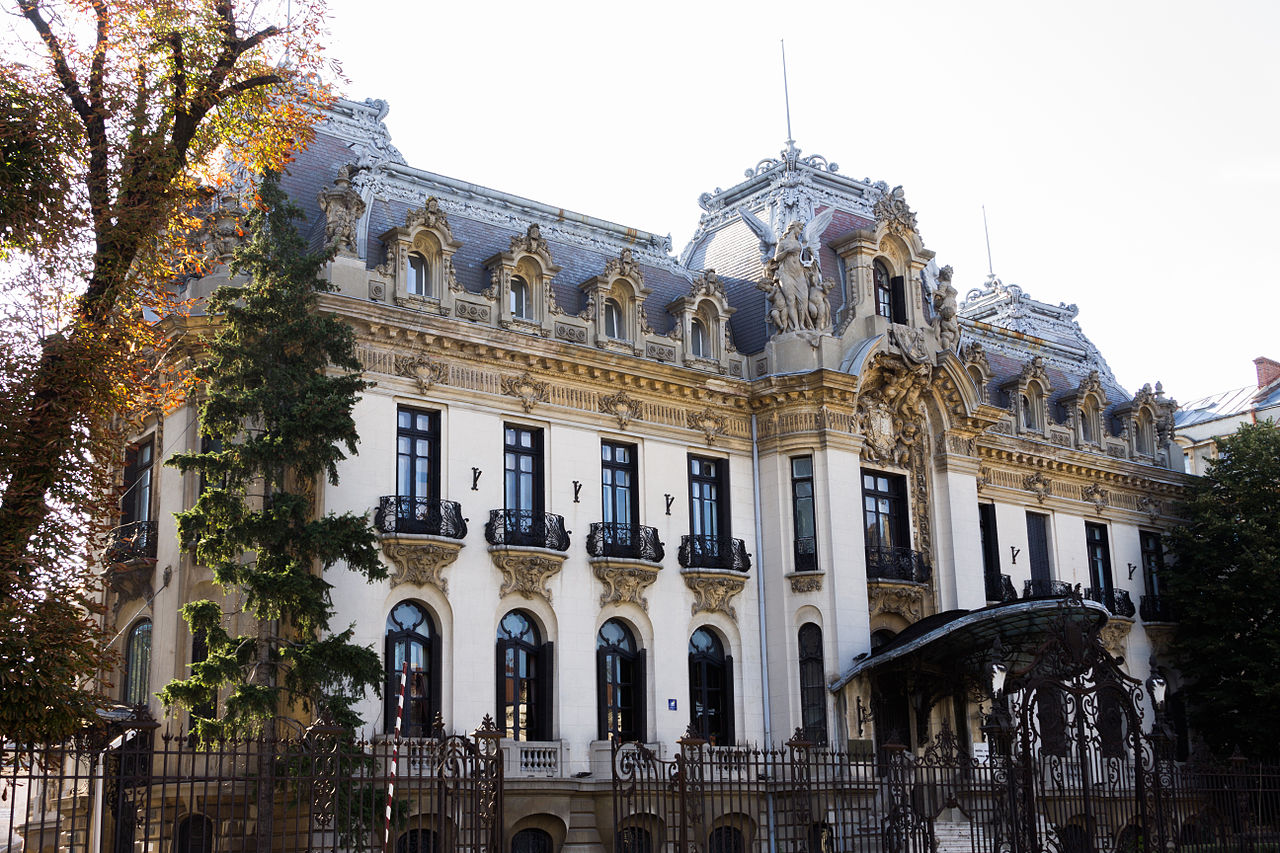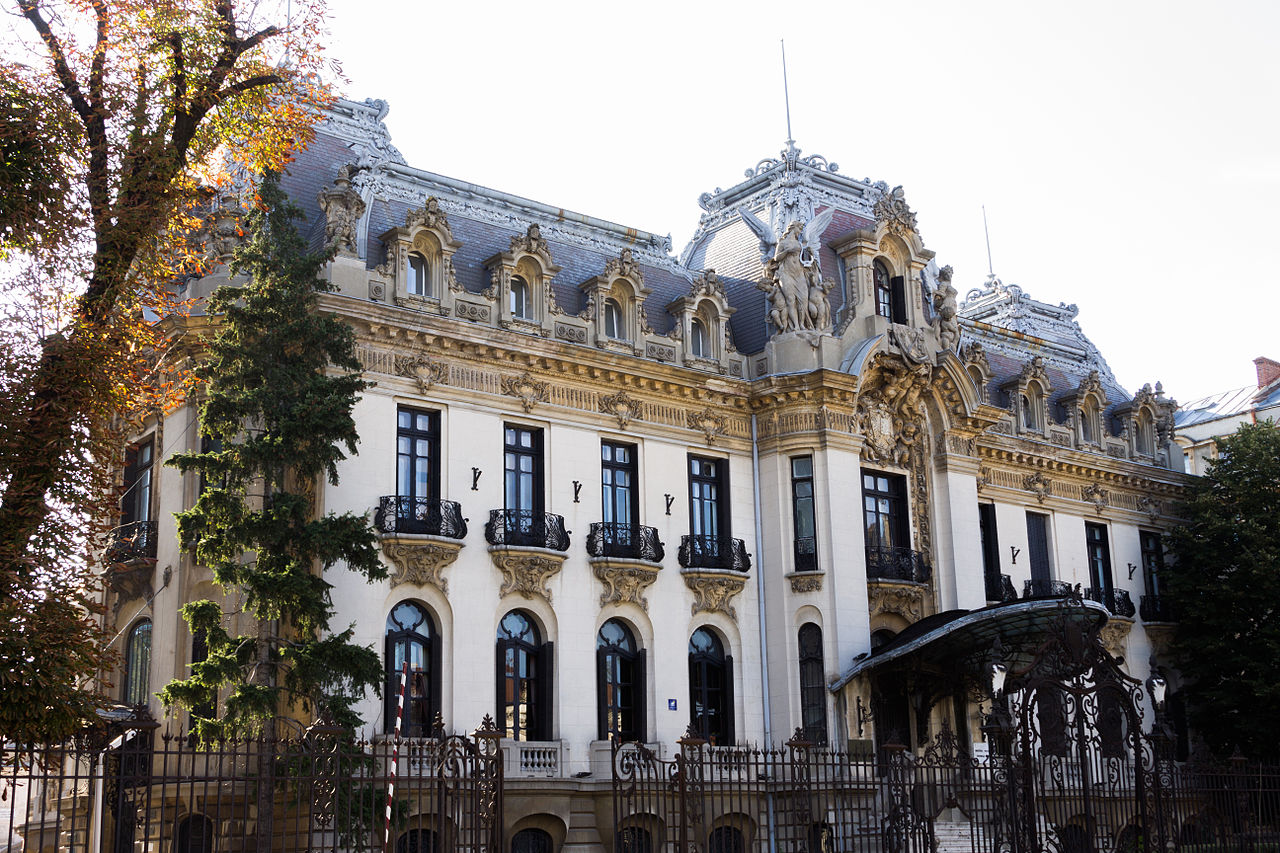 Image by Bogdan Caraman on Wikipedia
See the Old Town
It used to be an area with houses owned by small entrepreneurs: people who made glass objects, clothes, jewelry, leather objects, shoes, and more. Nowadays, only a few of those shops are still open, but the houses are still there, so you'll be able to admire the architecture. Many of them are now restaurants or coffee houses.
Get Inside the Most Beautiful Bookshop in the City: The Carturesti Caroussel Bookshop
Opened just a few years ago on one of the most famous streets in the Old Town in Bucharest, The Carturesti Caroussel Bookshop is truly amazing. You simply have to visit it, even if you won't buy something (though it will be hard to resist the urge).
The interior is truly amazing, white, spacious, impressive, and a great instagrammable spot, that is why I consider this bookshop to be one of the best free things to do in Bucharest.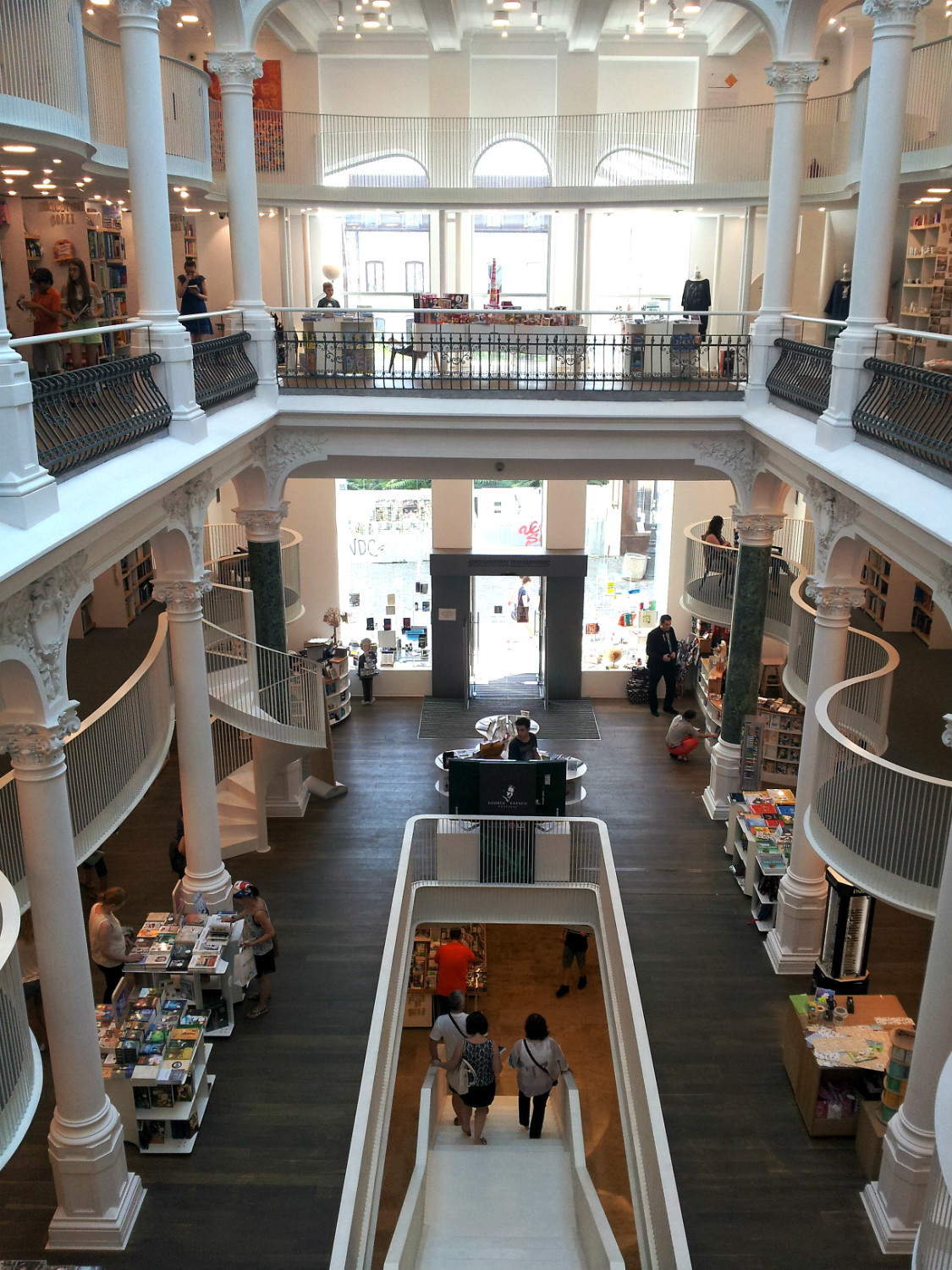 See Xenofon Street – the only street in stairs – and Vlad The Impaler's Castle
Near Carol Park you'll discover two interesting attractions, that can easily be included on the best free things to do in Bucharest list. One is the Xenofon Street, the only street in stairs left in Bucharest. At its end you'll be staying on the tallest natural spot in the city (there's a hotel there now).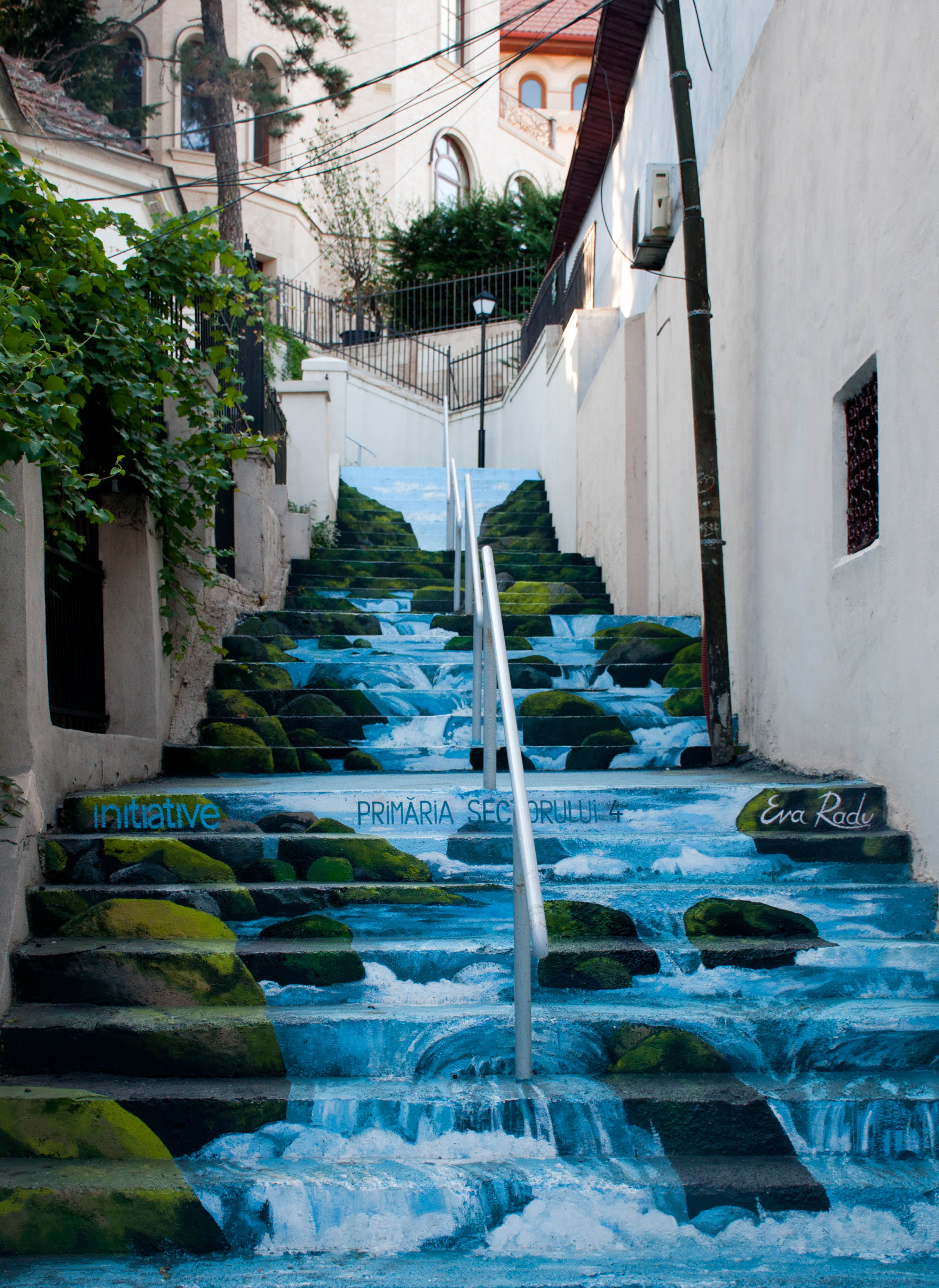 On another side, you'll see the Vlad Tepes (Vlad the Impaler) Castle in Bucharest! While now it is a military building, you can take photos of its exterior (and it is definitely worth it!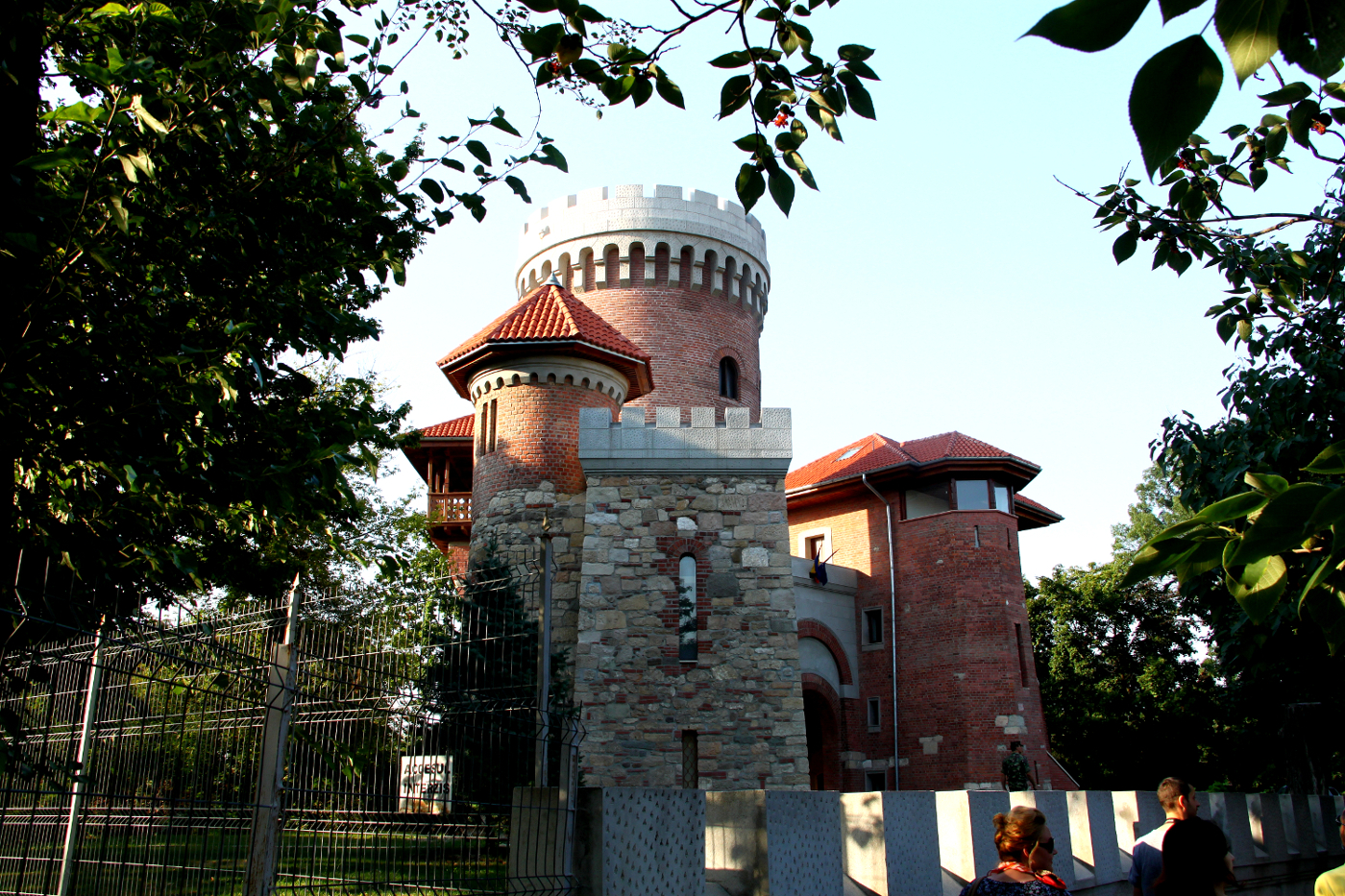 Have Fun at the Fairs/Events in the Bucharest
Ok, these don't happen everyday, but, regardless of the season you are visiting Bucharest in, you'll find some wonderful – and free – fairs or events to check out in Bucharest.
From concerts in parks or in famous central squares to seeing movies for free (this is during the summer weekends in Herastrau Park) to going on an ice rink at the Christmas fair in the winter, you'll find something fun to do in the city. As I can't list all the events and their dates, my tip is to do a bit of online research before booking your trip – or prior to your arriving in Bucharest and see what events come up and which of them are free.
Admire the Monuments and Statues in the City
If you are an architecture lover, or if you will just like to see Bucharest from a different perspective, then it's just enough to take long walks – in parks, in the city center, etc. – and you'll have what to see. These are some of the best free things to do in Bucharest, and there are many wonderful statues and monuments.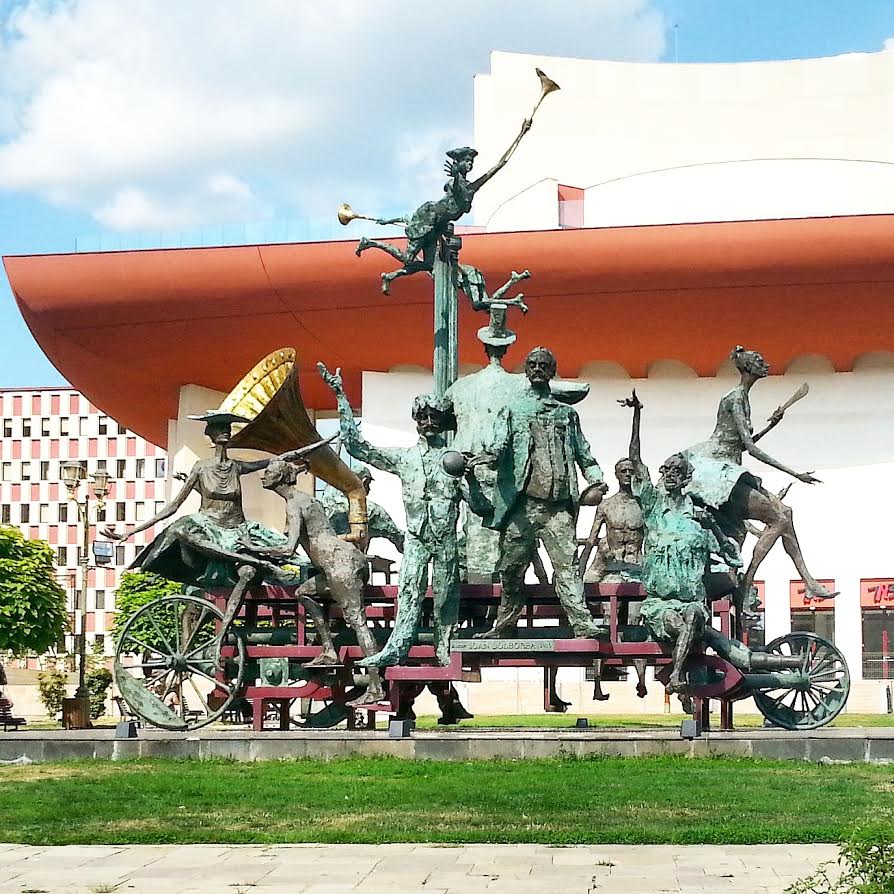 You'll see a wonderful group in front of the National Theater in Bucharest, you'll see universities, the Coltea Hospital and Coltea Church, the Bucharest Museum – and this is just for the Universitatii (University) Square.
You'll also be able to see the lovely Arch de Triomphe (yes, like the one in Paris – let's not forget that Bucharest is called The Little Paris), and many interesting statues and monuments in all of the parks (including one dedicated to Michael Jackson on an alley with the same name in Herastrau Park).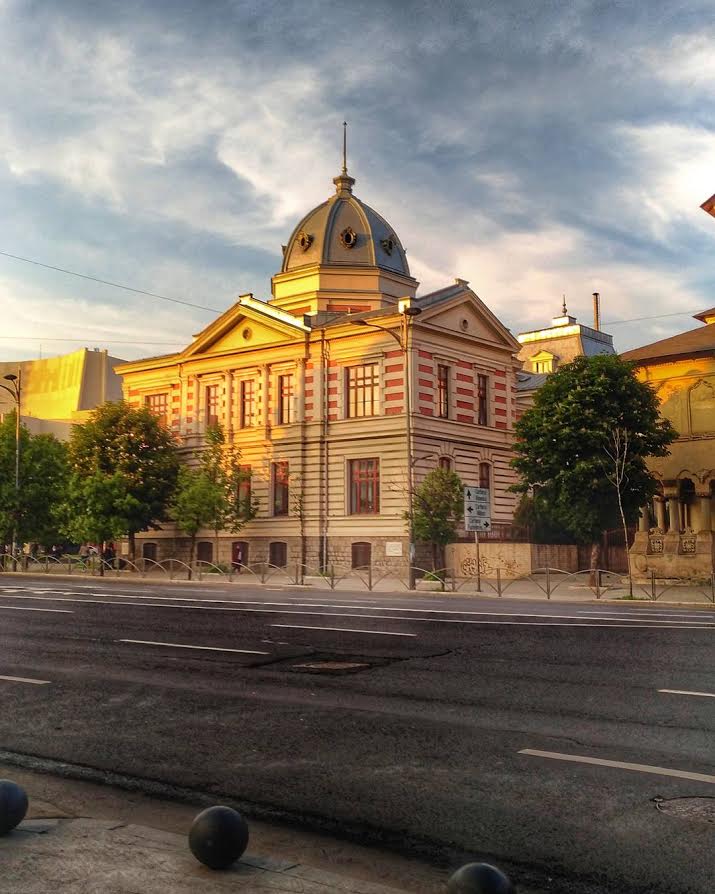 Visit the Museums for Free
Now this sounds like a not-to-miss opportunity, right? Or too good to be true? Let me tell you that it is possible to see some of the greatest museums in Bucharest for free. Most of them have either open doors events (like the National Military Museum), or they offer free access on a given date (some on the 26th of a month) or on a given day (some on the first Wednesday of each month).
In order to benefit from this opportunity, make sure to check the official websites of those museums in Bucharest that you want to visit and see if they have such a special offer.
As you can see, there are plenty of free activities in Bucharest. This Budget travel guide to Bucharest is your ultimate guide to Bucharest and its free things to see and do. I wanted to point out just how many options you have, all wonderful, all safe for you. So use this best free things to do in Bucharest list for your next trip to Romania's capital and make the most of your stay here!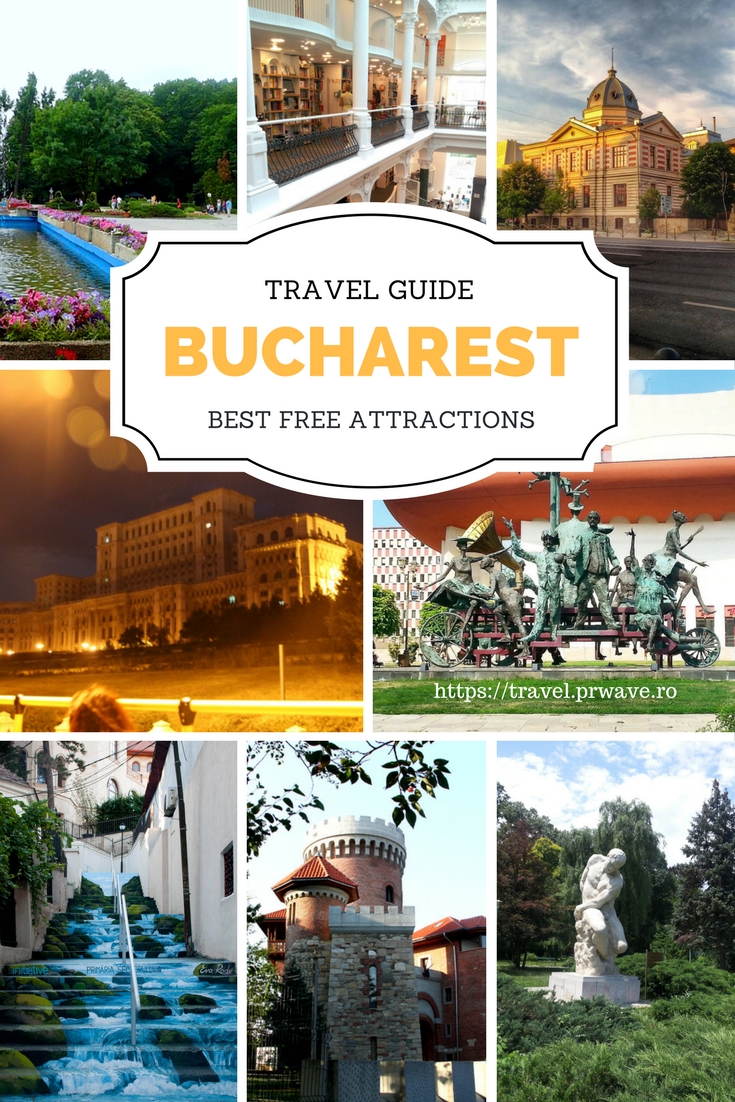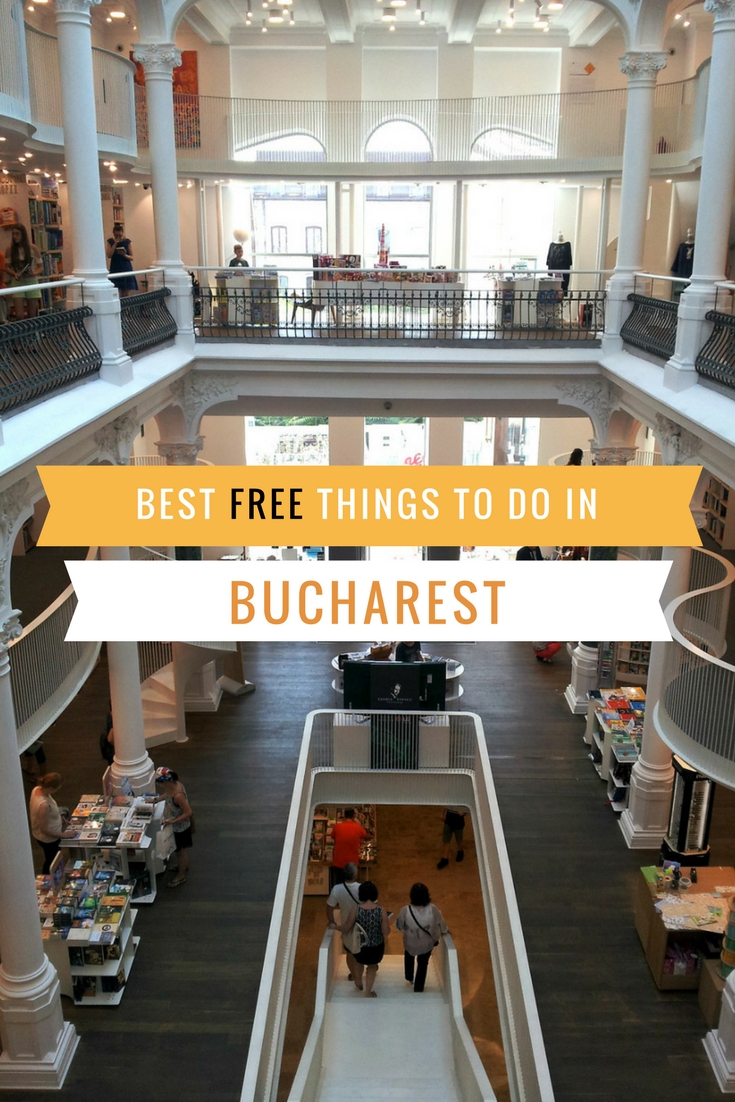 Save
Save
Save