Canadian Rocky Mountaineer Travel Guide
There are several rail journeys across the world that evoke feelings of wonder, excitement and are simply 'must-do' experiences when visiting their respective countries. The Rocky Mountaineer is one of those legendary trips that must be taken when holidaying in Canada, just for the pleasure of the journey itself.
This is a luxury sightseeing excursion that takes in a host of breath-taking vistas across British Colombia and Alberta in Canada. It operates on four different routes and the spectacular scenery is complimented by sterling service on board. To give you an idea of its popularity, the passenger numbers have grown from 10,000 in 1990 to now over 100,000 each year.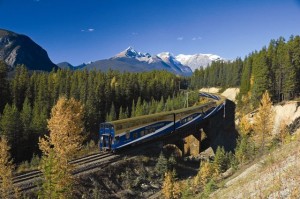 The trips come in a variety of formats, with the shortest being the 3.5 hour Sea to Sky Climb trip from Vancouver to the town of Whistler, host of the 2010 Olympic and Paralympic Winter Games. This trip takes in a huge variety of landscapes, from city to forest to snow-capped mountains.
The other Rocky Mountaineer journeys – First Passage to the West, Journey Through the Clouds and Rainforest to Goldrush – take place across two days with an overnight stay in Kamloops for the first two options and in Quesnel for the third.
First Passage to the West rides on the Canadian Pacific Railway, Canada's first trans-continental line which opened back in 1885. This was also the first Rocky Mountaineer maiden route back in 1990. It passes Castle Mountain, Lake Louise, the continental divide, the picturesque Stoney Creek Bridge and the awe-inspiring Thompson & Fraser river canyons, with a multitude of wildlife inhabitants along the way.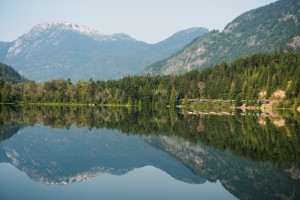 The Canada holiday journey through the Clouds travels over the second trans-continental line built across Canada, which opened in 1917. After leaving Jasper, the Rocky Mountaineer goes up through Yellowhead Pass. The undoubted highlights of this trip are the views of snow-capped Mount Robson, the highest mountain in the Rockies at 12,972 ft. The train then passes Moose Lake and crosses the Fraser River. This is then followed by 20 miles of Canada's most stunning mountains: the Premier range. The final sight worthy of mention is Pyramid Falls, with water cascading 300 feet beside the tracks. The return trip takes in Kamloops Lake, Black Canyon, Avalanche alley, Hells' Gate and then enters Vancouver.
To make the most of the fine seasonal months and ensure only the best experiences are gained by Canadian holiday makers, the Rocky Mountaineer only operates from late April until early October. The limited period of opening time makes the journey more precious and rare. The very experience of the Rocky Mountaineer rail journey is something worth holding onto for many years.