Top 3 Attractions in Athens, Greece to See in a Day
For many, Athens is synonym with history, and they are not wrong. This city is the capital of Greece, and the largest city in this country, as a matter of a fact, with a history of round 3,400 years, thus being one of the oldest cities in the world.
The city has many important and lovely places to visit, remains of old people. If you have just one day in Athens, you might want to visit these top 3 sights.
Acropolis, The Parthenon and Acropolis Museum
Sign of old times, this imposing vestige is pure history. Yes, I consider it a single attraction in this post, though I have to admit that there are many sights here. "Acropolis" means "highest point" and many Greek cities had such a high point. Nowadays, the terms refers solely to the Acropolis in Athens, a 156 meter high rock.
The hill was inhabited for a long while even before this place's peak of power – 5th Century BC. On this sacred rock are some of the world's most important buildings, among which is the Parthenon, a must see when in Athens. This is the most important temple in Acropolis, built between 447 and 438 BC, and that has 70 meters long and 31 meters wide. Magnificent sculptures and an imposing structure speaking of old times.
At the foot of the Acropolis you'll find the moderns Acropolis Museum building, hosting many lovely pieces, friezes and sculptures from the Parthenon and many others.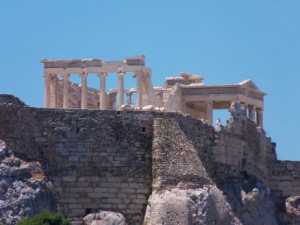 The Temple of Zeus
This used to be the largest temple in Greece – now only vestiges and some colons remain to speak of its glory. Impressive architecture, today leaving any visitor imagining the way it looked back in time, this temple draws many visitors each year and it is a must see place when in Athens, where you can easily get in affordable vacations with deals found on Holiday Hypermarket.
Monastiraki Street Market
As night comes, an almost different Athens appears. It's a rather Eastern city, reminding travelers of Turkish bazaars, specially on Sunday when tourists may find here some interesting bargains. Of course, you must be a traveler that likes such a style and looks for various old/second hand items to like this street.