The road where it is illegal to fasten you seatbelts and drive below 50 km/h
Last Updated on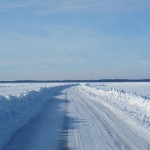 Yes, that's right: there is a road where it is illegal to fasten you seatbelts and drive below 50 km/h! Sounds peculiar? It is indeed a curiosity, but there is a good reason for these measures. One may go under 25km/h or above 50 due to the fact that the speed in between is the worse, it leads to dangerous vibrations. Also the seat belts must not be fastened because in case of accident one could not get out of the car fast enough.
Other rules include not stopping the vehicle and the vehicles are allowed to enter the road one each 3 minutes. Of course, the road can only be used in daylight.
The road is the one between the island of Hiumaa and the Estonian mainland. It is in fact an ice highway, opened only a period of the year, a route preferred  by locals for it is cheaper than a ferry trip. A video shows us what it's like to travel on this road. It seems like quite an experience!
photo source