Holy trip to Lisbon: The Ascension (Part 2)
Last Updated on
Please read also Part I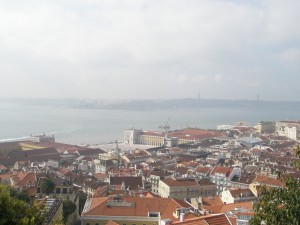 The fist milestone is the famous neighbourhood called Alfama. It is a traditionally poor barrio that has survived the earth-quake in 1775, still bearing strong Moorish influences in terms of architecture. I just hold my breath and admire the Belem tour on a balcony, laying in the sun and resting after a long and hard way up. I stop at Santo Antonio Church which originally dates from the 12th century. It is a perfect place to connect to your inner soul but do not get fooled… you can be dragged into some mundane passions as well. Even if Santo Antonio is the patron saint of Lisbon, and although he was Portuguese, he died in Italy (Padova), reason for which a group of Italian people are teasing the Portuguese for having stolen their Saint…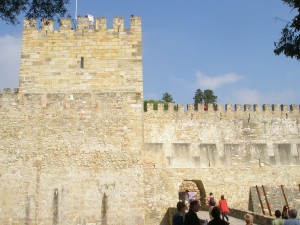 I continue my ascension to Castelo de Sao Jorje. Built on top of prehistoric and ancient ruins, the citadel played a key part in the Moorish domination and in the Spanish Reconquista. It remains a symbol of sacrifice, as a Portuguese knight has given his life during the wars of liberation from the Moorish, when putting his own body in a crack of a gate in order to prevent it from closing and thus allow the Christian army to enter. It has been the residency of the royal family for two hundred years and Joao I dedicated the castle to Saint George. It offers tremendous views on Lisbon and it gets you back in the ancient times of Ollissipoa through an impressive multi-media tour.
After having enjoyed a lesson of patriotism and courage, I start my descent to Baixa. It is a hard way, and being tired, I get a charming old tram that runs as fast as a montaigne-russe. It is a relaxing moment before reaching my last spiritual destination, Convento do Carmo. It was founded by the knight Nuno Álvares Pereira who also played a major role in the wars of the Portuguese against the Castilians. With a Gothic architecture and still bearing the scars of the big earthquake, it is nowadays a history museum administrated by the Carmelite order.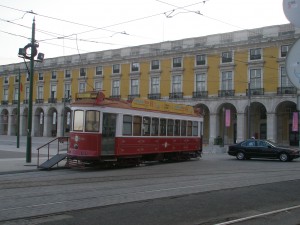 Eventually, I return to the material world at Baixa, the main museum area and at Rossio a historical square with its baroque Arco da Bandeira and traditional shops. They seat in an elegant rich quarter called Pombaline, in the honour of Minister Marques de Pombal who ordered the reconstruction of Lisbon after the earthquake. It is just la promise that, as Lisbon has always found the resources to resurrect after a disaster, we human beings can find strength to regain our forces after sorrows…
Thank you for being with me, dear reader, and I hope you have reached your inner soul as well, when joining me in Lisbon the Sanctuary of Christ.