Learning to Surf in Portugal – Everything You Need to Know
Surfing is the ultimate beach sport, and where better to learn it than in the hot sunshine of Portugal?  With its world class beaches, there is probably nowhere better in Europe to get into surfing, so here is everything you need to know when it comes to a surfing holiday on the Portuguese coast!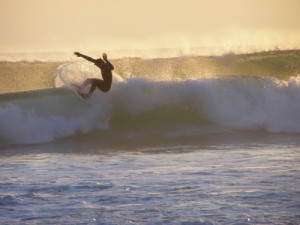 Equipment
When it comes to a surf holiday, you may need to consider your equipment.  You can hire things like surf boards, surf boots and even wetsuits, but if you are serious you will probably want your own equipment.  Some surfers in warm weather destinations like Portugal will forgo wetsuits altogether and surf in swimsuits, but if you are expecting to be surfing all day long and into the evening, you may be grateful for the extra warmth of a wetsuit.  Even in the temperate Mediterranean Sea, a wetsuit is a must if you are going to be in the water all day.  Travelling with a surf board can be tricky, so it is really down to how important it is to you to use your own equipment whether you choose to bring one or hire.
Lessons
If you are planning to make surfing the key activity of your holiday, and want to really devote your trip to getting good at the sport, you should consider how many professional lessons you are going to have over the course of your stay.  Surfing is physically intensive, and you will need some recovery time which will give you a chance to explore a little, but you should consider having lessons on the majority of the days of your holiday.  You will get a better deal if you book these in advance rather than trying to find an instructor when you arrive in Portugal.  Consider taking lessons for a couple of hours a day, and then spending a few more hours every day practicing.
Sunscreen
It seems obvious, but when you are distracted with the important business of mastering your surf technique, it can be pretty easy to forget how important it is to protect yourself from the sun's harmful rays.  The sea reflects the UV rays, so you will be getting the full force of the sun on any bare skin.  Because the sea keeps you cool, it is easy to forget that you are at risk of burning, so make sure you are using sunscreen regularly and are choosing a waterproof brand.  With all that sunshine, you will still be likely to pick up a good tan even with proper sun protection, so don't take risks.  A bad case of sunburn is not only really bad for you, it will also ruin your holiday and make it really hard to comfortably surf!
Striking a Balance
While a surfing holiday is a pretty sporty endeavour, this is still your holiday so make sure you strike a good balance between pushing yourself physically and learning the sport, and also taking some time out to really get the most out of your stay in Portugal.  Wherever you are staying, chances are there will be more to see than just the beach, and if you get a chance to visit the beautiful city of Lisbon, which is also famous for its great nightlife, you should definitely do it!  Make sure that you take a good amount of recovery time, because if you are new to surfing you will be using some serious core muscle groups that won't be used to getting this much of a workout.  It can also take some relaxation time to let all the stuff you have learned in your lessons properly sink-in from a mental perspective.
There is no better place to stay during a surfing holiday in Portugal than in the villas in Vale do Lobo. This beautiful resort is ideal for surfers of all skill levels too so every member of your travelling party can get involved.