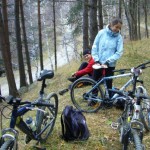 I like to consider myself an active person who doesn't miss a chance to do some outdoor sports, especially during the weekends. I always enjoyed biking: it's healthy, it helps me disconnect from the daily routine, and to get rid of the bad thoughts piled up during the week.
One of my favorite bike rides around Sofia is the one on the forest path from Zheleznitsa to Simeonovo. I've been there a couple of times so far and I still can't get enough of it. The path is around 14 kilometers long and it's partly hilly – partly flat. The second half of it becomes a bit hilly but, regardless of that, one can run into both experienced and beginner riders on this track.
Bike route 334807 – powered by
Bikemap
The Zheleznitsa – Simeonovo path attracts many people who prefer walking around the forest, enjoying the scenery of yellow leaves falling off the trees, the view of the crowded city from a safe distance, the symphony of birds, and the fresh air.
The landscapes are just great. From time to time, the trodden path intersects with tiny springs forcing you to go over small wooden bridges that look like they we're hand made by school kids. The climax, or my most preferred place where I always stop and have a snack, is represented by a small waterfall. Here, it happens from time to time that I have to share my food with some friendly dog, which entertains the tourists.

Late November from Radu Panciuc on Vimeo.
So, if you happen to be in Sofia and you like outdoors, this is one of the places you shouldn't miss. You can get there either by car or by bus. The path is marked and the people are friendly. Don't forget to put a snack in your backpack and to say Hi – Dober Den – to the people you meet on the track. More than that, if 14 kilometers are not enough for you, you can continue from Simeonovo to Dragalevtsi or even to Sofia's neighborhood Boyana.