NAP Tourism Bucovina – Romania
A few years ago I was lucky enough to go to a trip through several small villages and cities in the northern Romania. It was then when I saw the famous Moldavian monasteries, the Vatra Dornei area and a few other places.
Yesterday I found out an ongoing project regarding the active tourism and the ecotourism in some part of Romania. I think this is major news and I find it worth sharing.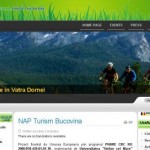 The areas covered by the program are Gura Humorului, Vatra Dornei and Sucevita. There is an official website where you can see the trails included in this program, find out information on nordic walking and find out amazing touristic objectives you might want to check out.
There is also an official brochure (with info in both Romanian and English) – in PDF format; you can see/download it here. Through this project Romania takes a step forward like renown countries such as Germany, Austria or Finland did a while ago.
As I was planning to write about the gorgeous sights and interesting places to visit in this part of the country I consider this recently launched program to be an excellent introduction. Take it as a teaser for the future articles you'll find here ;). If you understand Romanian, you may also read this article.