See the world with Earth TV
Sometimes you feel such an urge to travel, to see the world, to go somewhere you've never been before. Unfortunately you can't always do that.
Sometimes you just want to take a break from whatever you have to do at home or at the office.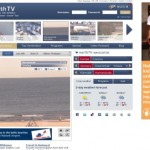 For all of you out there who want to take a break, to see special places in real time, I'm recommending Earth TV.
This website delivers real-time images from all continents, all over the world. There are about 70 cameras that provide high quality images thus allowing anyone to travel instantly around the world. Imagine that: now you may be in Vienna, Austria, then in Jakarta and the next minute you're in Australia; after that you may "travel" to a special place in USA and then you go to China.
It's an interesting experience – and for sure a different type of office break. It's relaxing and fun.
The site is also useful because it offers local weather, info about hotels, recent events etc. for each city. So far, Earth TV to be an interesting resource indeed.