With a collection of islands as varied and numerous as the pages of Greek history, a holiday or trip to Greece starts with a simple idea but then becomes a problematic task of deciding where to go. Over the course of several thousands of years, Greece has accumulated an impressive and envious collection of islands scattered within its sphere of influence. This can actually mean that there is great diversity in the history, culture and traditions of each island depending on what was left behind and by whom. Here is a cherry picking of some of Greece's finest holiday destinations. (We already presented you some of Greece's finest islands.)
Santorini
This is particularly one for the romantics and honeymooners, with its famed Blue Domed Churches creating the perfect profile picture for such a destination. If you're fascinated by volcanoes and their impacts on the landscape, then add that to your list of why to come here.  Santorini rises majestically out of the Mediterranean as the rim of a caldera, a crater caused by a collapse of the land following a volcanic eruption, which fell away to allow the sea to come pouring in. It's therefore not difficult to see why many attribute the legend of Atlantis to this location.
This creates a stunning high walled island unlike anything you've seen before, and its beauty is only further enhanced by the architecture typical of the island. The white washed buildings and domed churches rival the sheer cliffs ringing three sides of the island as the true spectacle for the eye to behold, but it's also the brilliant climate of the Mediterranean and viewpoint created atop the island that creates a view out to sea just as spectacular.
If you don't like hiring a car on holiday then the Town of Thira is likely to be right up your street. It has the unique twist that it can only be accessed by foot, cable car or donkey, and spoils you with weaving alleyways and restaurants should you want to escape the heat. You're unlikely to exhaust yourself at the pace set by this island, but if the steep hillsides leave you a little weary then head down to the beach at Perissa and enjoy the different beach experience created by the volcanic sand.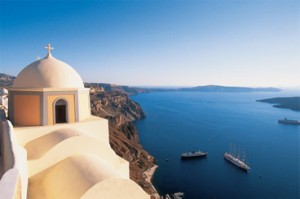 Corfu
Corfu has long been well established on the tourist scene, so there's the usual abundance of hotels, resorts and restaurants, yet it still manages to maintain areas of untouched beauty. The island is surprisingly green for a hot Mediterranean location, and the mountainous landscape and olive groves offer plenty of places to wear your sandals smooth and bare.  Mount Pantokrator is one of the islands highpoints, and if you're looking to trek here you can also factor in several quaint villages dotted along the hillside on the way.
The urban scene's pretty famous too. Corfu town is a historic location, with plenty of old, winding streets, buildings and markets, and reflects it's Greek, French and British heritage. The Historic quarter is the most popular with visitors and is quite extensive, although don't forget about the modern livelier areas around the town's port. There's plenty here for the beach bum, with the usual sandy offerings typical of Greek islands, but also plenty of pebbly beaches and coves that are must-sees if you like donning your snorkel or exploring rocky coastlines. Paleokastritsa is an especially popular one, and a trip here is definitely worth it to sample clear blue water and a stunning little bay.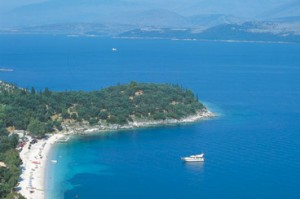 Crete
Well known for its party scene, particularly among the Brits, the resort of Malia will entice or repulse you depending on what you're looking for. Luckily, for those looking to escape the fast paced, hectic and non-stop beat of home life, then Crete is more than big enough to absorb this party resort without other travellers knowing it's there. The sheer size of the island virtually rids it of the tiny outlying plot of land feel that some Greek islands have, and engenders the nerve-tingling possibilities of adventure.
The history buff will be pulled every which way possible as the Minoan, Venetian and Byzantine remnants are scattered across the island. One such Venetian remain is Frangokastello, built in the 1300s of which the general shape, walls and towers remain today. The older remains of the Minoans are mainly in the middle of the island, but being much older are obviously in a greater state of ruin. If this isn't the typical type of holiday for you, then the archaeological museum at Heraklion covers the Minoan past if you're just looking for a quick visit.
Rhodes
Hopefully you haven't heard of the resort of Faliraki, which has become somewhat infamous particularly within young European party traveller circles. If you want a night of hedonistic and unadulterated pleasure then feel free to venture on over as this is definitely a place that can deliver in these respects. If you want to avoid this location, then head to the South of the island, where Rhodes offers so much more in terms of Mediterranean island bliss, justifiably holding a position as one of the most popular Greek islands to travel to.
Situated right over by Turkey in the Aegean Sea, this is a pleasantly warm Greek Island that enjoys 300 days of sunshine a year and has an extremely long summer season. With a compelling blend of great beaches, an historic town (Rhodes), and it's own collection of archaeological sites there's enough to do here to entirely fill a long vacation.
A trip would be incomplete if you didn't venture through the medieval narrow streets of Rhodes Town which has earned it the enviable status of World heritage site, as well as being home to the Grand Masters Palace, dating back to the 14th century. If you want to venture even further back in time, The Acropolis of Rhodes dates back to the second century BC and is a brilliant place to lose yourself imaging what these ruins once were.
Much of Rhodes offers fantastic beaches, that due to it's popularity as an Island are well developed and come with plenty of beach side amenities. If you're looking for something quieter, then Gennadi beach is a pleasant, sandy beach near a village and even creates conditions that attract surfers over here. If you're looking for something more upbeat and stylish then the beach at Lindos town is a good place to chill out and pose as you sunbathe.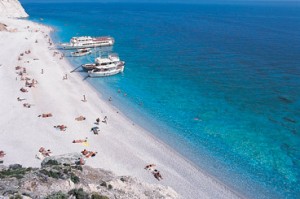 Author Bio: Matthew discovered his passion for travelling long ago, and is rediscovering his love for Europe with his upcoming Greece holidays. He blogs regularly about various expeditions, and made it round the world last year.