Secret Islands Of Italy: San Domino And Panarea
Italy ranks high on the list of the world's most popular tourist destinations, but there are a few places that have been left almost untouched by the tourism industry. I'm not talking about the big cities or vineyard regions, it is the many islands scattered along Italy's coastline that you can find some of the country's secret hidden gems.
A few of these islands find themselves unaffected by international tourism, with mostly domestic tourists venturing to their pristine beaches and picturesque villages. The facilities on some of these islands can be very good, while others are less geared up for an influx of visitors. That is what makes these secret islands so special though, because it almost seems like you have stepped back in time, and it is a great way to really soak up some true Italian culture.
San Domino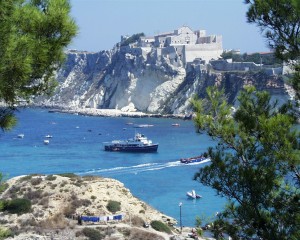 Photo by User:Raboe001
The island of San Domino is part of the Tremiti islands, an archipelago located off Italy's east coast in the Adriatic Sea. It is the biggest island of the group, but this does not mean there are lots of people here. It has been pretty much overlooked by the Italian tourist industry, and few people outside of Italy have ever heard of it. At the turn of the first Millennium, in 1000, it was decided by Benedictine monks as a place of hermitage because of its isolation.
The scenery on San Domino is spectacular and unspoilt, with turquoise water surrounding the lush green island covered in pine trees. There is also an abundance of fragrant natural underbrush like rosemary, myrtle, and juniper scattered across the island. You can choose from plenty of quiet beaches and coves, and the diving here is fantastic. You will see an abundance of sea life just below the surface, and a variety of underwater caves for the brave to explore. There is also an ancient Roman shipwreck that attracts a wide variety of colourful fish.
There isn't a great deal of choice when it comes to accommodation here, but there are a range pleasant hotels to choose from, especially around the port. Just don't expect everybody to speak English here, and try to learn a few useful phrases before you arrive. The only way to get here, unless you sail yourself, is by ferry from the Italian mainland. There is a daily service to San Domino from Termoli operated by Tirrenia ferries, and the nearest airport to Termoli is at Pescara.
Panarea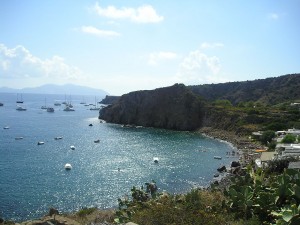 photo Copyright (c) 2005 Licia Missori
This tiny island covers an area of just 1.3 square miles, and has a permanent population of little over 200. Don't let the size put you off though, because Panarea offers one of the most exclusive holiday breaks in Italy. The number of people on the island does swell in the summer months, but there is only room for so many people here. Over the last few years it has become a favourite place for international celebrities to take a vacation.
Panarea is part of the Aeolian chain of islands, located to the north of Sicily. The Aeolian Islands have been a Unesco World Heritage site since 2000, and therefore development has been strictly regulated. This means the islands have kept their traditional charm and remain a unique slice of Italian culture. The island is actually an inactive volcano, and natural thermal springs can be found near to the village of Punta di Peppe e Maria.
You won't find any cars on the island, because they are not allowed, so the only modes of transport are electric golf carts and the odd scooter. Large numbers of tourists simply cannot be handled here, and there are only a few hotels to cater for visitors. Private homes can be rented, but they are also few and far between. The vibe is laid-back and stress-free, so it certainly is not the type of place to lose your temper! With no electric street lighting, after dark lanterns are lit to light terraces and stairways, and the stars can be gazed upon in their full glory.
To get here there are a number of different ferry lines you can take. From Milazzo and Messina there are hydrofoil services every day, and from Naples Palermo, and Cefalu, connections to the island run several times a week.

Tina West is a freelance travel writer from London England. She has travelled to Greece many times in the past but this was her first time visiting the unspoilt islands of Italy where there often isn't any street lighting let alone cash machines on every corner so leave the bank card in your wallet and make sure you have plenty of cash with you.