On duty even on vacation?
Last Updated on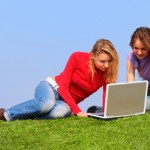 Some travel without any work or business string attached – in periods without a job regardless of the age. Others, however, have a daily job. I too have a job, more correctly put a business to manage – I own a small communication and PR agency. That involves clients and work without breaks. So where does this situation leave vacations?
Let's see first about which type of vacation I'm talking about. Of course that a weekend getaway involves spare time – one usually doesn't work on weekends so no colleagues' questions, no customer emergencies etc. This is my case, but I have friends in a different situation. A friend of mine owns a small business that provides 24×7 IT support. If something goes wrong with the client's systems he has to solve the problem in four hours tops. This means he's on call even on weekends.
Another type of vacation is a longer one – maybe one in a year. Its duration usually lies between one and two weeks and this is that special time spent in a place you wanted to visit doing something you want to do (visit different touristic objectives or simply rest – or maybe ski or something else). Would you like to be bothered with work related stuff during this period?
Well, I certainly wouldn't. That is why I always plan in advance this vacation and establish the period as time off from work with no phone or Internet access. It is true that I have people working while I'm gone, but I like to have things clear with my clients. The system worked every year, for five years now (since I have my own business).
A vacation is, so to say by definition, a period off work, some time spent relaxing, doing something else. If I only have 8 days a year to recharge my batteries I think I should have those days just for myself. So yes, I'm not on duty when I'm in a vacation. I have to admit that I usually have Internet access – but that I prefer not to solve anything business related when I'm away. Yes, I do not leave when I'm needed – during an important project etc.
But some people travel a lot. They can afford it and they want to take several of these longer vacations. What happens in this situation? This question is not so easy to answer. The clients or colleagues should be able to contact you – preferably only for emergencies – but they should be able to get in touch with the person missing.
Now, there are people and people. I told you a story of the first weekend getaway I had with my husband (boyfriend at that time) on 501places.com in the guest post When is a weekend not a weekend.
As I already pointed out earlier, when you try to answer the question in the title it's important to consider several factors:
type of job and responsibilities;
period of the break (for instance I always choose to leave in June-July – a period of vacation by default);
type of vacation;
the company size and your position within it;
type of services provided;
multitude of such longer vacations – one a year, several?
Now, I told you my opinion and context but I'm curios how do you proceed in your vacations? Are you on duty or not? And if yes, completely or partially?