What do you do when someone adds a negative untrue review on a website or blog?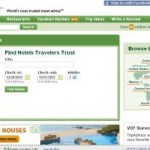 Today I read 2 different articles on the same subject: reviews in TripAdvisor and how several firms intend to press charges and find solutions in order to get rid of the fake reviews.
The story is a bit more complicated: Lauren Birmingham Piscitelli, owner of Cooking Vacations had a not so fortunate experience. We see here that: "Among the 18 people who have reviewed Piscitelli's "Cooking Vacations Day Class" at Italian eateries, 16 scored her service as "excellent" or "very good." But Piscitelli recently spent $35,000 on legal fees after an ex-customer used TripAdvisor to label Cooking Vacations "a rip-off," then allegedly tried to steal Piscitelli's business, even her logo. "I had to hire a lawyer and battle her for over a year," Piscitelli said. "Some of her postings were taken down, others not … She agreed to stop using my intellectual property. TripAdvisor was of no help at all."
That sentiment is gaining fast traction across the global hospitality industry. More than 700 hoteliers and vacation agencies have joined KwikChex, a British company now threatening to file a series of defamation lawsuits in both the United Kingdom and United States against TripAdvisor on behalf of travel businesses."
Not so great, right?
I'm working in communication and public relations and I know that there are people with bad intentions, people that love harming others even if they have to lie to do so. I think it's OK to share your experience, to say what you liked and what you disliked in a place – but it has to be true. Andy had an interesting article on his blog. I think it matters to tell the truth and it should be a rule to support that, because these days many people use internet, blogs and review sites in order to find out more info on a place they intend to visit, a hotel where they would like to stay and so on. I really don't understand lying just for the fun in it.
On the subject with TripAdvisor there is another interesting news: Fake hotel reviewers on TripAdvisor to be punished. New York Times also published a very interesting article on the subject: Hoteliers Look to Shield Themselves From Dishonest Online Reviews.
From the consultant's point of view, I always advise my clients if there's a review posted on a blog to immediately contact that blogger, to discuss the reasons he/she was unhappy and find a solution. There are other solutions too. If such a negative and untrue review is posted on a blog or site the first step is also contacting the website/blog's admin. Afterwards, if the review is not removed and public apologies presented, getting to the next and not so great step is in order.
In today's world, it is very important to have objective reviews. Even if, as I already mentioned, a blogger or someone else says something that he/she thought was unpleasant, it has to be a personal and true experience. If it's a lie, unfortunately a business may lose credibility and, consequently, customers.

What do you think about the people posting untrue and negative reviews? Would you punish them?
And a second question, What course of action would you take if you were in TripAdvisor's shoes?
PS: if you need such PR consultancy please feel free to contact me by e-mail – loredana  [at] prwave.ro and we'll find a way to collaborate and help you.