1dad1kid's unforgettable travel experience: celebrating Songkran
This post is part of the new series on this blog: travel bloggers share their unforgettable travel experiences.
We traveled back to Thailand specifically to celebrate Songkran, the Thai new year. It is celebrated by a city-wide water fight over the course of a few days in most cities in the country. I had told my son about it, and he couldn't resist. It proved to be even more fun than I had imagined. There was so much good will, and the Thai faces were even more joyful than usual. I loved that there was no such thing as strangers. In this photo, my son found a group of kids and immediately they attacked each other. They had the greatest time together in spite of having no shared language and being complete strangers. I think more countries should have celebrations like this.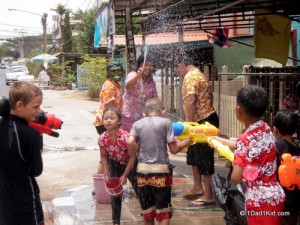 Blog: //1dad1kid.com and //travels4yum.com
Facebook: //facebook.com/1dad1kidfb
Twitter: //twitter.com/1dad1kid