A holiday break in Berlin for Families: what to do, where to go
Berlin is a lovely German city, perfect for a solo visit or for one with a group. Families going to Berlin with children won't be disappointed either as there are many attractions awaiting for you here.
Water based activities
If you love water, pools or a boat ride, Berlin has them all and then some. You can rent a boat, go to the Strandbad Wannsee – opened as a family pool in 1907, but nowadays a famous place among locals and foreigners. At Berlin's Wannsee you'll also find a boat in shape of a whale (Mobi Dick anyone?)
During the summer you can also go to the Insulaner pool – a place where everyone can swim, even small children. And these are some of the water based places in Berlin – you just need to see what's close to you (or what best suits your preferences.)
Visit parks and gardens
Prinzessinnengärten is a place where you can buy produce or attend workshops on how to grow things, even if you live in the city. You can go to the Tempelhofer Park, located on the spot of a former airport.
But you can also just go in a park, in any park, and take a walk, enjoy the nature, breathe the fresh air, smell the grass, trees and flowers.
Another great place is the Botanischer Garten, home of 22.000 types of plants and considered among top three botanical gardens in the world. A delight in any season with an explosion of colors and scents.
AquaDom
How about a a 25 m (82 ft) tall cylindrical acrylic glass aquarium with built-in transparent elevator AquaDom? Housed by the Radisson Blu Hotel in Berlin Mitte, this attraction is quite interesting and fun. This is the largest cylindrical tank in the world, containing over 1 million litres of water, coral reef and 1,500 fish of 97 different species of stunning fish.
photo by Eric Pancer on Wikipedia
Museums and monuments
As you know, children have free entry to many museums, so you should take advantage of this. Of course, you have to pick those museums that interest you, but it is always fun to discover new things. From art museums to the Pergamon Museum, from the Checkpoint Charlie Museum to the Bode Museum, there are many wonderful museums in Berlin. Don't forget the famous Brandenburg Gate, the city's landmark, and one of the most visited monuments during Berlin breaks.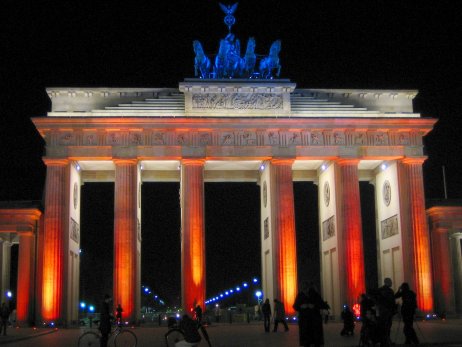 Legoland Berlin
Lego conquered the world, and Berlin is no exception. Children can have quite a fun experience at the Legoland Berlin – discover fun constructions made of Lego pieces and enjoy the attractions included here: from those with lego dupplo, to the one focused on pirates, dragon ride, racers and more.
As you can see, there are many opportunities for families to enjoy a holiday break Berlin.