Welcome to the mother city of Africa
Guest post by Ela Krawczykowska
Cape Town is the second largest city in South Africa is one of the most attractive places on the continent for fun-loving, sporty and sociable people.
The city centre is located between gorgeous Table Mountain (they are featured on the flag of South Africa) and Table Bay Hotel, which is the most popular and outstanding hotel in Cape Town. Near the heart of city, there are many tourist attractions and places worth visiting. Some of them include The Caste of Good Hope (called "The Castle" locally; it has extensive displays of the history of the castle and an art collection), South African Parliament (you can take a tour which includes visits to the National Assembly, the National Council of Provinces) as well as Bo-Kaap Museum, District Six Museum, Groot Constantia, Slave Lodge, South African Jewish Museum, South African Maritime Museum, South African National Gallery,
The neighbourhood of Bo-Kaap, located on a hill south-west of downtown, is also a very interesting place to visit. It's a common location for film shoots, because of the colourful area and amazing views over Cape Town. Enjoy the views and definitely visit the Bo-Kaap Museum. If you like nature, you should also go to Kirstenbosch Botanical Gardens to see the hugely diverse plants and flowers of the Cape flora. The gardens are also home to the National Biodiversity Institute. What makes this place so special is that every season gives you something new to see.
Great shopping sprees are in Victoria and Alfred Waterfront located next to the harbour. It is very popular with tourists, because of the high density of shops, entertainment and restaurants. Talking about food – Food in Cape Town is of high quality, because of the amount of seafood and fish caught locally (oysters are especially exceptional). Wine is much celebrated as well – local beverages are served in every bar in Cape Town.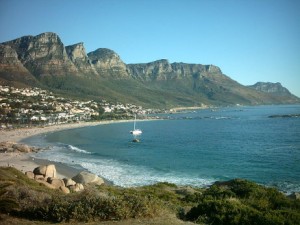 About Ela
Ela is a London-based freelance journalist from Poland. She loves learning languages, travelling, music and exploring different cultures