Why I always take a book with me in my travels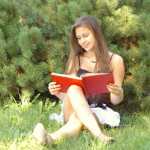 One of the things my friends know about me is that I love to read. I do that as often as I can – and I am fortunate enough to have amazing books to read (I have a section dedicated to book reviews on my PRwave site). But I do read beyond recent books published: I have favourite authors and genres and I do like to take a book with me in my travels.
I travel with a book in my travel bag because I don't know when I might simply be in a mood to read. Also, if I travel in a country with a language I don't know, yes, I will have international news channels at the hotel and internet, but that will pretty much be all.
In my first flight – this year, to Paris – I did a little bit of reading as it was night and until we received French newspapers and magazines… I had some time. I do like reading a little over watching a movie – but keep in mind that I am not a frequent flyer (my husband prefers watching a movie – or more, especially on long haul flights).
I also read about half a book when we were in the Apuseni mountains, in our vacatin three years ago, but when we went to Austria I didn't read too much.
I did a little bit of reading in Brno, Czech Republic as I waited for my husband to finish his work there, and I also read an Agatha Christie novel in Brasov last month, when I was there. It was actually a lovely experience, just sitting in a park and reading.
Even if I don't get to finish a book – or even read at all – I do bring a book with me in my travels. I always make sure it is a book I want to read, one perfect for a vacation! It is like a back-up plan for when I don't want to go online, to walk, to watch TV. I don't forget I am travelling and that I should enjoy the place and meet new people, but sometimes I just want to simply relax and do something I enjoy.
Yes, I prefer printed books – I know many choose, especially when travelling, ebooks. But the main idea is the same: reading while travelling.
How about you: do you read while on the road/visiting a place?
photo source photoxpress.com