How to choose the right fishing boots
Any angler is only as good as the equipment he uses, and that extends far beyond rods and reels. In fact, one of the most important things a fisherman can use really isn't involved in the catching fish part of the expedition at all. It's the fishing boots! That's right: boots. Without the right boots, you won't be comfortable or protected from the elements, which will invariably cut your fishing trip short due to discomfort.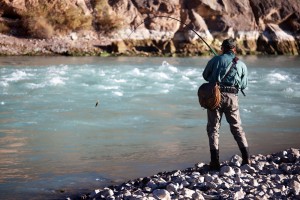 fishing, photo by Maxim Petrichuk / Shutterstock
There are so many options when it comes to fishing boots. How do you know which ones to choose? There are several factors to consider, but a great place to start is to consider the type of fishing you plan to do and how often you plan to do it.
Let's explore the various types of footwear available for the various types of fishing you might want to do. If you are a roving or mobile fisherman, low-cut boots will probably give you the mobility you need for most of your fishing adventures. They will provide you not only the mobility you need but also the comfort necessary for long periods of walking from one fishing spot to another over a variety of types of terrain. Most varieties of these low-cut fishing boots are both waterproof and breathable, allowing you to keep your feet dry in moderately wet conditions while still keeping your feet cool.
If you are going to be fishing in more water, it's probably best to look for a boot that comes up slightly higher on the leg. A field boot is a good choice in these circumstances because they feature a rubberized section on the lower part of the boot, offering a waterproof layer that is easy to clean after a day on the lake. The upper part of field boots is generally made of a breathable fabric that will allow for maximum comfort while walking.
Boots that come up the shin almost to the knee are a great choice for those who those who still want the benefit of comfort for walking but also require more protection from the water. They allow you to go much deeper into the water without getting your feet wet, such as is required in fly fishing. The downside of these is that they can be cumbersome to wear and can take some time to lace up. That means they may not be suited to some situations in which visibility may be compromised, such as night fishing. For night fishing or if you will be on a fishing trip that will require you to take your boots on and off frequently, you might want to opt for a moon boot style. These slip on, slip off styles feature no laces or buckles to contend with, making them very easy and convenient to use in challenging conditions.
While you are out looking for fishing boots from a reputable source such as www.seagearmarine.com, consider getting some good-quality socks, too. The right socks will keep your feet warm but also allow them to breathe, which will keep you comfortable throughout your fishing trip.