The Most Mysterious Locations in California
Ever since the early days of European settlement California has been a land of mystery and intrigue. From the film noires of early Hollywood, the ancient Indian burial grounds of childhood scary stories, unexplained UFOs in the night skies and the horror movies of recent years, mystery has always held a fascination for humans. Here is look at the most mysterious locations in California, perhaps America's most mysterious state.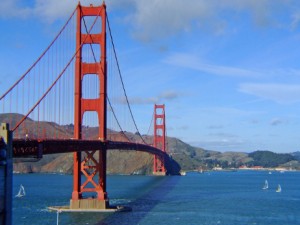 The Mystery Spot, Santa Cruz
Deep in the redwood forests of Northern California there is a place that seemingly defies all logic and all rules of gravity and perception. Visitors to the Mystery Spot near Santa Cruz have been struck down by nausea and a loss of balance, but most people who come here just scratch their head in confusion and befuddlement. For the mystery spot is a gravity hill, a geographical optical illusion caused by an oddly titled incline or slope that can be exaggerated by surrounding objects such as trees or buildings. And the mystery spot is perhaps the most extreme example of a gravity hill in the entire world, and really needs to be seen to be believed. The Santa Cruz area is also superb for adventure travel, with world class hiking and climbing to be had in the forests and mountains of this stunning area.
Ripley's Believe it or Not, Los Angeles
Los Angeles is one of the most vibrant cities on earth – a global entertainment capital, full of trendy bars and snazzy restaurants, it is a superb place for sole travellers looking for single holidays. And anyone who sets foot in the City of Angels should head straight to Ripley's Believe it or Not, one of the largest such museums in America. Here visitors interact with strange displays, learn an array of unbelievable facts, and find out about strange and fascinating mysteries.
Winchester Mystery House, San Jose
This sprawling, chocolate box Victorian era mansion in San Jose is one of the spookiest sites in America. Named after the eccentric, and some say possessed, widow of the Winchester Rifles magnate, the mansion was assembled over many years without a master plan, and as a result is a bit of mess internally. Stairways lead to nowhere, rooms are separated by windows, corridors circle back on themselves, doors open to blank walls and other structural oddities make this a rather strange and mysterious place to be. It is the perfect place to film a horror movie.
Lake Berryessa Sinkhole, Napa
Beautiful Napa Valley is home to some of the finest wine and food in America, and also to one of America's oddest and most mysterious sights, the Lake Berryessa Sink Hole. This reservoir looks much like any of the others in the area, apart from the terrifying sight of a seemingly impossible hole in the centre of the lake, appearing like a vortex or a whirlpool. Yet the reality of this freakish hole down to the depths of hell is somewhat less mysterious and more mundane – it is a spillway designed to get rid of excess water in the reservoir during periods after heavy rains.
The Salton Sea
Created by a devastating flood in 1905, the Salton Sea is a saline lake out in the deserts of California's Imperial Valley that has been slowly evaporating for over 100 years. Shortly after the lake was created the area surrounding the water became something of a boom town, with tourists heading out to the lake on vacation. Yet, cut off from fresh supplies of water, the Salton Sea began shrinking, becoming more salty and more polluted with each passing year. Nowadays this inland sea is more like a smelly, overgrown puddle, and the old tourist resorts now little more than mere shells or ghost towns.
An experienced travel writer, John has penned articles about subjects as varied as activity holidays in Switzerland and winter honeymoon retreats in the Alps.