Free EBook: Italy: Un unconventional Guide in 60 pills
I was very happy to see that my friends from CharmingItaly.com released a new free ebook on Italy, and I was impressed by the content of the book.
I am a Romanian, thus a Latin people, like the Italian one. I have many friends who were in Italy – once or on several occasions – and even Andrei, my husband, was in Milan, Venice and other cities with his job. So yes, I do want to visit Italy. If I still needed to be convinced to take a trip (or more than one), the Free EBook: Italy: Un unconventional Guide in 60 pills would be enough to convince me to fo to Italy!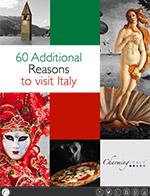 I loved the design of this new book and the concise information included. I also loved to discover the interesting facts presented and structured in four parts: Sights, Myths, Emotions, and Something unique.
Each part is individualised by a specific colour and type of information presented.
I discovered I knew some of the interesting facts included here, but there was so much more about Italy to discover! I now want to buy a pair of custom shoes in the area recommended, enjoy the Italian roofs and more.
I am recommending this book to curios people and wondering-addicted.
60 facts to know about Italy
60 stories to impress your friends
60 Additional Reasons to visit Italy
You can download the Free Ebook on Italy here. It's free!