Bangkok's best temple and palace attractions
Are you itching to visit Bangkok? Whether you're planning on taking a holiday here for a week or two or you want to incorporate it into a longer trip or gap year, the city's temples and palaces are must-sees. There's a lot of them, so read on to get the lowdown on the ultimate places to visit.
The Grand Palace
Located in the centre of the city, the Grand Palace has to feature on your itinerary. It's a sprawling complex that includes gardens, impressive halls, a museum and much more – so it's worth bearing in mind that visits here can take a few hours.
This used to be the royal residence, but these days it's just used for a few choice ceremonies. An interesting thing to note while you're here is that a lot of the buildings have a distinctly European style (except the roofs), and you can find out more about the palace's history and restoration by heading to the onsite museum. There are regular tours in English, and it's a good idea to join one of these if you want to get a firm grip on what it's all about, because all the exhibits are labelled in Thai.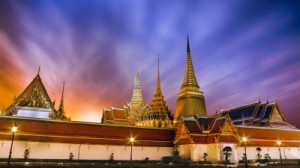 The Temple of the Emerald Buddha
Officially called Wat Phra Kaew, this temple is in the precinct of the Grand Palace and it's generally acknowledged to be the most important Buddhist temple in Thailand. As you may have guessed from its name, it's also here that you'll find the famous Emerald Buddha.
You'd be forgiven for thinking it's made of emerald, but this is one of those instances where linguistic differences can trip you up. In Thai, emerald is just a shade of green, rather than a stone, and the 66 cm high statue is actually made of jade – and only the king of Thailand is allowed to touch it.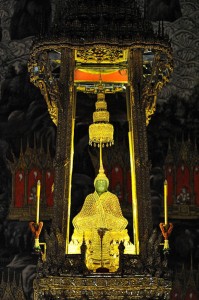 photo author Gremel Madolora
This seems like a good time to point out that there's a strict dress code here (and you'll need to show equal respect in other temples), which means you need to keep yourself covered up. So, no shorts, no exposed arms and no toes peeking out of shoes. If you get it wrong here, the main office should be able to lend you something suitable.
Wat Pho
Wat Pho is another of Bangkok's most famous temples, and it's here that you'll come across one of the most common images associated with Thailand – the Reclining Buddha. This colossal statue is 15 m high and 46 m long, and is painted in gold leaf, with mother-of-pearl feet – and it's an absolute must-see.
Aside from the Reclining Buddha, there are also a number of other attractions to dig out here. For one thing, the temple's home to the largest collection of Buddha images in Thailand. Plus, it's the national headquarters for the preservation and teaching of Thai massage – and yes, you can get a traditional massage here. And, if you keep your eyes peeled as you wander around the temple, you should be able to pick out stone inscriptions, which detail key massage and yoga techniques.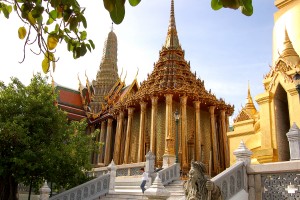 These are just a few of the top places to visit during your stay and, as well as seeing plenty of temples and heritage sites, you'll notice loads of modern Thailand Hotels, trendy bars and swish restaurants have sprung up in recent years too. This possibly makes the city an even more exciting place to go to, because you get to experience this unusual mix of the modern and the traditional side by side.
Joe is a blogger who loves south east Asia and is planning his Thailand holidays 2013 already