How to save money when booking a hotel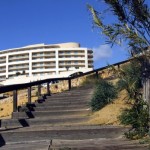 Everyone wants to save money if possible – in order to spend it on something else, of course.
Let's see today how to save money when booking a hotel.
Use a site that offers big discounts – like Booking.com – you can see in the right side of this blog an application that shows you instantly the best deals for the period and the destination that you choose. Indeed such websites help a lot when choosing a hotel. First of all you have a, let's say, directory of hotels from all over the world. Second, you can choose the search criteria and thus refine the hotels. And of course you can change these criteria if you want to! Third, you can see reviews for each hotel, pictures and useful info – the hotel location within the city, nearby points of interest and so on and so forth. Fourth but very important: you can benefit from great deals. There are many "last room available" offers and special prices from start for any hotel anywhere in the world. That's why we used Booking.com for each of our trips – and each time we got great offers and the hotels we've stayed at were OK.

Get friendly with a ho(s)tel manager for receiving great deals. Well, here is a little trick. You have to have reasons to get friendly with a hotel (or hostel) manager. That means you should go to that place at least once a year – because otherwise you will not receive any discount. This recommendation works if you go the first time as a simple tourist and then you simply stay in touch with someone from the hotel (a decision maker). Usually this is who will most likely offer you a discount if you say you come back there.
Enter an affiliate program – yes, sometimes if you recommend a hotel or a pension and the results are visible, after several recommended customers you will get special discounts or even a free vacation.
Stay with the locals. This is a way that offers many benefits. On one part you get to stay in a place with less people than in a hotel, to have a direct connection with the owner of the pension or whatever you choose. On the other part you can take a closer look at the local culture. For instance in Romania you can choose a pension in the ANTREC network – The National Association for Rural, Ecological and Cultural Tourism. You can also check in different cult sites monasteries, old factories and other such results of human development now offered as rooms for rent. Staying with the locals also gives you the freedom of travel – for instance, you can stay 1-2 days in a village, then travel for a day and check in at some other pension in another town/village and so on.
Each method has its ups and downs – and there is no universal recommendation: everyone should choose the method that he/she finds most beneficial.