A Culinary Guide to St. Martin / St. Maarten
There are many things that make St. Martin a unique Caribbean destination. For one, it's an island that belongs to two countries, with a French side (Saint Martin) and a Dutch side (Sint Maarten). Don't worry about borders though – it's all very open and you are free to come and go as you please. There is however one aspect of the island where you will clearly notice the distinction – the food!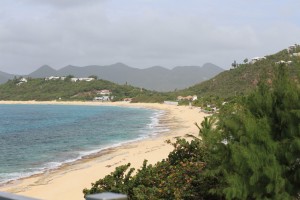 Fine French cuisine in St. Martin
The French side of St. Martin is considered by many to be the gourmet capital of the Caribbean. Most restaurants offer the traditional French bistro style, some with Creole influences, and prices ranging from moderate to pricey. If you're searching for a fine French cuisine experience on St. Martin, you'll want to make your way over to the North West coast to an area called "Grand Case". It's here where you'll find highly rated restaurants such as:
• La Villa Restaurant
• L'Estaminet
• L'Auberge Gourmande
• Bistro Caraïbes
• Le Pressoir
These French restaurants tend to get booked up quickly so make reservations in advance to avoid any problems. Favorite menu items include the catch of the day, duck breast, braised lamb, marinated filet mignon, and crab meat.
A Signature St. Martin Cocktail
Across the island you'll spot people sipping cocktails made with the famous Guavaberry liqueur.
Here's a quick and easy recipe for mixing up a Guavaberry Colada:
• 2 oz. Guavaberry
• 1 oz. Coconut Cream
• 3 oz. Pineapple juice
• Crushed ice
Blend the juice and liqueurs with crushed ice. Top with pineapple and nutmeg and enjoy!
Nightlife and Fun in St. Maarten
The Dutch side of St. Maarten has become the real hot spot in terms of nightlife. Close to the airport, major hotels and the casinos there is always something to see or do. If you've rented a hotel room or luxury villa in St. Martin and you plan on venturing out to this part of the island, here are a few restaurants to consider trying:
• Bliss Club
• Bamboo Bernies
• Big Fish
• Rare
• Sunset Beach Bar
Another option, regardless of what side of the island you've booked or type of cuisine you're looking for, is St. Martin's fine selection of caterers and private chefs. From lobster dinners to regional themes, a private chef can create the ultimate vacation menu.
With over 400 restaurants on the island to select from, you'll never go hungry in St. Martin. Try some of the above listed options or chat with locals about their latest restaurant discoveries. Either way you're in for a real treat – very few Caribbean islands offers so many great restaurants and beaches! Bon appétit!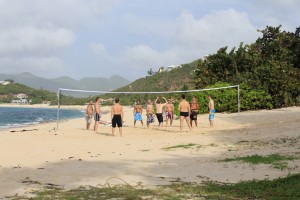 About Jazz Poulin: A Montreal-based entrepreneur, Jazz has visited islands and beaches across the Caribbean. As a consultant for Luxury Retreats, Jazz regularly writes about
St. Martin villa rentals and his latest travels.