Decebal Restaurant – a place with good food and quality services in Bucharest, Romania
update 2018: the restaurant is permanently closed
Every time you're visiting a country, a region or a town, you must try a local restaurant. But what to choose? One could try to consider a recommendation from a magazine / guide – but which one? Sometimes a review is a useful instrument for a foreigner, and I was always delighted when someone gave me a hint about a local good restaurant.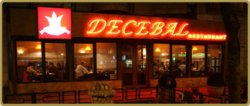 Well, the Decebal Restaurant, located in Romania's capital city of Bucharest, on the avenue with the same name, is a perfect choice for someone looking for tasty food and high quality services for a reasonable price.
We go every now and then to Decebal Restaurant because everything here is… perfect. You can choose from a wide variety of dishes – from specific Romanian ones to some international varieties for those not tempted by local food. The portions are big enough and you can make any combination you like. However, above everything else we recommend you to try "papanasi" for a desert.
The official site is only in Romanian – however you may call for a reservation and try this restaurant because the personnel are English-speakers and the menus are also dual-language: in English and Romanian. Medium prices, tasteful dishes, nice atmosphere, elegant place, relatively central location – that's Decebal Restaurant.
Pofta buna!