5 Foods to Try When Visiting Peru
Guest Post by Laura Elise
One of my favorite parts about traveling to new places is trying new foods. As a child I was a picky eater, and since in my parents' minds every facet of my personality is the same now as when I was five years old, they don't quite believe that during my time in Latin America I've nibbled on salted grasshoppers, dined on a popular pet, and sipped soup flavored with chicken feet (with claw toenails and all).  And although I don't recommend those as my favorite dishes (especially the last one), each was definitely an experience. But after two years living in Peru, I feel qualified to recommend the following 5 dishes as both tasty and purely Peruvian foods well worth a try during a visit to Peru.
Lomo Saltado
When I first heard about lomo saltado, I wasn't too impressed. The dish is a stir-fried mix of beef strips, onion, tomatoes, and peppers severed on top of a bed of French fries and a side of rice. But although stir-fried vegetables and French fries sounds like an odd combination, Peru perfects it. Peruvians are very proud of their food, and although foreign dishes are making headway in cities such as Lima, its capital, almost any dish that becomes popular is "Peruvianized." By mixing Asian influence with the popular French fry (Peru is actually home to the first domesticated potato) a dish unlike anything else was created. Sometimes alpaca meat is substituted for beef in the highlands and Andes.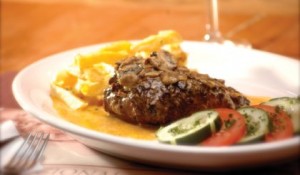 Maracuya Sour
Although pisco sour is the primary cocktail of Peru, I prefer the more exotic maracuya sour. Made just like its sister drink with fresh Peruvian pisco (a strong grape brandy) mixed with egg whites and simple sugar, the maracuya adds a special tarty zing I find irresistible. Maracuya is a type of passion fruit popular throughout Peru. The "original" pisco is claimed by both Peru and its southern neighbor Chile, and although South America tours will feature the liquor in both countries, Peruvians claim that only pisco made in Peru should be allowed to carry the name (similar to champagne and France).
Ceviche
Heaven forbid you visit Peru without tasting its ceviche. Locals, especially in Lima, are especially proud of this seafood dish, which consists of raw white fish cubed and marinated in lime juice. The dish is seasoned with onions and aji (a type of chili) and typically served with a side of sweet potatoes or corn. Although you can eat ceviche for dinner, locals tend to eat it for lunch, and in Lima there are numerous cevicherias that are only open midday and are especially busy on Sundays.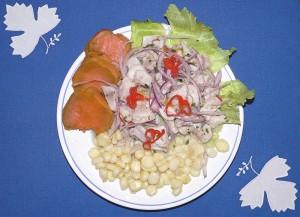 photo author Manuel González Olaechea y Franco
Cuy
Remember when I said I ate a pet? I was talking about the Andean highland favorite: cuy. Called guinea pig and kept in little glass cages as pets elsewhere in the world, in Peru cuy are meant for the dinner plate. They're raised in pens (similar to chickens in chicken coops) and usually served fried or baked. Traditionally, they're cooked whole, meaning with the head and little feet still attached.
Causa
This delicious dish is a decadent combination of creamy mashed yellow potatoes filled with a mayonnaise mixture typically containing avocado and meat such as chicken or seafood. Served similar to a miniature circle sandwich or casserole, causa is served cold and eaten as starter or side dish. If you want to try a classic Peruvian dish but aren't a very adventurous eater, causa is the food for you. Several Peru tours include culinary highlights, and this option should be seriously considered if you'd like to eat like a local but don't know the language.