Precedent Established For A Tax On Overweight Passengers – Is It OK To Charge Them Extra?
Last Updated on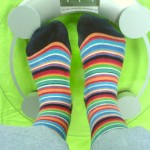 The discussions regarding overweight passengers started a while ago. Companies want to charge them extra for they sometimes occupy 2 seats instead of one. Next to them someone cannot stay comfortably.
Now, I think we should also consider the facts. There are more and more people overweight. Many say it's due to fast food, but even if there are some cases where this is true, there are many more cases where people get fatter simply due to meds, health issues, metabolism changes, way of life etc. I don't think there are people who really want to be obese (except, maybe, sumo fighters). Deep down everyone knows that overweight and fat affects their health in so many ways. Some people cannot do any type of sport – and I know, I'm one of them. I'm not obese, it is true, but I've gain some extra weight during my pregnancy last year and in the months that followed. I want to go back to my figure, but eating correctly doesn't help and I cannot do any type of sport. I don't believe also in staying hungry. But the post today is on another topic, so let's get back to it.
The statistics show that the average size in clothing is increasing. 12 I think in UK.

There are also many "normal" weight people. Sometimes, yes, an overweight person can make uncomfortable the person/s next to him/her. It's not intended, it's just space. But that normal people has the right to stay comfortably in his chair and enjoy the ride. He/She paid the same price.
A company cannot afford to have unoccupied seats only because there are some overweight passengers and therefore they cannot use some seats. Moreover, if the reservations are made online or in advance, no transport services provider can know which passenger weights how much. Therefore no arrangement can be made. Unoccupied seats mean no money which leads to problems in cash flow and lose of profit and so on.
If a company needs to travel with empty seats because of someone's weight, it seems that that person should also pay for those unoccupied seats next to him/her.
On the other hand, more and more companies are announcing more and more seats in their means of transportation (mainly airplanes) in order to be able to offer a lower price. More seats in the same space means narrower seats and smaller space between the rows and so on. But people are not getting smaller, but bigger – in weight and sizes.
So how could these two things be reconciled? Shouldn't any company come to meet its customers' expectations? Do you think in this case the companies really managed to do just that?
I'm writing this article for I'm really curious to hear opinions from you, dear traveler friends and also because I read some news today mentioning that "Court of Appeal in the UK ruled that passengers cannot sue for embarrassing treatment". So, overweight people cannot say they are subjected to a discriminatory or embarrassing treatment.

In a world where being obese is recognized as a sickness, what do you think is the best way to handle the situation? Should obese passengers be treated different and made to pay extra charge? Should companies adapt to the new sizes of the passengers? Did you have any experience during your travels – from one angle or another?
I'm inviting you all to a discussion – I really hope we'll have an interesting one.